Is online learning the future of education? Lessons learnt from the pandemic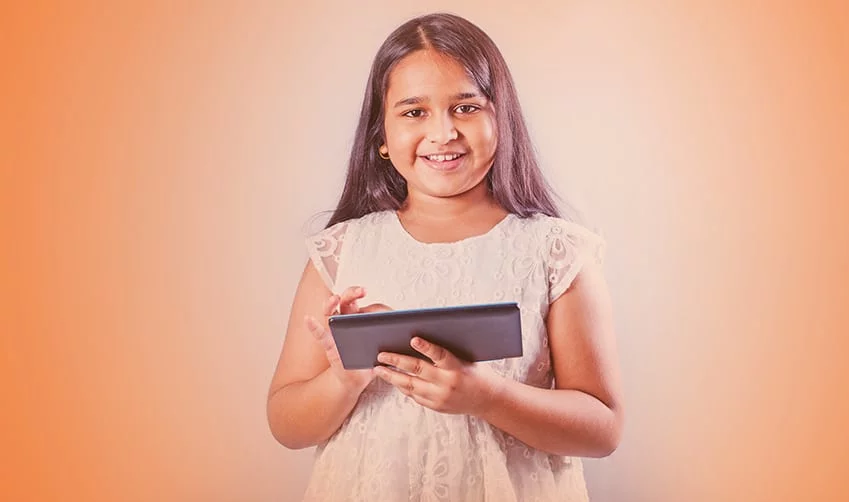 Many signs show that the ongoing crisis can upend lives in many ways and permanently transform the education sector. As a result, in-class teaching can no longer rest on its laurels and rightly so, as it collapsed with the pandemic. However, being physically present in the classroom is not the only way to learn—thanks to technology which has made classroom access possible from anywhere with a single click. So we are standing at an exciting juncture where whatever happens now in education might stay forever. The scepticism surrounding education through the internet is hard to shed but innovation made in the sector in the past few months triggered by the pandemic remains phenomenal.
Online learning, when clubbed with meaningful resources, becomes a holy grail. Online classes for the school must be deployed at large to avoid learning gaps happening in the future. This time around, let's be better prepared.
A report by the World Economic Forum suggests, "Looking to the future, it is not only imperative that we recover from the pandemic but that we use this experience to become better prepared for future crises. To support this, countries need to build their capacity to provide virtual education in the future.  
The stigma around online learning is finally wearing off, and parents and other school stakeholders are embracing it like never before. The involvement of parents in their child's academic life has increased, which demands them to give more time and participate more daily. Not every time they have time to glance through their daily activities. Online learning that's smart and supported by an integrated academic system makes learning at home easier for parents and students. Parents can stay updated about their ward's performance, and the streamlined curriculum makes it easy for parents to help their children.
How is LEAD helping parents create meaningful learning experiences at home?
The LEAD Curriculum is integrated, student-focused, application-based, and multi-modal to help children become more confident and future-ready even when learning from home. Every class at LEAD comes with a specialised curriculum that doesn't strain children, and parents can teach their children without any confusion.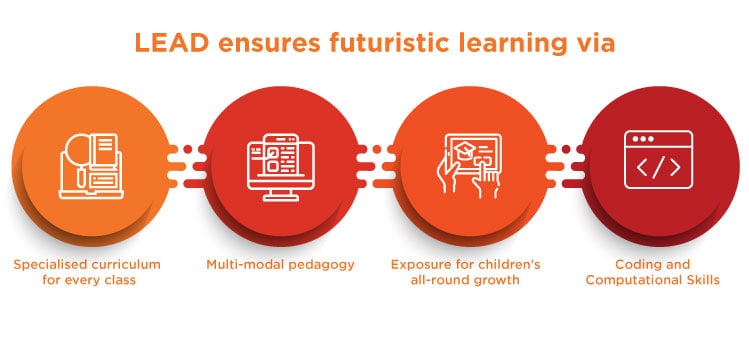 Pre-Primary
The approach followed in LEAD Pre-Primary is Integrated, Thematic, Student-focused, and Multimodal. Earlier, a teacher had different periods in Pre-Primary. With LEAD, learning experiences are integrated as a whole. A 4-hour lesson covers everything from physical education, creative expression, English, Maths, EVS, Socio-Emotional to Music and Movement. Children learn by playing, listening to stories, exploring, doing activities, and creating. The LEAD Pre-Primary curriculum hence offers students opportunities to do all of this and more.
Primary
Our core primary offering includes English Language and General Awareness (ELGA), Mathematics, and Environmental Studies (EVS). At LEAD, world-renowned CPA (Concrete Pictorial and Abstract) teaches mathematics and helps students connect and visualise concepts.
Middle School
At LEAD, the curriculum is based on NCERT/SCERT, but the syllabus is improved using the DREAM approach.
D stands for Delete – Where irrelevant concepts get deleted.

R stands for Resequence – Where some concepts need to be taught before another one as a prerequisite for better understanding.

E stands for Enhance – Where the curriculum is covered in-depth

A stands for Add – Where sub-concepts are taught to understand the main concepts.

M stands for Modify – Where curriculum is modified according to the need and requirement.
High School
In High School, the focus is to prepare students for the board examinations. In the curriculum, LEAD has added special features to help students revise and learn well. These include a 'Let's Recall' section at the start of every chapter in Class 10. This section recaps any previous topics that are needed to learn the new concepts in the chapter thoroughly. 
 At LEAD, language is studied as a skill where students are equipped to read and understand any text helping them become independent readers, thinkers, and writers. LEAD also enables extra-curricular activities via championships that provide students with a platform to showcase their skills while competing with students from across the country.
LEAD brings wholesome learning at home. Online classes for school don't necessarily have to be boring or non-engaging. With the right means such as LEAD School @home, parents can be equal participants in their child learning curve without getting lost in the process.