It's not all up to teachers and students— Participate more in your child education with digital classes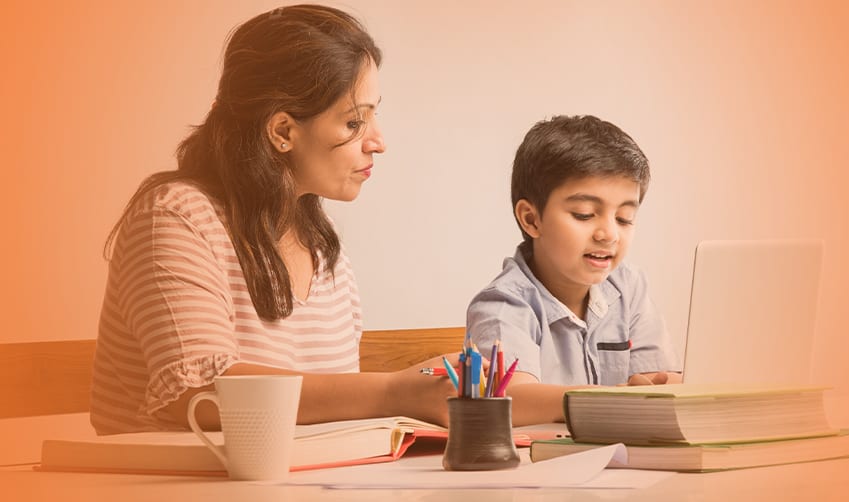 Parents are known to be a child's first teacher, but as the latter begin their formal school training, most parents allow the educators to take on a significant part of their formal education. However, ever since the pandemic brought the entire sector to a standstill, from being providers, parents now play the role of an enabler, just like schools do. This means that parents must have all the suitable means to provide quality education to their children at home. Unfortunately, parents do not have any formal training to help their kids with their ongoing academic sessions. However, since the ongoing circumstances do not leave parents with any other choice, schools must equip every parent with just the right resources to effectively carry out their child's learning from home. Moreover, the pandemic has changed education's conventional frameworks and parents' role, where they are now equally responsible for their child's performance. 
As soon as virtual learning was rolled out, parents have to face the challenge of being both parent and the teacher. Since students are learning from home,  COVID-19 has extended family life worldwide. School closures and physical distancing are a lot to navigate for everyone, but it's been particularly challenging for the parents.  However, this pandemic has presented a unique opportunity for parents to be engaged in their child's life like never before. 
Now teachers are not the sole enabler. As crazy and hectic as it may seem, it is essential that children feel supported by their parents. Therefore, it remains imperative to equip families to support learning at home to prevent COVID-19 from deepening the learning crisis for an entire generation. 
Tech-enabled smart classroom, sailing through the crisis
Smart classes in schools will help educational institutes provide meaningful learning to kids at all times— online and offline. Smart schools assist parents with ample resources that help them make their ward's education engaging even at home. Smart schools help parents in various ways. Some of them are:
In-time monitoring of their children

A specialised app that designed to help parents assist their child better

Being in regular touch with the teachers to fix learning gaps

Gives ample resources to parents so that their child's curriculum can be navigated equally
Digital classes in schools supported by smart technology have helped the authorities survive the crisis efficiently and have also given parents a chance to get involved in their child's academic life, further propelling the outcome. It is the only sustainable way forward to help the sector sail through any future crisis. Smart class in schools has revolutionised learning and will equip the future generation with the requisite skills to excel. 
How is LEAD empowering parents with the right skills and tools?
With so much of the outside world currently out of bounds, there's only so much yet a lot that we can do. The LEAD Student App has a unique section especially designed for Parents. An essential aspect of learning is checking for understanding and tracking progress. Parents can easily monitor their child's attendance, check report cards, and receive essential feedback and notifications on the LEAD Student App. Parents play an essential role in a child's education, and LEAD wishes to involve them in every possible way. New features, competitions and school notices are all shared on the App for parents to check and acknowledge. For excellent learning at home experience, curriculum and pedagogy at LEAD follows internationally accepted learning standards to prepare children  with skills to succeed in life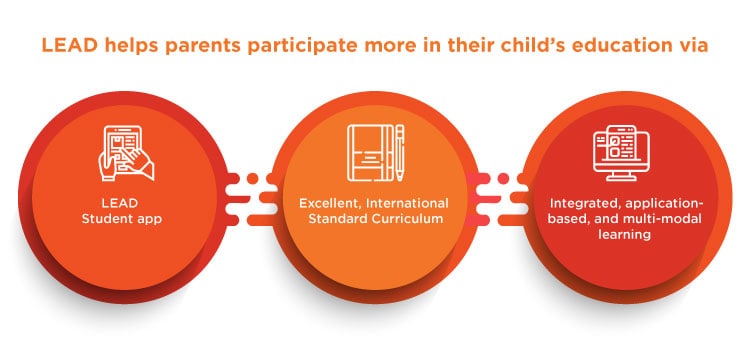 Grade-based International Standard Curriculum

Pre-primary

Primary

Middle School

High School

Language as a Skill

English Language & General Awareness (ELGA) 

Sampoorna Hindi 

Coding & Computational Skills (CCS) 
Excellent, International Standard Curriculum 
Every child's approach to learning is unique. Hence, at LEAD, concepts are taught using multiple approaches. This helps engage all students and creates better connections as different students' senses are used to consume and process information.  The LEAD Curriculum is integrated, student-focused, application-based, and multi-modal to help children become more confident and future-ready.
Digital classes are the new dawn that the education sector was waiting for. The pandemic has allowed the sector to build back better through the offering of smart classes in schools.