NIPUN Bharat Mission – Strengthening Students' Foundational Skills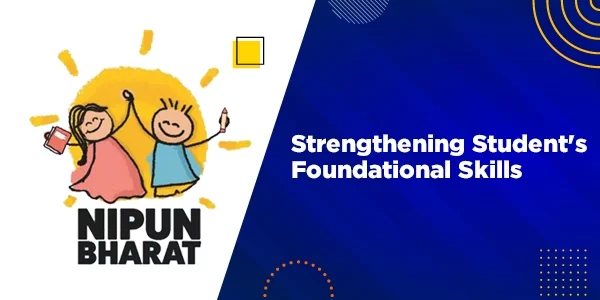 NIPUN Bharat Mission – Strengthening Students' Foundational Skills
Last Updated On: 11/09/2023

"The only person who is educated is the one who has learned how to learn and change." – Carl R. Rogers.
What is NIPUN Bharat Mission?
The Education Ministry of India launches NIPUN Bharat Mission under National Education Policy 2020. This scheme ensures that every student in India attains foundational numeracy and literacy by the end of Grade 3. NIPUN Bharat Mission objectives focus on transforming the traditional education system into an integrated, holistic, all-inclusive, enjoyable, and engaging one.
NIPUN Bharat programme instructs teachers to prepare a study plan that builds the students' literary and basic language skills. Moreover, as a part of Smagra Siksha, it will work to retain children till their foundational learning is complete, enhancing learning or training modules, escalating teacher capacity and tracking each child's progress.
In this article

How is LEAD Syncing with NIPUN Bharat Mission?

How Does NIPUN Bharat Mission Benefit Transforming Education?
How Does NIPUN Bharat Mission Benefit Transforming Education?
NIPUN Bharat programme targets to focus on and impart various initiative teaching skills by which the foundation schooling of basic courses of mathematics, English, Hindi, and many more subjects have been strong. Moreover, the NIPUN Bharat programme offers various benefits to transform school education nationwide. NIPUN Bharat Mission benefits include:
Inclusive learning in classrooms



The NIPUN Bharat programme ensures an inclusive classroom environment by encompassing play, discovery, and activity-based pedagogies, integrating them into the daily life situations of the children & formal inclusion of children's home languages.
Proficiency in reading with understanding and numeracy



It enables children to become independent, motivated and engaged readers and writers with comprehension possessing viable reading and writing skills. To make students understand the reasoning in the domains of measurement, numbers, and shapes; and enable them to become independent in problem-solving by way of numeracy & spatial understanding skills.
High-quality teaching learning material



The programme aims at ensuring the availability and effective usage of high-quality and culturally responsive teaching-learning material in students' familiar/home/mother language(s).
Stakeholder's capacity building



The mission focuses on the continuous capacity building of teachers, academic resource persons, head teachers, and education administrators so that they are in a position to impart the best education possible. It actively engages with all stakeholders, i.e., Teachers, Students, Parents, and Community policymakers, to build a rigid foundation of lifelong learning.

Interactive & interesting learning

The programme ensures assessment learning through portfolios, collaborative and group work, project work, quizzes, role plays, oral presentations, games, short tests, etc.
Never miss a story
Stay updated with the latest news and articles related to school education
SUBSCRIBE TO OUR NEWSLETTER
How is LEAD Syncing with NIPUN Bharat Mission?
LEAD-partner schools help in the holistic development of children by emphasising different domains of development like physical and motor development, literacy and numeracy development, socio-emotional development, cognitive development, life skills etc., which are interdependent and interrelated, which will be in a Holistic Progress Card.
How is LEAD following NIPUN Bharat Mission objectives?
In line with NEP 2020 recommendations, LEAD follows the following NIPUN Bharat Mission objectives:
Help children read with comprehension

Help children understand numbers, measurement, and shapes

Provide high-quality teaching-learning material to engage children

Use play and activity-based pedagogy

Sampoorna Hindi Program to make children confident in Hindi

Build capacities of teachers, Academic Resource Persons, education administrators

Track children's learning levels consistently

Conduct meaningful assessments using quizzes, polls, games, etc.
How is LEAD helping teachers ensure the success of the NIPUN Bharat Mission at schools?
By being aware of the learning outcomes and grade-level lakshyas or goals.

By focussing on imparting experiential learning by using art, storytelling, poetry & other such activities.

By training in the multi-level, student-centered, play-based style of learning.

By using formative assessments.
Conclusion
It is significant that every child has a better understanding of language, writing, learning and reading under the NIPUN Bharat programme. The mission aims to impart National Initiative Proficiency in Understanding and Numeracy among the children of primary to Class 3 students. If you want your school to make the future generation emotionally and intellectually smart, then join LEAD to utilise leading-edge EdTech solutions to be ahead of everyone.
Article Summary
Article Summary
The NIPUN Bharat programme

develops the understanding of mathematical numeracy among primary & grade 3.

The programme aims to focus on the development of Foundation Literacy and Numeracy.

The main goal of the mission is to provide the best way of understanding & learning to the children in primary to class 3.

The programme aims to develop the education capacity of teachers by which they have to try different innovative ideas to make understanding between children about a particular subject or topic.
Never miss a story
Stay updated with the latest news and articles related to school education
SUBSCRIBE TO OUR NEWSLETTER
x
Give Your School The Lead Advantage