Are smart schools possible in India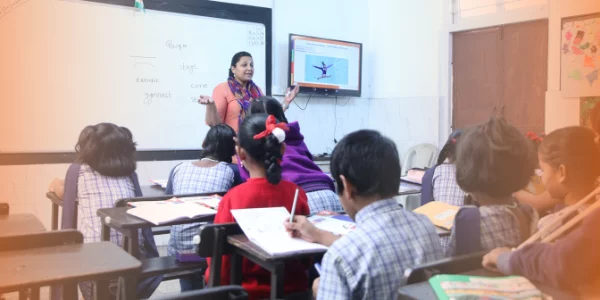 Give Your School The Lead Advantage
Even before the COVID pandemic hit us, we kept hearing the phrase "Smart school" quite often. The importance of smart schools was well recognized all over even before the pandemic, it's just that the implementation was limited to some elite schools and in limited geographies. In fact, in 2019, the Government of India launched an initiative for NGOs to have a deeper impact on the education system as well as the children who graduate from it. The idea of a SMART school was designed to implement changes from infrastructure to technology and more. These efforts are intended to raise the value of government schools amidst a rise in private education.
When we think of smart school classrooms, we typically envision video clips streaming to the students' phones and tabs, students making stunning presentations, etc. Many well-known schools in India adopted this shift from being a traditional school to a smart school with a lot of positivity. However, they found shooting electricity bills and sky-high internet costs and they were too happy to return to their old ways post the pandemic.
Needless to say, the traditional schooling system has a lot of drawbacks which the smart schools tend to overcome. However, there are major challenges to be overcome before we can truly declare our schools "smart". In this blog, we discuss the primary challenge of transforming Indian schools into smart schools and the steps that must be taken to make this transition implementable.
The lack of basic infrastructure is a start reality that often gets ignored in shiny brochures of high-end elite schools. Nonetheless, this is a challenge that is very real and is the primary roadblock in transforming schools into smart schools. The physical infrastructure of schools is a matter that must be handled at the government levels through various education-related initiatives. However, one of the most basic infrastructure problems common to most schools is that they do not even have a basic library facility. This is one thing that the smart school concept can take care of very easily. For example, smart schools must have a library of digital content. Ideally, it should be an Intranet connecting all the classrooms, state-of-the-art infrastructure for interactive resources for teachers. Even if you cant implement an intranet, there are many online resources to help you. The Government of India has many excellent initiatives in this regard. For example, the National Mission on Education through ICT (NMEICT) The NMEICT has sponsored the National Digital Library of India (NDLI) project and arranged funding through the Ministry of Education. This makes available learning resources to the learner's community at one consolidated location.
Once such a library is in place, the teacher then decides if the mode of instruction is going to be conventional or audio-visual, or both. Select student groups can be given the freedom of choosing their track for learning. In addition, as these resources can also be accessed from home, such libraries work as virtual schools. Technology also provides various platforms where parents, teachers, and students communicate with each other, using mobiles, tabs, social networking sites, and email tools. Teachers can upload assignments for students with submission dates and links for references. Schools can make important information available for parents to view.
In addition to this, if digital tools are employed properly, all administrative activities of the schools can be simplified. For example, from primary classes to senior secondary, teachers can assess students even before the class has ended.
In conclusion, smart schools are a distinct possibility in India, with the concept being very much implementable in the most remote and destitute of schools. In this article, we have briefly outlined the primary challenge of infrastructure unavailability in schools and how smart school concepts can mitigate it. We hope that you have gotten valuable insights into how you can begin the transformation most cost-effectively right away.
At LEAD we provide integrated smart school management system that helps in running schools with smart technology in any mode: online, offline, or hybrid. Over 3000+ schools trust LEAD to provide excellent education to their students. Know More