What are the Best Apps for Teachers: A Definite List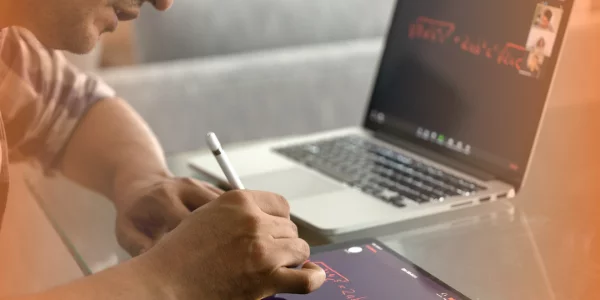 Subscribe to our newsletter
In today's era of online education, learning and teaching are no longer limited to the boundaries of a classroom. Apps and smart devices have simplified education delivery for everyone. Teachers all around the globe are using technology to lessen their workload and improve the quality of their lesson delivery.
After the advent of COVID-19, an increasing number of educators started to rely on mobile devices and laptops to suffice their teaching needs. Whether it is communicating with students or saving teaching material, there's an app for everything. Though they are meant to make your task easier, the myriad of options can be overwhelming. If you are wondering what are the best apps for teachers, then this blog is for you.
Here are five of the best school apps for teachers:
1. Planboard
Planboard is an app that helps save time by creating lesson and curriculum plans. With this app, you don't need to carry multiple books or highlight sentences for hours. The app lets you upload material and media to create engaging lesson plans. This reduces a teacher's work and helps students grasp what is being taught.
Features
Create lesson plans by adding photos, videos, and other media files.
Track progress by comparing plans with international standards.
Access and share lessons with other teachers.
Modify lesson plans according to schedule.
Integrate with Google Classrooms
Share multiple lectures through links.
Sync with web and mobile devices.
Pricing
Planboard is completely free for individual teachers.
For lesson sharing or campus versions, schools have to buy a Chalk.com Collaborate plan which costs $60 a year.
Pros & Cons
The overall user interface of Planboard is great, and the large storage space lets teachers create as many lesson plans as they want.
But the lack of templates can make lesson planning a complicated process. Every plan has to be made from scratch, which makes it a little time-consuming.
2. Educreations
Educreations is one of the school apps for teachers helpful in making video tutorials using your own screen and voice. Teachers can simplify lessons by creating tutorials and sharing them with their classes. The lessons aren't limited to the app and can be saved or shared on a range of platforms. Students too can use Educreations to create class presentations and videos.
Features
Create video tutorials using screen and voice record.
Import local media or search the web within the app for images.
Use basic whiteboard tools such as pen, text, and laser pointer.
Utilize multiple sharing options, including YouTube and Google Drive.
Sync across different devices using an Educreations account.
Give and receive feedback on tutorials.
Pricing
Educreations has three-tier pricing plans:
A basic free plan, with 50 MB storage space and one video draft at a time, in addition to some basic features.
Pro Classroom Plan at $99 a year allows access to a single teacher and over 40 students. It gives 5 GB of storage space, unlimited video drafts, and upgraded features, including priority email support.
Pro School Plan at $1495 a year, suitable for schools/colleges. The plan has unlimited storage space, dedicated support, and other exclusive features.
Pros & Cons
From converting the iPad into an interactive whiteboard to importing multiple file-formats, Educreations is packed with features.
The only aspect that the app lacks is organization. As the app does not have a folder system, teachers who create a large number of tutorials will experience difficulty locating specific videos.
3. HaikuDeck
Almost every virtual classroom requires presentations, and with Haiku Deck, you can create one seamlessly. With a simple, clutter-free interface, Haiku Deck claims that with their app, users have to spend 1/10th of the usual time to make a presentation. The app is one of the best apps for high school teachers and students alike, with lots of options to choose from.
Features
Minimal design that helps you focus
Hundreds of templates to choose from
Works on web, iPhone, and iPad
Easy font, layout, and image customization
Collection of 40 million+ royalty-free images
Sharing through any connected device
Pricing
Haiku Deck offers a free trial of one presentation along with limited features. Multiple presentations and downloads are not included in the free basic version. After the trial, Haiku Deck asks you to upgrade to one of the following options:
Haiku Deck Pro features unlimited presentations, download for offline access, and audio narration.
The Pro version can be billed monthly at $19.99 a month or annually at $9.99 a month.
Haiku Deck Premium features like priority support, lead tracking, and notifications. The Premium version is priced at $29.99 a month.
Haiku Deck also offers special pricing for students, teachers, and non-profit organizations.
Pros & Cons
With Haiku Deck, you can create visually appealing presentations that are simple and to the point. The app considerably reduces the efforts required to make presentations.
Though the app is feature-packed, minor annoyances such as the lack of an undo option, and transition animations can be bothersome.
4. Classtree
Classtree is one of the school apps for parents and teachers communication that focuses on acquiring parental consent. The app offers a secure channel through which parents can sign permission slips and get event updates. Classtree saves teachers the hassle of manually collecting consent forms before each class event.
Features
Obtain e-signatures through unique links and class codes
Customize consent forms to add optional questions
Get quick feedback through simplified response options (tick or cross)
Signatures verified using phone numbers
Grant other teachers permission to post in a class
Share photos and event updates
Communicate with parents privately or in a group
Pricing
The basic version of Classtree is free to use and does the job pretty well. For additional features, Classtree offers in-app purchases ranging from $0.99 to $83.79 for every item.
Pros & Cons
The app provides some simple options to collect responses from parents. Teachers, parents, and students can keep track of consent forms and event notifications.
Though the app saves a lot of time, the interface can be a little tricky to learn. Teachers take a while to realize the use of all its features.
5. Teacher's Assistant
An app for managing student behavior, the Teacher's Assistant lets teachers record and keep track of every incident in the class. From something as simple as forgetting homework to more serious offenses, the app lets you note down everything and communicate with parents and other teachers. It also helps you in noticing any newly emerging patterns of behavior in students.
Features
Maintain separate records for each student's behavior
Store additional information such as date, class period, and even images.
Communicate with parents via email and text message.
Send group notifications or emails.
Create groups or select random students for class activities.
Ensure data protection by accessing the app through device password
Flexibility with cloud backup
Sync across all iOS and Android devices
Pricing
Teacher's Assistant has two versions–Free and Pro. The free version gives access to limited features such as logging behavior and data protection.
The pro version costs $5.99 and unlocks all the features like communicating with parents via email.
Pros & Cons
Teacher's Assistant is a handy app that is especially helpful during a parents-teachers meeting. Teachers can refer to the app record and update parents on how their kids are performing in class.
The only downside of the app is that its interface is clumsy and not visually appealing.
Conclusion: Simplify Teaching With The Best Teaching Apps
Every teacher could use some assistance in handling their various responsibilities. The above list finds answers to what are the best apps for teachers. By using some of the apps mentioned above, teachers can cut down their efforts and manage time smartly. Each of the apps serves a different purpose, and teachers can benefit immensely by using them.
Teachers at LEAD Powered Schools are benefiting from some of the best teaching and management apps. The apps that are part of our solution help them reduce their workload and automate some of the tedious tasks, such as preparing assessments and giving feedback to individual students. They even conduct online classes with utmost perfection and ease through interactive apps.
We equip teachers with the best-in-industry tools and apps to simplify their work and increase productivity. 25000+ teachers across India love LEAD. Find out why