ICT in Education: How it is Transforming Learning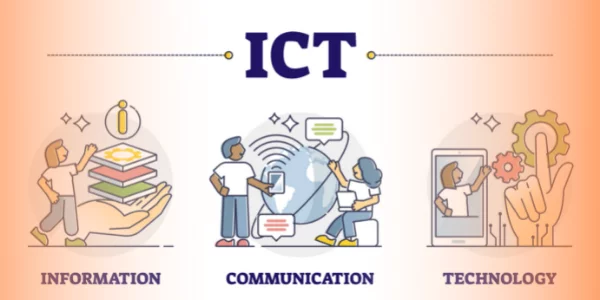 ICT in Education: How it is Transforming Learning
Last Updated On: 14/09/2023

"We need technology in every classroom and in every student and teacher's hand, because it is the pen and paper of our time, and it is the lens through which we experience much of our world." – David Warlick
ICT opens a world of possibilities for the betterment of the education sector. But before we learn of its benefits, we need to understand what is ICT in education management.
In this article

ICT in Education

What is the need and importance of ICT in education?

LEAD-An integrated ICT solutions provider
ICT in Education
ICT or Information and Communications Technology broadly refers to tools and services that handle and communicate information. Some of the most common examples of ICT are mobile phones and televisions.
ICT is widely used in our everyday life, and its need is ever-growing in the education sector. Images, audios, videos, presentations, or a combination of these used for teaching constitute ICT in education. So, ICT in education meaning would be using information and communication to improve the delivery of education in every way. 
Technology in education isn't something new, but not many have information about ICT in education industry. This is because ICT comes with several constraints, one of which is ensuring access to electronic devices for every kid. But with more institutes investing in ICT, the problem should soon be resolved.
Never miss a story
Stay updated with the latest news and articles related to school education
SUBSCRIBE TO OUR NEWSLETTER
What is the need and importance of ICT in education?
Today's classrooms are full of young minds who are technologically conscious. By using a combination of audio-visual learning resources alongside the traditional blackboard, institutes can facilitate better learning opportunities for students.
For these children, electronic devices have become a way of life. By using ICT in classrooms, children can be eased into education using tools they are already familiar with.
Apart from making learning fun, there is a lot of impact of ICT in education, such as:
ICT provides the flexibility and availability of learning materials to all students. While all resources are available in classrooms, students can also access them outside schools. This especially benefits students who are slow learners or have learning disabilities. Such students can go over the lessons as many times as they need and understand their subjects thoroughly.
The availability of learning resources also benefits students who can't afford to attend classes every day. For students with financial constraints, low-cost electronic devices specially meant for education are available.
Efficient Teachers Training
ICT in education management is not only meant to educate students but also teachers. Regular teacher training programs are essential, and ICT helps train them in their own institutes through online learning.
Training modules saved in devices that can be accessed anytime help teachers complete the training in their spare time. They can continue training without missing classes, which is a win-win situation for students and teachers. Additionally, this training also explains how to effectively use ICT in the classroom and distance learning.
Higher Knowledge Retention
Visual learning is more effective for students than regular chalk and talk. This is because our brain processes and retains images and videos faster than text. ICT equips audio-visual teaching methods, which boost learners' knowledge retention and interest levels.
But ICT in education system is not limited to resource-based teaching. Educators can also create interactive on-screen and off-screen tasks using ICT. This allows students to explore fun physical and mental activities while learning. Educational games, interactive museum tours, and virtual labs are examples of a few activities accessed through ICT tools.
School Transformation, the LEAD way
What does a LEAD Powered School's classroom look like?
ICT lets you collaborate with any institute in any part of the world. And students can do so in the comfort of their classrooms. This considerably saves time and resources while giving access to collaborations with some of the best institutes.
They can also collaborate with multiple institutes at once, organize meets and conferences, and share their knowledge with peers worldwide. Such global knowledge exchange is only possible due to ICT in education management.
One of the importance of ICT in education is to maintain a transparent attendance and grading process. The data can be shared with the school authorities, students, other teachers, and also parents. Any issue with a student, such as absenteeism, dropping grades, or bad behavior, can be discussed with concerned people with the data as a reference.
Data stored using ICT can also serve as proof for any action the institute takes. This eliminates uncomfortable questions and accusations, as all actions are based on proof.
Learner-Centered Approach
The need for ICT in education is to create a learning environment that focuses on students. ICT tools address the gap between teacher and learner-centered environments. As ICT gives access to a wide range of information, all students' unique educational requirements are met. Teachers can assess the use of such information through quizzes and exams.
Teachers can find adequate supplementary material off the internet for students who require extra attention. Using ICT, teachers can share those materials either with the entire classroom or with individual learners. Either way, every student has a personalized learning experience due to ICT.
ICT is making it possible to adopt new teaching techniques in institutes. One such technique is the "flipped classroom," where students learn their lessons at home and practice them through practical activities in class. Through ICT, students can effectively learn at home using videos, while at school, ICT engages them in fun learning activities. Teachers can also experiment with different learning techniques and directly check their impact by tracking students' grades through ICT.
LEAD - An integrated ICT solutions provider
LEAD provides holistic development for your students by integrating an array of technology solutions in the day to day learning experience of students. For example:
LEAD Academic ERP makes academic administration easy with school academic administration, standardised teacher evaluation system, insightful remedial student analysis, and parent communication module
Our dedicated apps for students and teachers focus on delivering learning outcomes in students.
LEAD Teacher Tablet paired with Smart TV helps deliver multi-modal content in classrooms
Conclusion
The classrooms of the 21st century are rapidly changing with the help of technology. ICT has revolutionized the way the education industry functions. But while it is extremely beneficial, the proper use of ICT is also equally important.
The importance of ICT in the education sector is huge, and soon it will be an integral part of all school systems. Along with implementing the tools, it is necessary to train the educators to harness the true potential of ICT. Digital literacy among teachers and students transforms the way we use technology to learn. With ICT, we can build school systems that are more efficient, cost-effective, and inclusive of everyone.
LEAD's integrated, disruption-proof solution enables schools to operate online, offline, and in a hybrid mode as well. Moreover, our tech-based solutions and services are in sync with the National Education Policies (NEP) 2020 recommendations and are already trusted by 3000+ schools across India. Enquire now to make your school technologically advanced and take it to the next level of growth!
Never miss a story
Stay updated with the latest news and articles related to school education
SUBSCRIBE TO OUR NEWSLETTER
x
Give Your School The Lead Advantage