A List of ICT Tools for Teaching and Learning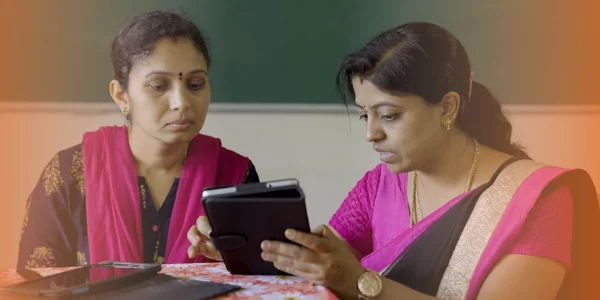 A List of ICT Tools for Teaching and Learning
Last Updated On: 14/09/2023

"Technology will never replace great teachers, but in the hands of great teachers, it's transformational." – George Couros
In this article

What are ICT tools for teaching and learning in the first place?

Top 6 ICT Tools for Teaching and Learning

LEAD- the perfect ICT solution partner for your school
What are ICT tools for teaching and learning in the first place?
ICT is a broad term. It stands for Information Communication Technology.
ICT tools for teaching and learning cover everything from digital infrastructures such as printers, computers, laptops, tablets, etc., to software tools such as Google Meet, Google Spreadsheets, etc.
However, we won't cover any of these basic software or hardware tools such as laptops and computers. It's because everyone already knows about them.
Instead, we'll talk about some amazing software, applications, or platforms specifically meant for teachers.
Never miss a story
Stay updated with the latest news and articles related to school education
SUBSCRIBE TO OUR NEWSLETTER
Top 6 ICT Tools for Teaching and Learning
1. BlackBoard
BlackBoard is a popular teaching tool that comes with numerous capabilities. Teachers can easily administer tests, monitor performance, manage syllabus and even upload grades.
This can save you from the hassle of writing everything on paper, and also from an aching wrist.
Students can equally benefit from this tool because they can access all the information, including grades, assignments, attendance, that you upload on the platform.
The best part is that all this comes in one platform. So, you won't need multiple applications to manage it all.
2. Google Classroom
Google Classroom, as the name suggests, is a virtual classroom that makes learning easy and fun. Teachers can integrate educational apps or websites and create interactive assignments.
You can include a slideshow, a small game, or an entertaining YouTube video full of information. This way, kids learn better and enjoy their learning experience.
Also, Google Classroom allows you to go paperless. You can easily create paperless assignments and grade students within a few minutes. This way, you can save time and focus more on improving the learning experience.
Furthermore, you can create a separate drive folder for assignments, grade sheets, attendance sheets, etc. And you can access all this on the go, even from your mobile or laptop.
What's more, Google Classroom allows virtual meetings. You can host parent-teacher meeting sessions online from your home. It's beneficial both for you and the parents, especially during the lockdowns.
All in all, Google Classroom offers a complete solution for online teaching.
3. Trello
Trello is a collaborative tool that is used widely in IT companies with large teams. Fortunately, it has several applications for you educators as well.
If you prefer project-based learning for students, Trello is for you. Trello has these digital boards.
You can create different boards for assignments, test papers, etc. And in those boards, you can create cards. Furthermore, you can discuss a particular topic in that card.
You can invite your students to view that card. And the students can put in comments, doubts, or ask questions and even attach images, videos, etc.
Also, students can easily look at their projects, set deadlines, and track progress online. In a nutshell, Trello takes a lot of burden off your shoulder while enriching the learning experience for kids.
4. Microsoft Teams
Microsoft Teams is another popular tool for IT professionals. And similar to Trello, it has several applications for teachers and educators.
Microsoft Teams is a Microsoft Office 365 product. It simply means you can host meetings, chat, share files, and use every Microsoft Office app using Teams.
One of the best features Teams comes with is the Class Notebooks from One Note. Class Notebooks resemble individual student notebooks(physical) but come with additional features and ease of use.
Teachers can assign individual notebooks to students and provide them with real-time feedback. You can easily distribute exams, handouts, quizzes, and homework instantly to your students.
Also, the students can use amazing tools within Teams for taking notes and highlighting important things. This helps the students engage more and enjoy learning.
All in all, Teams can reduce the manpower and can completely replace the use of paper. It's yet another amazing tool that ensures effective education online.
5. Online Coding Websites such as DataCamp, HackerRank, Coderbyte
No minimum age exists when it comes to learning how to code.
Mark Zuckerberg, the owner of Meta (formerly Facebook), said that his daughter, who's just three, has started coding already. Now, how can you beat that?
If you want your students/kids to learn how to code, make sure it's practical. Practicing code on paper is simply a waste of time. And it also kills the creative talent of the students.
This is where the websites such as DataCamp, HackerRank, Coderbyte, etc., come into play. Using such websites, your students can implement what they've learned instantly.
Also, such websites feature several tricky problems that your students will enjoy.
The best part is that most websites are free and accessible from any device. It simply means none of your students will need particular hardware(laptop/PC) to code.
A normal PC or a mobile with an internet connection would do.
Recommended Read: How to Teach Kids Coding: A Comprehensive Guide for Parents
6. Subject Specific Tools
All of the above ICT tools for teaching and learning help in generalized learning. However, when it comes to specific subjects, special tools are required. Let's talk about them below:
ICT Tools for Teaching Geography
Google Maps: With Google Maps, kids can learn to find the distance between two places and look at 360-degree images of places. This can help your students become familiar with multiple locations across the world.
Google Earth: This tool shows the entire earth with every location and supports an amazing zoom feature. Kids can learn about different regions, landmasses, and water bodies in a fun way.
ICT Tools for Teaching Mathematics
CanFigureIt Geometry: This tool makes learning geometry pretty easy. You can teach kids about several mathematical proofs and theorems in an engaging way.
CueThink: You can use this tool to teach kids how to solve math problems in four steps: understand, plan, solve, and review.
ICT Tools for Teaching Biology
When it comes to Biology, you can take the help of:
Microsoft PowerPoint: You can use HD images and create slides to clear the biological concepts for the kids. Also, you can download templates from Slidesgo and make the job even easier.
YouTube: What's better than using videos for explaining complex biological processes via YouTube videos. From digestion to excretion, you can find plenty of child-safe content on YouTube.
ICT Tools for Teaching History
Here again, you can use the above-listed tools but in a different manner:
YouTube: You can find historical movies related to the chapter you're teaching for kids to remember.
Microsoft PowerPoint: You can create slideshows with minimal details such as dates, names, locations, and events, etc. This way, kids can learn facts easily and for longer durations.
What does a LEAD Powered School's classroom look like?
Technology Integration in Schools (NEP/NCF Recommendations)
LEAD- the perfect ICT solution partner for your school
LEAD is an Ed-tech brand committed to redefining the education sector of India.
With LEAD's Academic ERP, you can manage everything easily. From hosting live classes and marking attendance to grading homework and sending updates, everything is seamless with our solution.
Teachers get full-stacked tablets. You can easily plan every class using your tab and the available resources. This makes learning more organized and enriching for kids.
What's more, you can easily grade the students and send them instant updates on the student's app.
Whether it's homework, revisions, or practice tests, you can notify your students with one click. The students get the notification instantly and can start working in the comfort of their homes.
All in all, LEAD offers a complete package every teacher and school needs. Over 3,000 schools and 12,00,000+ students are already benefiting from LEAD. And so can your school. Become a LEAD Partner and move forward to take your school to the next level.
Conclusion
Students these days are becoming smart. And smart students need even smarter ways when it comes to teaching.
If you are a teacher and want your students to be the best, you must include some of the above-listed ICT tools for teaching and learning.
This way, not only will you benefit the kids, but your school and your career will boom too.
At LEAD Powered Schools, teachers get the best solutions to stay organized and deliver quality education. Find why 25,000+ teachers love LEAD Know more
Article Summary
The sudden integration of technology has made it hard for teachers to teach their students
ICT tools for teaching and learning cover everything from digital infrastructures such as printers, computers, laptops, tablets, etc., to software tools such as Google Meet, Google Spreadsheets, etc.
There are many free as well paid tools available as per the specific requirements of teachers and school owners
Never miss a story
Stay updated with the latest news and articles related to school education
SUBSCRIBE TO OUR NEWSLETTER
x
Give Your School The Lead Advantage