Helping Affordable Schools Provide Quality Education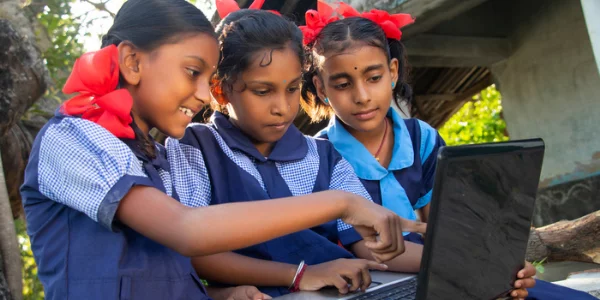 Give Your School The Lead Advantage
As school owners and key decision-makers we are often questioned about the 'quality of education' that we provide. And we usually end up assessing it just by evaluating students' academic achievements.  UNESCO defines quality education not only in terms of the teaching-learning process and its tangible results but also links it to critical components involved in quality education such as infrastructure, curriculum, teacher capacities, accessibility, learning outcomes, teaching-learning materials, skill development, and much more.
In this blog, we will look at these components individually as well as collectively to understand how LEAD takes care of it all and helps affordable schools achieve the goal of providing quality education to its students.
Transforming Teachers into Super-Teachers
While thinking about a perfect classroom there are many things and components that come to our mind as an education provider. These include things such as seating arrangement, classroom furniture and infrastructure, materials available for teaching and learning and most importantly the teacher who is responsible for helping students achieve the learning outcomes and academic goals. The teacher acts not only as a mediator between the learning outcomes and students, but also as a leader and facilitator who inspires/motivates students to learn inside as well as outside the classroom. The teacher is also the one who supports students not only academically but also mentally and emotionally as and when required. While they are looking into such a wide spectrum of responsibilities, how can we help them perform all these duties effectively and efficiently?
One of the major reasons for low effectiveness in classroom teaching and achievement is the high non-teaching work burden that keeps teachers busy during and after school. The integrated solution provided by LEAD empowers teachers to deliver their roles and responsibilities with complete preparation and provides monitoring tools at hand for planning.
LEAD Teacher app provides readymade lesson plans, reports, assessments, audio-visual materials, attendance interface, homework and even teach from home option when required. The teacher tab provided to teachers helps them use all of the above-mentioned features during and after class for teaching and evaluation. This tech-based support not only empowers the teaching capacities but also minimizes time spent on manual preparation for teaching and creating reports which takes them closer to achieving learning outcomes.
Along with classroom support, teachers are continuously provided guidance from the academic team to plan better strategies and gain professional development. We believe that teachers are the backbone of our education system, and it's important to strengthen them individually as well as collectively. Teachers of LEAD empowered schools can connect with each other and take up courses that enable them to be Super-Teachers!
Curriculum and Learning Outcomes
One of the most critical decisions we have to make as school owners is – what to teach and how to teach? Taking the primary grades for consideration the question of what to teach becomes all together important as these are the base years of learning.
NCERT, has listed the learning outcomes for each grade stating and describing the knowledge and skills a child must acquire by the end of each grade. These learning outcomes give direction in planning a particular learning activity. For example, by the end of grade one the student should be able to apply addition and subtraction up to number 20 in real life. To achieve this teacher must provide learning opportunities to students to practice and understand the concept of addition and subtraction.
Considering a large pool of such learning outcomes in each grade and subject, LEAD has curated lesson plans (available in LEAD Teacher App and Teacher Mobile App) which includes classroom activities, homework, assessment and progress across units for each subject and grade. These lesson plans help teachers understand the end goal of every 40 minutes that she spends with students. At the end of each unit students are assessed and evaluated under each learning outcome giving scope for planning better remedial and revision classes for students.
Availability of Teaching-Learning Materials (TLMs)
If we have to go back in time and change one thing about our classrooms, what would it be? Let's pause for a few seconds and think about the possibilities of changing your own classrooms.
For me, there is no one specific answer to this question. But, given a chance to go in the past I would definitely like my teachers to use interactive materials in class in addition to the regular textbook and blackboard teaching. Coming back to the present, if we look into most of our classrooms they are still the same as they used to be for you or me back in the 90's!
Teaching Learning Materials(TLMs) play an important role in the teaching learning process and help teachers enhance their teaching by being more comprehensive and expressive. Classroom is a space where the teacher can experiment with their creativity in numerous ways. Bringing their own experience of teaching specifically and life in general, classrooms can be made interesting in many ways. And TLMs are one of the most efficient ways for doing this.
LEAD Powered schools are provided with LEAD Experience Kit that have more than 5,000 articles that can be used for different grades and subjects. These items/articles help the students to have hands-on learning while understanding the concept not only through books or visual content but also through tangible materials. Watch the video below showing how this approach is helping Arun in teaching math in his school.
We cannot deny the fact that technology plays a major role in almost all the aspects of our life be it traveling, shopping, entertainment, reading, or daily household chores and is the biggest source of information for us.
Education and technology
cannot be viewed separately in today's world. And the TLMs that are crucial in this process need to be aligned with technology.
Each lesson plan that is available to teachers has specific audio-visual content for a particular topic which can be played in the classroom and later discussed and connected with the textbook content. This integration of text and audio-visual material helps the teacher to facilitate learning in an interactive way as well as the students to visualize and connect with topics in a broader manner.
Being aware about these crucial components of a school system and constantly working on them we can provide quality education in the remotest of areas which can be achieved through our efforts of bringing affordable smart schooling.