How can schools be prepared to embrace change even beyond the pandemic?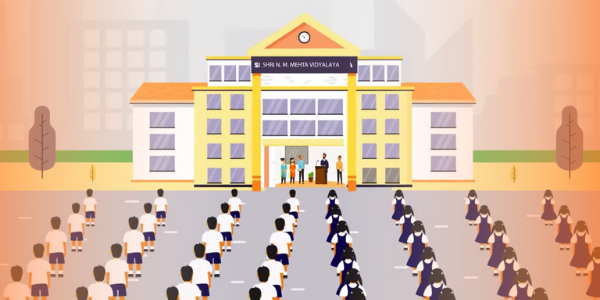 Subscribe to our newsletter
The effect of the pandemic on the education sector is going to persist even beyond the pandemic. As educational institutions continue to grapple with this situation, we make the case for schools to have a solid business continuity plan with learning outcomes at the heart of it.
As I was touring the country in the months of January, February and early March this year, the sense I got from school owners and principals was that the worst was behind us and we were all preparing for a normal academic year, with children—at least the ones in middle and high school—back in school. Come April, and the suddenness and impact of the second wave caught all schools by surprise.
Most school owners in the Affordable Private Schools (APS) segment had the same feeling of being unprepared and vulnerable like they had a year ago. 'How will we manage the second year in a row? 'Are we staring at two years of learning loss?' 'How will my teachers cope?' These and many other questions school owners were having to grapple with.
Let's look at what has really happened in the APS segment. The rapid spread of COVID-19 has had a deep impact on schools, learning, education, and children's lives at large. The United Nations Education Program has declared this to be the largest disruption in the education sector in history. The changes are not limited to the mode of delivery, resources, and tools required alone. This new paradigm in the education sector has led to a period of flux, and some of the changes in this sector are here to stay beyond the pandemic. As a result, there is an imminent need to re-think the curriculum, pedagogy, and how to measure learning outcomes.
Students of schools in Tier 2, 3, and 4 cities and rural areas are perhaps the most susceptible to learning loss. Plagued by several challenges—lack of infrastructure, technological capability and lack of skilled teachers to handle the online model—the APS segment has found it especially difficult to cope with the crisis. With multiple waves of the disease, schools remain closed and uncertainty looms for yet another academic year. Learning loss is bound to extend beyond the pandemic if adequate support is not given to teachers and students.
In response to the unforeseen disruption, many schools quickly adopted online learning and digital tools. However, to realise the true potential of online learning, there needs to be a comprehensive outlook that includes support to administration, teachers, children, and parents. LEAD School's team has remained steadfast in reaching out to its partners and walking with them through these unprecedented circumstances. We are helping schools emerge stronger from the pandemic and equipping them to deal with change even beyond the pandemic as hybrid education becomes an inseparable part of learning.
Providing a holistic support system
LEAD School approaches these issues by providing integrated support. The comprehensive action plan makes schools ready for the future and takes into account all possible scenarios, be it learning at home, in-school learning, or a blended model.
To this end, LEAD School has devised a 3A model to render three levels of support namely, administrative, academic, and admissions. The 3A model ensures continuity of learning and also addresses administrative gaps. It has been designed from the lessons learnt over the years of working with our LEAD School's own institutions and partner schools, and the insights thus gained into the culture of schooling, parenting, and administration. At the administrative level, LEAD School has provided extensive support to reduce cash flow problems and has come up with tech-powered ideas for lessons and admissions and ensuring financing options for school owners to tide over the lacuna created in 2020.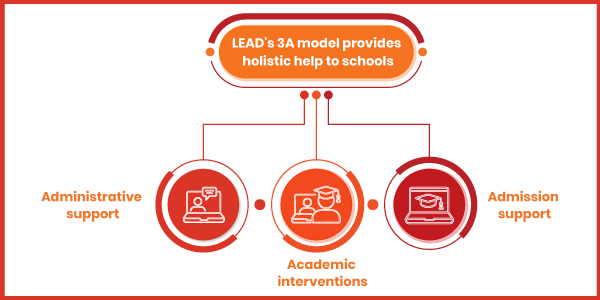 1. Administrative support is a three-layered system as part of which LEAD School provides expert help to the school and teachers via its call centres, the Key Account Manager, and the Academic Excellence Manager for the school. The commitment, therefore, does not end with just winning the account but extends as a partnership every step of the way.
2. Academic interventions
The Academic Excellence team plays a key role in aiding partner schools to implement the technology and lesson plans. The online model, in fact, has enabled more frequent visits by the team, and their feedback to the schools has been invaluable.
LEAD School believes that amid challenges lie opportunities. We have seized this opportunity to innovate and chart a new course in the education sector. To simulate an experience similar to face-to-face learning, LEAD School has ensured that student-led conferences, competitions, and championships are continued even during this pandemic.
Relentless work and follow-up by LEAD School's services team has resulted in new product launches. A noteworthy upgrade during the pandemic has been a new app for teachers. This helps teachers formulate timetables, schedule tests, and even generate question papers. Not only does it grade the answers automatically, but also furnishes data about the performance of students in the test. The app also serves as an accessible platform for students to clarify doubts with teachers instantly.
A significant challenge during this time was taking online the English as General Learning (ELGA) programme, which is one of LEAD School's flagship initiatives. ELGA has ensured that the multi-level learning programme has been adapted to online learning and students are able to bridge the gaps created by not being able to learn in a classroom.
The virtual learning experience has been designed keeping in mind resource limitations students face. For instance, classes and exercises can be done in small chunks in case a student does not have uninterrupted access to smartphones.
LEAD School's approach is fortified by the coordinated participation of parents, teachers, and students. The app also provides parents with real-time information on the child's progress. LEAD School's technology is thus inherently inclusive and is further strengthened with efficient follow-up mechanisms with parents and teachers.
3. Admissions
LEAD School helps its partners create an awareness campaign that highlights its strengths. The goal is to empower these institutions in every possible aspect, leading to creating commercially viable institutions that are sustainable even in the most adverse situations. This includes setting up a website and a host of strategies suited to the locality around the school. LEAD School also helps partner schools with an orientation programme that shows parents how an integrated approach leads to better learning outcomes through methods such as better training of teachers, an improved curriculum, and the shift from rote learning to practical learning.
Building a futuristic paradigm
At the heart of LEAD School's approach is treating schools as partners and collaborators rather than customers. And this concerted effort of the various teams at LEAD School ensured uninterrupted education in over 500 partner schools last year. This solid groundwork and futuristic outlook have helped schools and students adapt to the new learning trajectory.
The past year has been very challenging yet fulfilling as we have worked as true partners with our network schools. The success of the various strategies has been reflected in LEAD School's monthly 'Empower' and 'Envision' workshops, which are increasingly well attended. The month of May in 2021 alone saw the participation of 800 participants from 450 schools.
Schools need to be equipped to handle changes beyond the pandemic, be it a new curriculum, new policies, or another upheaval. LEAD School is constantly upgrading its pedagogy to help children adapt to the ever-evolving world. Nothing beats being prepared and LEAD School and its partner schools have together laid a strong foundation to meet the challenges that will come in the future. While this pandemic has been challenging, it has also taught us to embrace technology in our schools, which will help us create a whole new model of learning at school and at home.
LEAD is transforming schools by making children future-ready. To make yours a LEAD Powered School: Partner with us today