How LEAD is unleashing the fullest potential of human resources in Bharat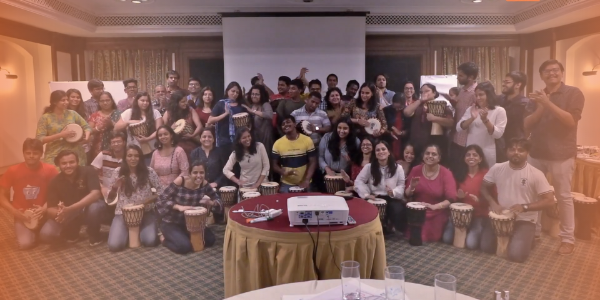 Subscribe to our newsletter
As LEAD goes through a rapid expansion as part of its mission to fundamentally change the way education happens in India, the recruitment of talented professionals who bring passion and drive is both a challenge and an opportunity. Here's how it happens.
A silent revolution is brewing in Indian education. In the rural heartlands and the Tier 2,3 and 4 towns across the country – Bharat – there is a new way of learning. This is a way that brings together all stakeholders harmoniously, which focuses on well-defined learning outcomes, and uses technology to tap into the potential of tens of thousands of children. This approach by LEAD has demonstrated that when the right people work together with the right principles, the challenges facing education in India can be surmounted.
This is how, over the years, LEAD has grown into an established player in the education sector and continues to grow. Since 2019, what was once a 60-member startup has become an organisation of over 1,300+ employees with over 2,000 partner institutions. The company has seen a five-fold growth with a presence in over 450+ cities/towns in Bharat.
At the heart of this success has been LEAD's ability to bring the right people to this momentous mission – those whose skill sets are matched by their drive to take our system to new territories. Their role and capabilities are especially significant since there are huge gaps between the education system in the metros and other parts of the country and each less-developed region has its own challenges. What is common is the desire of those in these regions to fill these gaps and it is here that LEAD's teams make the difference.
So what has been LEAD's experience in recruiting talent for this task? The biggest challenge has been to ensure the personnel are in tune with the organisation's culture and mission of reaching the APS (Affordable Private School) segment in even rural areas. This is a challenge at every level recruitment takes place – from those in the sales domain for acquiring/handling schools and the teachers who are part of the Excellence teams that interact with schools, to those with higher education experience who produce, develop, and edit content and tech experts for the Technology & Product teams.
While this team has diverse skill sets, what unites them is the organisational culture of transparency and the clear targets that are set for them. There is also the exciting challenge of working in a high-intensity environment towards change that is visible on the ground. LEAD's onboarding programme with a Buddy-Up system enables new recruits to learn from experienced peers.
As Sir Richard Branson once rightly said, "If you take care of your employees, they will take care of the clients." Fundamentally, LEAD's team functions as a family and we have set in place a culture where our employees are always taken care of. During the pandemic, for instance, there were no layoffs or salary cuts. In fact, extra steps were taken to ensure the safety of employees, including standard procedures to ensure ground staff were at minimal risk, as well as counselling and vaccination drives. A COVID Care Fund was also set up to help employees in the event of their contracting the disease, ensuring a committed and prepared workforce.
However, the work at LEAD is never over as there are new frontiers in the education landscape to solve for, due to which the scope is ever-increasing. Hence, LEAD is always on the lookout for new talent. One of the most important focus areas is hiring local talent – those who can work with schools even in remote areas. These professionals are extremely valuable because of their knowledge of the local language and culture, their familiarity with the realities of education, and their ability to easily engage with stakeholders in schools.
Recruiting talented professionals who can take up these responsibilities is easier said than done. After all, we are a country that sees massive migration from Bharat to the metropolitan regions, and most professionals, for reasons of career prospects and lifestyle, would prefer to work in the big cities. In fact, very few companies both in the edtech and non-edtech sectors, have a presence outside these big cities.
However, LEAD's understanding from the beginning has been that the changes that need to take place in education cannot happen by just supplying schools with technology and content. It needs engagement with the institutions and for this, we need talented professionals who are familiar with the geography and language of a particular region, the culture and the educational ecosystem. It is important to note that we are not only talking about those in the sales and excellence teams but also those who produce content and manage technology. A nuanced understanding of Bharat is what we look for in our potential team members. 
There are a number of ways LEAD recruits such capable professionals. Existing employees, already well-versed in the organisational culture, are often offered a bonus to relocate to their regions of speciality. Similarly, employee referral has been a very fruitful way of recruitment as LEAD's team members, especially on the ground, are best placed to bring to the team those who effectively contribute to the mission. Cross-industry hiring also helps bring in experts from various domains.
LEAD engages in a significant amount of local recruitment, not only ensuring jobs for those in the region but also tapping the talent that has the best understanding of local realities. Social media and campus recruitment drives help bring young blood who can be groomed to be the education leaders of tomorrow.
LEAD began as a startup and, over the years, has emerged as a major and reputed player in the market. Today, talent naturally gravitates to the organisation. Even so, the space and opportunities are endless at LEAD considering the vast and diverse nature of Bharat.
If you want to grow in your career, in us at LEAD to have a lasting transformational effect on education in the country:  Visit our Careers Page