How LEAD's technology will help the education sector in a post-pandemic India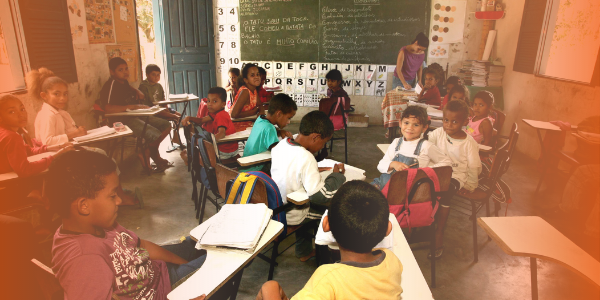 Subscribe to our newsletter
In the aftermath of the pandemic, education will never be the same. However, this crisis can be turned into an opportunity with the right use of technology and by engaging all stakeholders. This is the essence of the LEAD approach.
The year 2020 saw radical transformations in almost every aspect of life due to the pandemic. However, few sectors were so substantially affected as education where centuries of ideas about the classroom and in-person instruction were upended. The pandemic disrupted education for 1.7 billion students across the globe and stakeholders were left with only one option – immediately adopt digital learning. The situation exposed limitations of traditional pedagogical methods when faced with a crisis and demonstrated how technology is essential to augment the existing system.
At the heart of this technological surge has been edtech, which has penetrated public consciousness and has irrevocably changed the way we look at our pedagogical systems. In a country like India, with diverse needs in education, accessibility to quality education has always been a matter of concern. One of the greatest promises of technology is democratic access to education, which remains a highly people-intensive and inadequately digitised sector. With India's burgeoning internet penetration, the edtech sector is poised for a transformation that will forever change the face of education in the country as well.
However, the role of the edtech sector does not end with the pandemic. There is a dire need to reinvent technology and pedagogy as schools open for the next academic year. Technology can play a huge role in reimagining the landscape of education by building equitable, resilient, and progressive institutions. As children return to school, there is a need to ensure continuity, bridge learning gaps, and promote remedial learning. 
Even before the pandemic, the potential of technology in education had been recognised by the government. One of the key recommendations of the National Education Policy (NEP) is enabling technology and digitisation. The government has allocated a sum of Rs 50,000 crore for innovation and R&D in the Union Budget of 2021. The Budget allocation, combined with the pandemic-driven school closures, have primed the education sector for tech adoption. 
But despite this renewed interest, there remains an element of skepticism. The challenge lies not just in the adoption of technology but in resistance to change itself. This is especially strong in a sector like education where there is a huge confirmation bias towards traditional methods of teaching and learning. Additionally, various barriers within the school system complicate the adoption of technology in education. These could range from administrative issues to the needs of specific regional markets and the impact of various demographic factors. These are some of the challenges that LEAD has sought to study and address over the years in its pursuit of helping schools tap into the potential of technology.
Understanding the heart of the problem
Learning and adopting technology can be daunting for students, teachers, and administrators alike. The risk of transition and fear of failure are two common impediments to integrating technology. These are valid concerns and understanding them is central to LEAD's hands-on approach. It is only by involving all stakeholders that comprehensive adoption of technology can take place.
The product team at LEAD, therefore, works to understand the root cause of the problems, exercises empathy while listening to stakeholders' issues, and designs tech solutions as tools that address these problems.
As a first step to promote the adoption of digital tools, we provide extensive training to enhance teachers' digital competence. We have been able to change educators' perspectives on technology through the specialised coaching we provide on their institutions becoming partners with LEAD. Further, the Key Account Manager's continuous association with the school entails round-the-clock support. They are always available to every stakeholder to troubleshoot and discuss best practices to enhance user experience.
Tackling the reluctance to use technology requires a holistic approach so that every stakeholder's mindset is addressed. In our experience, teachers are more likely to adopt technologies that align with their pedagogy and curriculum. Further, every solution we provide is iterated using the feedback given by stakeholders. This constant evolution of technology and curriculum has played a huge role in its integration by LEAD's partner schools. With strong communication, coaching, and validation, we have reinforced confidence in online learning among schools, teachers, parents, and students.
Technology: facilitator, not a replacement 
One of the primary reasons for resistance to technology is the misconception that edtech is a replacement for traditional teaching and is resource-intensive. We have been able to allay these misgivings by showing that technology is a tool that helps teachers provide quality education. We reiterate that human connection is at the heart of good education, and teachers cannot be replaced. Further, technology cannot replace the school, but schools that provide technology will replace the ones that don't. 
Teachers are the nucleus of the schooling system. The life experiences, motivation, and inspiration a teacher provides cannot be replaced. At LEAD, we reinforce this belief in all our stakeholders. In fact, with the introduction of technology, a teacher's role becomes central, not peripheral. Technology will only replace the routine administrative tasks performed by the teacher and not the presence of a teacher in the classroom. Our technology aims to facilitate teachers by providing lesson plans and assignments, ensuring compliance, and communicating with parents. By doing so, we transform hesitation to acceptance, and finally delight, making technology accessible and pleasurable to all our users.
All of these features will be especially important this year when learning loss and the remedial requirements for each student has to be factored in. Teachers are under a lot of pressure and it will be a tall order to expect them to address every student's needs. Technology will play a crucial role in enabling teachers to create a personalised plan for every student, no matter what their level and ability is.
Introducing technology in low-income households
One of the greatest promises of LEAD is the accessibility of remote learning for children from low-income households. For students from places where the internet connectivity is intermittent or sporadic, LEAD offers offline workbooks and quizzes. At LEAD, we addressed this issue four years ago. As technology enablers, we constantly innovate and come up with creative solutions to overcome these barriers.
The way forward in bringing about a sustainable change in the Affordable Private Schools (APS) sector is providing institutions with an optimal blend of technology and classroom learning. The right balance of teachers and technology opens the doors to higher-order thinking, creativity, and better academic results.
A 360-degree offering 
The benefits to teachers and students are only one aspect of LEAD's approach. What LEAD offers is an integrated and collaborative model addressing the needs of every stakeholder. Rooted in the belief that technology will not replace school, LEAD takes an unconventional B2B approach where the offering is school-centric. The idea is to empower schools and provide an entirely new operating system –  a single integrated one for all the stakeholders (administrators, teachers, parents, students). LEAD engages with every decision-maker in capacity-building initiatives so that technology integration is effective, while also ensuring teachers and administrators have autonomy over the process.
The traditional approach to edtech is biased by content. Today, it is crucial to look beyond content delivery and provide innovative solutions that are personalised and can be adapted to meet the needs of individual students. We believe the formula of success is a combination of technology, content, pedagogy, and adoption. This is because technology without teachers and content without the right pedagogy leads to a fragmented approach to tech integration.
The comprehensive approach pioneered by LEAD will target inequities in education during and beyond the pandemic and bring a renewed focus on hybrid education, combining the best of in-person learning and a host of technological aids. Making education affordable, accessible and sustainable, hybrid learning enables students to use the environment at home to learn further while expanding the scope of the classroom. It also ensures greater communication between parents and teachers and an increased role of the former in their wards' learning process.
Thus, a student in our partner school post-pandemic will have the best of both worlds – the engagement of digital tools and the classroom experience with peers and teachers, leading to excellent, assured learning for every child. Students will not go back to the pre-pandemic 'normal' but rather a newer and better normal in the next academic year.
As Arthur C Clarke wisely said, "The only way to discover the limits of the possible is to go beyond them into the impossible." These challenging times have only pushed the boundaries of what technology can do. At LEAD, we constantly strive to be at the forefront of innovation and explore new frontiers in education. Technology will ensure that the possibilities are endless in 2022 and the years to come.