Is coding free to learn?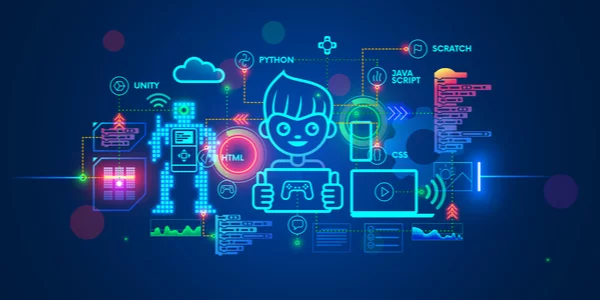 In today's world, technology is rapidly changing, and coding or computer programming is no longer a skill reserved for a particular group of people. It has become a new type of literacy. How writing helps you organise your thoughts and express your ideas better, the same way coding helps you express creatively on the computer and not just interact with it.
Learning basic programming, especially from a young age opens up new opportunities to succeed in the future. Apart from this, kids coding online implies a child learns to think critically and prepares them for the tech-driven world. They learn to solve problems and design projects, and develop sequencing skills that provide a good foundation for their academic success in the future. Students also use math and language in a meaningful way which helps to develop numeracy and literacy from early childhood.
These days kids coding online classes are very affordable thanks to the demand and the relevance of it. Educational institutes and schools are pushing to include coding lessons in their school curriculum and making it a vital skill to learn at a young age. There are many free resources on the internet, from basic to advanced levels.
In this blog, we have covered four free kids coding online resources:
CS First (Google Education)


Google Education's CS First program is a wonderful free coding for kids online resource. It is easy for students to follow the lessons outside of school. One of the great aspects of CS First program is that it has multiple series of classes that allow students to take up their interests such as sports, art and games. Students can find their favourite subjects and start learning. Another interesting thing is that students learn how to tell fun and interactive stories using code. Storytelling enhances creativity and encourages students to tell unique stories each day. Google also works to connect students from underrepresented groups to computer science education through community-based programs by giving them tools to build skills for an excellent future.

ScratchJr (Scratch Foundation)


Scratch is a free coding for kids online community, designed by MIT, where they can learn the Scratch programming language. It is a great resource to learn coding basics without worrying about syntax. ScratchJr is an introductory programming language for students of age 5-7 to express their own stories and create their interactive games. Students can snap together graphical programming blocks to make characters move, jump, dance, and sing. They can also modify characters in the paint editor, add their voices and sounds and then use the programming blocks to make their characters real. The website ScratchJr.org has tutorials to explain the steps needed to build different programs. You can also join their community forum and learn about others' experiences.

Code.org


CODE aims to make computer science education accessible to all. You can find a wide range of web resources, tools, and apps on their website for students in grades K-12 to get started in coding. They have different introductory offerings like the basics of computer science, and a self-paced course and also teach how to get started with your own game or app. In addition to coding, it also covers general computer science topics such as data and the Internet. Students can choose from over 500 one-hour tutorials in subjects like mobile apps, Minecraft, and artificial intelligence. And these are offered in multiple languages. Code.org organizes an annual worldwide special event every year which is known as Hour of Code, with millions of students participating in it. The organization has made extraordinary contributions to coding education for kids.

Khan Academy


Khan academy offers basics tutorials in computer science that are self-paced and offers activities and videos to engage students. These kids coding online classes are designed for kids ages middle school and up. The best part is that the website is not overwhelming and is easy to read. The materials on general computing such as algorithms, the Internet, and cybersecurity are well designed and offer rich learning.
At LEAD Powered Schools we have integrated the coding curriculum into the regular school syllabus through our Coding and Computational Skills (CCS) program. This program applies the 'Use, Think, Build' approach with an excellent curriculum and accessible technology.
Computers are a big part of our daily lives today. The sooner kids get started with coding education, the easier it will be to learn and make them future-ready.