Home
»
Blog
»
School Owner
»
Understanding the Guiding Principles of the National Curriculum Framework
Understanding the Guiding Principles of the National Curriculum Framework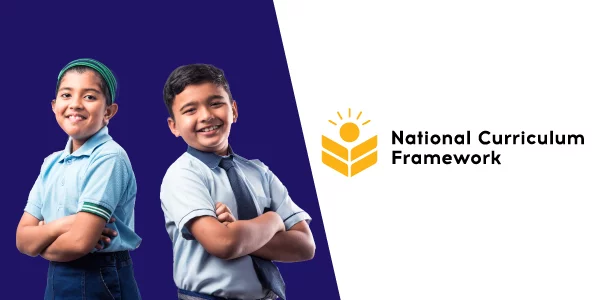 Understanding the Guiding Principles of the National Curriculum Framework
Last Updated On: 26/05/2023

"Education is not the filling of a pail, but the lighting of a fire." – W.B. Yeats
Main Principles of the Curriculum Framework to Transform Indian Education
The NCF guiding principles aim to promote a holistic, inclusive, and skill-based education system. These principles contribute to the foundation of the NCF and guide the development of education policies and practices in India. Some of the main principles of the curriculum framework include the following:

Learner-centred education:

The NCF 2020 stresses the importance of a learner-centred approach to education that focuses on understanding the unique interests, abilities, and backgrounds of each student.



Inclusivity:

The curriculum framework recognizes the diversity of students and focuses on the need to create an inclusive education system that caters to the requirements of all students, incorporating those from marginalised and disadvantaged backgrounds.



Holistic development:

The National Curriculum Framework promotes the idea of education that goes beyond academic learning and emphasises the overall development of the students, including their physical, social and emotional well-being.

Skill-based education:

The framework emphasises the significance of developing 21st-century skills, including critical thinking, problem-solving, communication, creativity, and collaboration, which are vital for success in the modern workforce.



In this article

A Close Look at the Aims of Education According to NCF

In What Way Does LEAD Assist Schools in Conforming to the NCF Guidelines?
The NCF guiding principles aim to create an education system that encourages the holistic development of learners and equips them for success in a tremendously changing world. Here are some of the significant aims of education according to NCF:
Cognitive Development



The curriculum aims to promote cognitive development by focusing on the acquisition of understanding, knowledge, and critical thinking skills. It aims to build the ability to synthesise, analyse, and evaluate information and apply knowledge to real-life situations.
Physical Development



The curriculum recognizes the significance of physical development and aims to promote health, physical fitness, and well-being among students. It also aims to encourage students to participate in sports, physical activities, and games.
Social and Emotional Development



The aim of education, according to NCF, is to recognize the significance of social and emotional development and to foster the development of attitudes, values, and emotional intelligence. 

Cultural and Aesthetic Development

The NCF aims to foster cultural and aesthetic development, including art, literature, music, and other cultural expressions. It equips students with the ability to express themselves creatively and aesthetically.

•

Moral and Ethical Development
The aim of education, according to NCF, is to foster the development of values like respect, compassion, empathy, and responsibility and enable students to make ethical decisions and act with integrity.
Never miss a story
Stay updated with the latest news and articles related to school education
SUBSCRIBE TO OUR NEWSLETTER
In What Way Does LEAD Assist Schools in Conforming to the NCF Guidelines?
LEAD is India's leading School Ed-Tech company and is widely known for providing multiple learning solutions. These solutions aren't just excellent but flawlessly align with the NCF guidelines. Here is how LEAD's learning solutions transform school education according to NCF guidelines.
Digital Classroom Software:

LEAD offers exceptionally innovative digital classroom solutions that stimulate students' senses by using digital learning tools and contribute to students' cognitive skills and enhance their logical thinking.

Pre-primary Curriculum:

It involves age-appropriate learning methods, content, and tools that help students develop sharpness in sensorial perceptions. The curriculum is based on multi-modal learning to encourage students' holistic development.

English Language and General Awareness (ELGA):

ELGA is a distinguished skill-based programme that aids students in learning English faster and contributes to language and literacy development.

International Standard Curriculum:

LEAD's globally benchmarked and thoroughly researched curriculum features the best practices of countries like the USA, Singapore, and Canada.
LEAD is at the front of acknowledging changes in school education. School owners can carry out the NCF guidelines with LEAD and proffer holistic and futuristic education to their students.
Conclusion
The NCF guiding principles aim to forge an education system that empowers students for success in a rapidly changing world. To make your school NCF-ready, you need an extraordinary school EdTech solution provider like LEAD that imparts top-notch tech-integrated solutions to make your school 100% NCF compliant!
Article Summary
Article Summary
The aim of NCF is to create a flexible and adaptable education system that can respond to the dynamic needs of society and the economy.

NCF emphasises on the all-round development of children in the 3-8 age group since this is a crucial period for cognitive development.

NCF also aims at reconstructing not just the curriculum but also the learning environment.

The NCF guiding principles aim at building a more effective and inclusive education system that caters to the various needs of students and equip them for success in today's fiercely competitive world.
Never miss a story
Stay updated with the latest news and articles related to school education
SUBSCRIBE TO OUR NEWSLETTER
x
Give Your School The Lead Advantage