What is Education Management Information System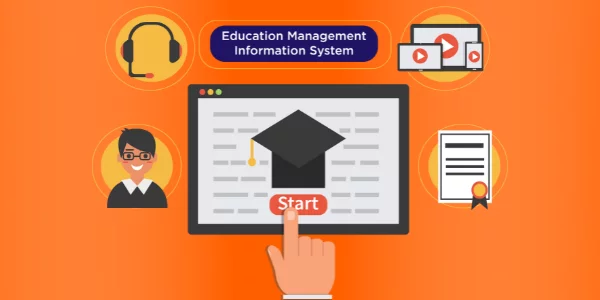 Subscribe to our newsletter
What is Education Management Information System?
Managing an entire school is quite hard. And it becomes even harder when you need to switch to multiple apps and tools to access education data.
Solution? A centralized system that holds all the data in one place. And this is where the Education Management Information System (EMIS) comes into the picture.
But what is Education Management System, and how can it help with education management? Find out below.
What is Education Management System?
An EMIS is a software/platform that you can use to collect, process, integrate, and manage data and information. It's a centralized tool that holds every bit of information in an intuitive and innovative manner.
Using an EMIS, you can view and monitor your school's education programs and allocate resources for the same.
Basically, an EMIS offers you a hawk-eyed view of your school so that you can manage it better.
Let's talk about its advantages.
What are the benefits of a centralized education management information system?
1. Improves Decision Making
When you have all the data in one place, you can monitor everything easily. This way, you don't have to lurk around for information here and there.
You can simply access the info, analyze the same and make quick decisions based on facts.
2. Enhanced Student Info Management
Tracking student info is one of the most chaotic tasks. And this is what an EMIS helps simplify.
With an effective EMIS, you can create a student dashboard that contains student:
Exam Data
General Performance Information
…and much more.
This way you can track the student info in seconds. Also, you can offer access to student data to the teachers and to the parents.
3. Enhanced Communication
An EMIS helps you improve communication at all levels. You can reach out to teachers, parents, or even students both collectively and individually. Also, your teachers can do the same, saving you time.
4. Better Examination Management
Using an EMIS, managing exams becomes a breeze. The teachers can schedule the exams and share the related info on the portal.
Also, the same portal can be used for tracking the grades and notifying the parents. This will help lower some burdens off your teachers' shoulders.
5. Enhances Teacher Productivity
An EMIS manages several tasks such as attendance, fee management, student info, exams, etc. As a result, teachers can focus better on enhancing student learning.
This helps increase teacher productivity along with student academic performance.
Conclusion 
An Education Management System is no longer an option. It has become a necessity if you want to survive in the school business.
Earlier, such systems were costly. However, with the advent of cloud management systems and the internet, you can easily afford an academic ERP.
LEAD is an EdTech company that arms its partnering schools with a powerful academic ERP for all-around school management. You can manage students, faculty, parents, school financials, and almost everything with our solutions.
More than 3,000 schools across India love and trust LEAD… and so will you! 
Partner with LEAD and take your school to the next level. Know More