Home
»
Blog
»
School Owner
»
Using technology for schools can transform your school into a world-class learning center. Here's how.
Using technology for schools can transform your school into a world-class learning center. Here's how.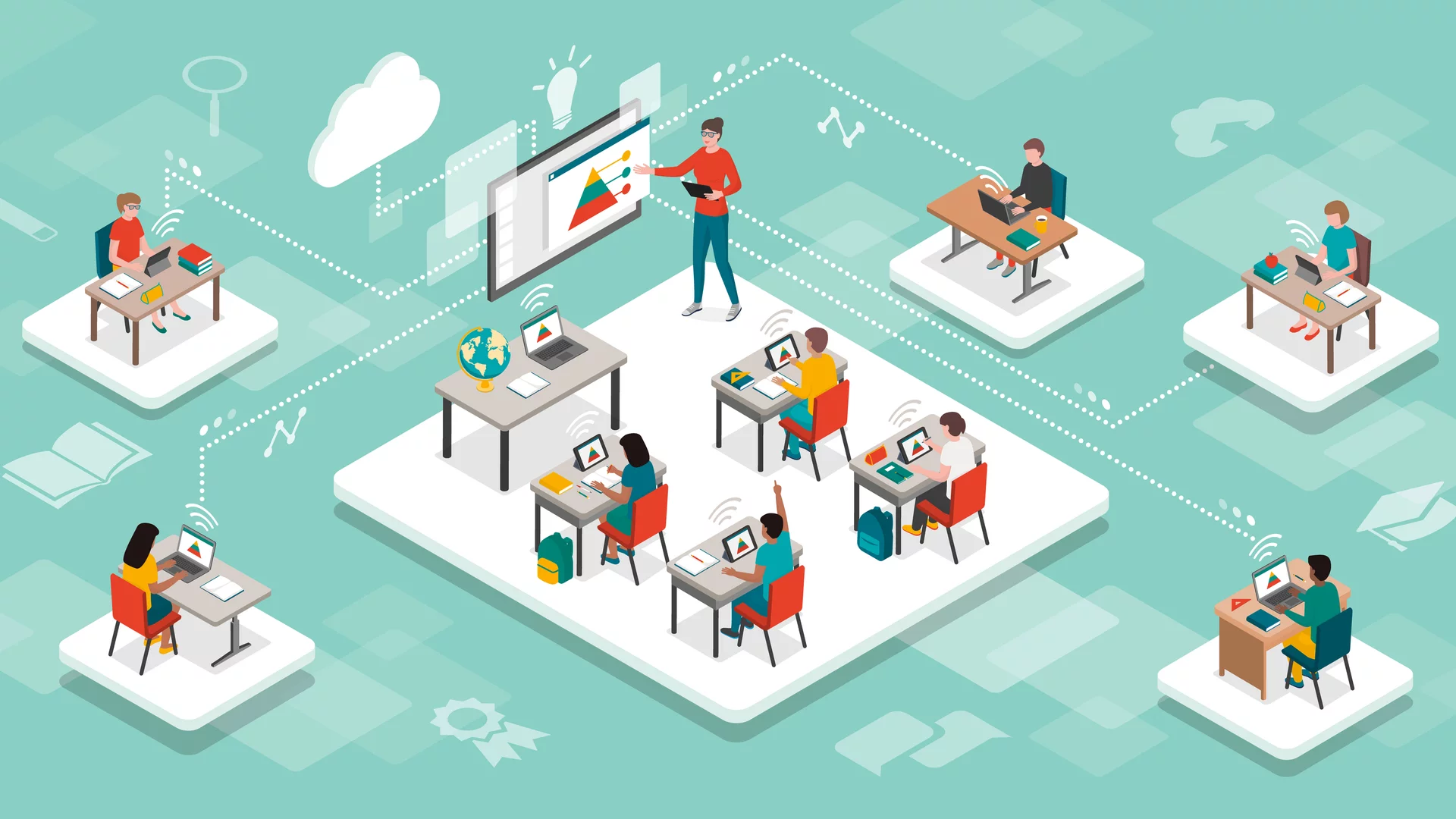 Using technology for schools can transform your school into a world-class learning center. Here's how.
Last Updated On: 22/02/2023
In this article

Why technology should be used in schools

Various tools to implement pertinent technologies in schools

LEAD's technology solutions for schools
Why technology should be used in schools
Firstly, let us understand why technology should be used in schools.
Accelerated Learning: Integrated learning systems accelerate the learning process of the students. Technology for schools incorporates the use of unique approach in-class activities using multimedia content and this develops a learning eagerness among the students.
Personalized Learning: Through the means of technology for schools, teachers can create, and modify the curriculum as per students' needs and preferences. In many integrated systems, students can also rearrange their courses as per their own routine. It allows anytime access to education.
Increased Collaboration: With the use of smart boards in the classroom, communication between teachers and students increases. Teachers can engage students as they work together to solve a problem. Technology for schools enhances one-to-one interaction between students and teachers even in a classroom of high student strength.
Having understood the various benefits of using technology for schools, let us now explore the various tools to implement pertinent technologies in schools.
Never miss a story
Stay updated with the latest news and articles related to school education
SUBSCRIBE TO OUR NEWSLETTER
Various tools to implement pertinent technologies in schools
SmartBoard: A smart board is a large whiteboard-sized touch screen display that acts like a computer and works with the help of software. The teacher can write on the display with the help of a digital pen usually called a stylus. Most smart boards come with a built-in projector for enhancing the presentation area. The smartboard is a technology for schools that can be used for all levels of education.
Smart Tables: A smart table is a touch screen display placed on each student's table in a classroom. This critical component of technology for schools, enables students to write their classwork on the smart table directly. Smart tables are an example of using technology for school that enhances teaching and learning experiences. The teacher can get a live feed of all their students' work and can correct them on the fly. This promotes healthy collaborative learning between the teacher and the students.
Projector: A projector is an optical device used to project images and videos on projection screens or surfaces. This device that is an important part of technology for schools, is majorly complemented by smart boards in the classrooms. It makes note-making easier for students as even the student in the last row can clearly see the content. Using a projector, teachers don't have to be bound with whiteboards and markers for the presentation of information. Instead, they can incorporate short films, slides, and images to make learning easy and interesting for students.
Integrated Learning System: An integrated learning system is a set of hardware and software systems used to deliver educational content and manage every aspect of educational institutions. Most providers of technology for schools, provide some form of supervisory and assessment tools. Integrated learning systems offer seamless integration of all school functions and allow easy access through a simple app that can be installed on a mobile phone.
New technology creates new opportunities in every sphere of life. Implementing technology for schools is essentially an example of such an opportunity. The use of technology incorporates rapid learning, promoting collaboration between students and teachers. Tools that are a part of technology for schools, like smart boards, smart tables, and projectors enhance the learning and teaching experience. The use of an integrated learning system ensures a better-structured curriculum. Schools must understand that with a changing environment they need to change their traditional approach to teaching. The present post-pandemic time is the best opportunity for schools to upgrade into integrated learning systems.
What does a LEAD Powered School's classroom look like
School Transformation, the LEAD way
LEAD's technology solutions for schools
With LEAD's technology for schools, parents can be free from the worry of their child's education. LEAD takes away the barriers coming in the way of kids' education by personalizing and giving a blended learning experience. LEAD provides a multimodal learning experience with Smart TV-enabled classrooms, activity-based learning kits and Books enabled with Digital Visualisation. Students can access lessons, live classes, activities, etc., with just a click through a technology-driven system. Parents also become an active part of their child's learning experience. Technology for schools also allows parents to monitor their child's everyday progress by tracking school tasks and activities.
Conclusion
Technology for schools is an integral part of making schools future-ready. By leveraging the right technology for schools, you can also make your school ready for the technology recommendations provided by NEP 2020. To know how LEAD can help you in the same, call us for a free demo.
Never miss a story
Stay updated with the latest news and articles related to school education
SUBSCRIBE TO OUR NEWSLETTER
x
Give Your School The Lead Advantage