Why Do You Need a Smart Classroom – 5 Key Advantages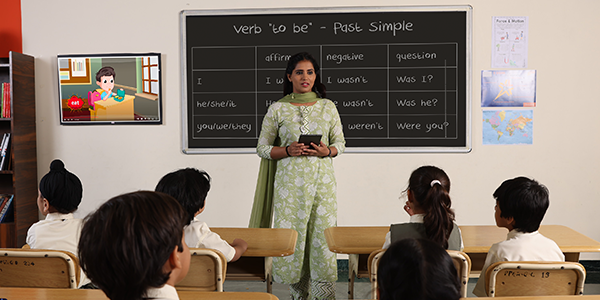 Why Do You Need a Smart Classroom – 5 Key Advantages
Last Updated On: 31/01/2023

"Teachers need to integrate technology seamlessly into the curriculum instead of viewing it as an add-on, an afterthought, or an event." – Heidi-Hayes Jacobs.
In this article

What Makes a Classroom 'Smart'?

Top 5 Smart Classroom Advantages

LEAD - Transforming Education with Smart Classrooms
What Makes a Smart Classroom 'Smart'?
Smart classrooms are equipped with the most modern educational technology, including visualisers, interactive whiteboards, amplifiers, speakers, podiums, microphones, and more. With the advent of such smart classrooms, learning is now enjoyable for kids, and teaching is less of a strain for teachers.
Never miss a story
Stay updated with the latest news and articles related to school education
SUBSCRIBE TO OUR NEWSLETTER
Top 5 Smart Classroom Advantages
Learning becomes more fascinating when technology, in the form of smart classrooms, is used to support education. There are many smart classroom advantages, as detailed below:
Creates a more engaging environment

Students are sure to become interested when technology is incorporated into regular lessons. It makes education fun and enjoyable. For example, a teacher can use an engaging video to explain photosynthesis with the aid of smart classroom technology.



This approach promotes greater student involvement because smart classrooms can make challenging or uninteresting subjects more engaging.

Improves knowledge retention



Technology-integrated classrooms fascinate students and build their interest in studies. With the aid of improved learning techniques, they are intrigued by the subjects and comprehend them better. Individuals can retain the information for a longer period of time when they grasp it better.

Easy access to knowledge

A digital whiteboard and projector are typically included in a smart classroom. The Internet is a wealth of knowledge when it comes to the subjects taught in school. Students using the digital learning approach can access knowledge beyond the set syllabus under their teachers' guidance. In fact, teachers can further facilitate the students with extra study material to enhance what they learn in class.
Prepares students for the future

Students can become future-ready thanks to smart classrooms. Digital learning strategies place a strong emphasis on methods that are productive & collaborative and draw students' attention to an interactive learning methodology.



Creating presentations, learning to distinguish between trustworthy and dubious sources on the Internet, adhering to proper online etiquette, and many other practical skills can all be developed with its aid. Early exposure to the development of these skills can help children get ready for future digital demands.

Creates learning opportunities for educators



Even teachers can benefit from the aid of technology, as they can learn and improve their teaching techniques. The use of virtual classes, online tests, and grading tools helps teachers be more accurate and save a lot of time. This additional time can be used with students who need it or by the teacher to advance their own skills.



In the end, the abilities acquired while learning in a digitally enabled setting help to create stronger skills for tomorrow that the students will need in a college, university, or workplace.
What does a LEAD Powered School's classroom look like? | LEAD
School Transformation, the LEAD way
LEAD - Transforming Education with Smart Classrooms
LEAD is India's largest school EdTech company that is revolutionising school education using the following ways:
All LEAD-powered schools are 'smart' because they provide real-time insights that enable teachers to actively help struggling students.
The LEAD app for students is constantly updated with audio-visual lessons for multimodal learning.
With LEAD's smart classrooms, our commitment is to change the system from within. Strengthening the learning happening within the school structure will create lasting change and make students smart.
All smart classrooms at LEAD-powered schools are based on excellent pedagogical principles that have been thoroughly examined through the lens of an Indian student and her unique experiences. A great example would be English Language and General Awareness (ELGA) – LEAD's pioneering approach to teaching English as a skill and not as a subject.
These are broad ways in which LEAD is changing the status quo in the Indian educational landscape and spearheading the transformation in education by leveraging smart classroom advantages.

"Equipping teachers with technology that will automate boring work will enhance education and make it more powerful. Teachers can spend more quality time on what they are good at i.e teaching." – Unni Koroth.
Conclusion
LEAD does not look at 'smart classrooms' as a buzzword but provides a 360-degree offering to our partner schools — especially in Tier 2, 3, and 4 towns and cities in India and beyond. Get in touch with us today to learn more about how LEAD is bringing the 'smart' change in education.
Article Summary
Smart classrooms are the need of the time and are changing the face of education.
One of the smart classroom advantages is that teachers can use smart class tools to make the classroom interactive and learning more fun.
As learning becomes more engaging with a smart classroom, students understand concepts better and retain them for longer.
The same set of curriculum can be taught by teachers in so many methods with the aid of a smart classroom.
Smart classroom advantages also include making students future-ready as technology permeates all sectors.
Never miss a story
Stay updated with the latest news and articles related to school education
SUBSCRIBE TO OUR NEWSLETTER
x
Give Your School The Lead Advantage