Why I wish I studied in a LEAD Powered School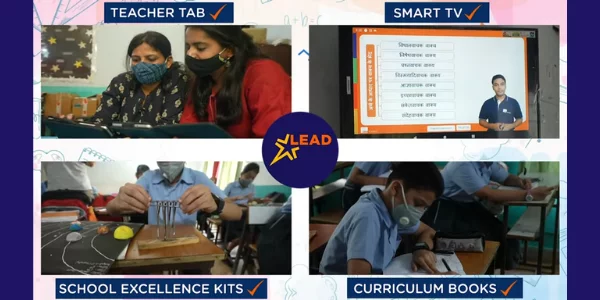 Like most of you reading this blog, school time was the best time of my life. Those carefree, lazy days, the lack of any responsibility coupled with childhood innocence makes childhood the most memorable phase of one's life. This is also the time when we learn about ourselves, the world around us and develop ourselves. The importance of access and exposure that one receives during this time is well-known.
I was fortunate to have loving teachers, great peers, good infrastructure, and a wonderful learning environment in my school. I had no complaints. However, now that I recently joined the curriculum team at LEAD and came across the wide range of opportunities that LEAD students receive, I must admit that I am envious.
One-stop learning solution
Just a decade ago, learning in the classroom and from the "textbook" was not enough. It was a common practice for parents to rely on a bunch of other resources to facilitate learning after school hours. I remember my parents were always looking for the newest edition of the best resource guides to supplement the textbooks.
Fortunately, students studying at LEAD Powered Schools don't need to spend extra time, energy and money to learn. The school itself provides Student Resources and Work Books that are aligned to the school curriculum and designed by professionals who have expertise in the subject. These resources not only supplement the school textbooks but also give students a chance to gain conceptual understanding and revise what they have learnt.
At-home practice quizzes
After school hours, I would see my friends hop from one tuition class to another to gain additional mock test practice. Different tutorials were popular for different subjects and at the end of the day, parents would end up paying exorbitant fees to enrol their children in these classes. On the other hand, juggling between multiple classes and school for at least 6 days a week would exhaust my peers. Forget about spending leisure time on hobbies, many would not be able to even indulge in any form of physical activities.
LEAD provides the solution for this by providing rigorous quizzes at home that give personalised feedback based on the learning journey of every child. The students can practice the skills from the comfort of their homes, saving them enough time and energy to rejuvenate after learning.
Smart classroom
In my school, when I would read about the freedom movements in history, I would imagine the morchas and satyagrahas. During the science classes, my mind would try to visualize what our solar system looks like. When my geography teacher would explain the different layers of the atmosphere, my mind would help me paint a picture of the description.
But what if the same knowledge can be imparted in the form of audio-visual lessons? We will not only enjoy learning but the chances of retaining what we learn also increase. This is exactly what happens in a LEAD Powered School; students are hooked on to the new concepts through engaging digital content in the classroom and they then dive deeper. I am sure I would have enjoyed learning this way much more if I had the opportunity to.
Masterclasses and Scholarships
In our school, we used to have yearly seminars on important topics such as sexual harassment, menstrual hygiene, career development, etc. Although these sessions were fun and engaging, they weren't very frequent. They were also at a much smaller scale because we would interact mostly with our own classmates and teachers.
Thanks to technology, the world has connected digitally and become one. LEAD has 3500+ schools in 400+ cities where students can compete with 1.4 million+ other students. The deserving students are rewarded with scholarships and every student gets access to LEAD Masterclasses that experts lead from various fields. The exposure at this scale is unmatchable and unheard of.
It's no wonder why I wish that I could go back in time and learn at a LEAD Powered School. But it may not be too late for you. Find a LEAD Powered School near you today! Visit the link below.