6 Benefits of LMS for School Teachers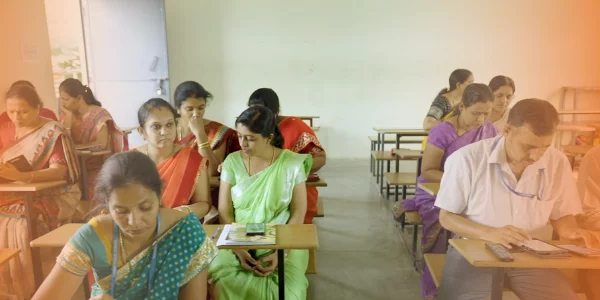 Subscribe to our newsletter
According to a study, 77% of higher education faculty agreed that LMS is critical to their teaching.
Teachers all over the world are looking for innovative ways of teaching that engage the students and help them perform better. A Learning Management System (LMS) can be just the right solution to facilitate this kind of teaching.
LMS provides an indispensable set of features that support educational activities such as classroom learning and distance education.
It helps make learning more interactive and fun, track student progress, create and deliver various educational content, and collaborate on projects.
Recommended Read: What is LMS in Education (And Why All Schools Should Use It)
Still wondering what are the advantages of LMS? Let's look at all the benefits of LMS for teachers:
1. Seamless Teacher-Student Communication
Not every student would be comfortable raising queries or answering questions in class. An LMS is a perfect platform for a teacher to engage with such students. With the presence of several communication tools such as chat, forums, blogs, wikis, social communities, the teacher can interact with these students. This interaction can in turn encourage students to participate in the classroom and the result is more engagement and participation. An LMS is also a great avenue for teachers to share updates, activities, and assessments which they can't in the classroom due to time constraints.
2. Track Student Data and Progress
An LMS gives you the ability to keep track of student data and progress. With rich insights such as the ability to track progress in each subject, past records, and other extracurricular activity status, teachers can identify students who are lagging behind and provide them with supplemental resources to improve learning behaviors or performance. Similarly, for those students who are excelling in a particular subject, teachers can help them further hone their knowledge and skills in the subject. This analysis can also show the gaps or areas for improvement in the course material.
Above that, an LMS allows teachers to set key performance indicators like how much time they are spending on assignments, which course materials they are referring to the most, for how much time, and so on, to track students' engagement and interaction with each course. This is one of the very important benefits of LMS for schools and teachers.
3. Supports Remote Learning
This is perhaps one of the most important parts of the answer to "what are the benefits of LMS". When the pandemic has forced millions of schools to shift to remote classes, the remote learning feature of LMS has become a necessity. When all the course materials are online, the students can access them through the internet at their homes. LMS also allows teachers to upload video sessions that can help provide the same classroom experience when children are studying remotely. Teachers can also quickly modify and expand the learning content available on this system to keep up with the changes happening in the education sector. These are some of the key benefits of LMS for teachers and students.
4. Keeps You Organized
Instead of having all the learning materials fragmented in different tools and places in a computer, an LMS allows teachers to stay organized and store everything in a proper format by making different modules and folders for the course material. They can even apply different learning methods and techniques such as storytelling, blended learning, gamification, social learning with the help of the software. Even videos and links to external sites can be embedded into class pages so that teachers do not have to remember to share them individually in the classroom. This organization makes sure teachers do not have to recreate anything from scratch as everything is safe and secure in an LMS.
5. Effective Distribution of Study Materials
With just a single click, teachers can allow access to students for different study materials. This saves a lot of time and cost, which would have otherwise happened if teachers had to print out thousands of copies of study materials. They can even easily update these materials without having to worry about re-printing all the copies again. This can save schools a lot of resources.
6. Allows for Parental Access
A parent can easily check their child's attendance records, track their grades, daily timetable, course structure, assessment dates, and receive important communication updates by logging into the LMS. Parents can thus stay involved with the students' learning and this improves teacher-parent communication and engagement. The right LMS is a bridge between teachers, parents and students.
Why do 10,000+ Teachers in India love LEAD?
Teachers at LEAD Powered Schools get a dedicated LEAD Teacher App that helps them stay organized and keep track of attendance records, performance records, and lesson plans.
They can also look into the various industry certification programs and get access to other extensive training courses that help them impart quality education to their students.
With the ability to network with other teachers and an access to everything they need, it's no wonder that teachers in India love the functionalities and benefits that LEAD provides.
Want to be a part of our growing network of teachers and level up your career? Know more