7 Benefits of Digital Classroom (Over Traditional Classrooms)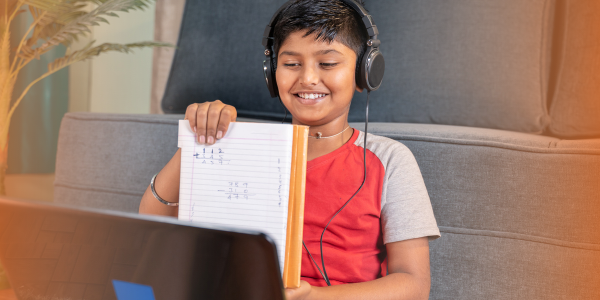 7 Benefits of Digital Classroom (Over Traditional Classrooms)
Last Updated On: 14/04/2023
In this article

What is a digital classroom

Benefits of a digital classroom

LEAD Powered Schools are Leading with Best Ed-Tech Solutions
What is a digital or smart classroom?
These are classrooms that utilize technology as a means of education. Using electronic devices and the internet, students can learn from the comfort of their homes. Such classrooms support both real-time and recorded learning and help teachers create a flexible class schedule.
Never miss a story
Stay updated with the latest news and articles related to school education
SUBSCRIBE TO OUR NEWSLETTER
Benefits of a digitally-enabled classroom
Most educational institutes already use some form of virtual learning. Apart from flexibility, there are several benefits of a smart classroom, such as:
Global Information Sharing
Digital platforms connect various information sources around the world to create an integrated information hub. Unlike traditional chalk and board teaching, where access to information is limited, ebooks and digital libraries can be viewed from any place in the world. Children can utilize any information from around the globe to supplement their learning.
Most of the time, traditional classrooms don't have access to the latest information. This also causes discrepancies in the syllabus across countries. But smart classrooms overcome this problem by providing equal access to information for all students globally.
Multiple people can access ebooks at once, which means there is no limit to the resources students can access online. And as knowledge evolves continuously, updating and altering digital content is also easier. This ensures that students, at all times, have access to the latest information.
Multiple Teaching Tools
Face-to-face lectures and blackboard teaching makes learning monotonous for students. On the other hand, moving beyond traditional teaching by adapting digital tools introduces fun and creativity in education.
Smart classrooms have several modes of teaching apart from the usual lectures. Interactive sessions, animated videos, and 3D models are some methods that change the way students learn. More than written notes, illustrative examples simplify a concept and help students understand it better. With technology-based classrooms, you can provide multiple resources for the same topic and create a learning strategy combining different teaching tools.
Better Accessibility
One of the main advantages of a tech-based classroom is accessibility. Traditional classrooms require students to meet at a place and learn from an instructor. Most of the time, these lessons aren't stored for future reference. Students who can't commute or attend classes might miss out on the lessons, even if they are absent for a day.
Tech-powered classrooms bridge this gap by being accessible anytime and anywhere. Students can attend classes using a connectible device right from the comfort of their homes. Even if they miss a lecture, they can always view it through recorded sessions. This also helps them revise better without searching for content from other sources.
Self-Paced Learning
Every student has a different pace and style of learning. And with in-person teaching, there's only so much flexibility that you can achieve. Most traditional classrooms are focused on a group of students rather than a single student. Even though teachers are available after class, pupils who need to learn at a slower pace might feel left behind.
Virtual classrooms provide the right balance between structure and flexibility. As students can access content anytime, they can learn at their own pace. They can also rewatch the content or ask for more resources in case the available information isn't sufficient. This ensures that every student understands the concept while keeping up with the entire class.
Increased Accountability
Whether it is conducting class tests or providing feedback, a smart classroom makes it easier. As every student has their own profile in a virtual system, teachers can keep track of their performance. If you have uploaded educational content in the digital class system, you can check each student's progress by analyzing their watch time.
You can also conduct online tests and supervise the students using webcams and microphones. The system also offers you the facility to upload each student's result and feedback in a single place and every student will be able to view them in their respective profiles.
The information can be accessed at any time, so students can be held accountable for their performance. Sharing the data with their parents and other teachers is also easy, as all the information is available in the same place.
Ease Of Communication
Smart classrooms facilitate communication between students and teachers. Whether they have doubts or questions, students can send the same to the teacher through multiple communication methods.
For example, if a teacher is unavailable when a student wishes to communicate, they can leave a message explaining their question. The teacher can see it whenever they are free and send back their answers or schedule a virtual meeting.
Additionally, teachers can also use the platform to communicate individually or with the entire class. Notifications like upcoming exams, changes in schedule, and additional resources can be shared on the virtual platform.
Cost And Resource Saving
Cost-saving is also one of the crucial advantages. Every year, educational institutes use thousands of sheets of paper for classroom teaching. Traditional classrooms rely a lot on paper, from printing out the syllabus to writing notes. This is not only costly but also harmful to the environment.
Technology-enabled classrooms almost entirely eliminate the need for paper. As all the resources are available online, students don't need to maintain separate books for learning. The same resources can be utilized every year, as they don't get dull or damaged after use. This saves costs and teaches the students to be environment conscious.
Additionally, if your classes are being conducted online, you also save a lot on electricity and infrastructure. You can strategically utilize this money to increase the quality of education your institute is delivering to students.
7 Benefits of Digital Classrooms over Traditional Classrooms
School Transformation, the LEAD way
LEAD Partner Schools are Leading with Best Ed-Tech Solutions
LEAD Partner Schools Are Leading With Best Ed-Tech Solutions
With hundreds and thousands of schools integrating digital classrooms into their system, you definitely require the best solutions to stay ahead. LEAD offers tailored and powerful ed-tech solutions to its partnering schools with the best school management, classroom, and administration tools in the industry. We help you grow and attain international educational standards through world-class ed-tech solutions.
All LEAD Partner Schools across the country are successfully conducting digital classes with our simplified and effective solutions. We not only provide them with befitting digital solutions for their teaching and administrative needs but also offer 360-degree support.
Conclusion
Technology is overtaking various aspects of our lives, and education is no different. Many schools are already using a hybrid of traditional and digital learning tools to support efficient learning. A smart classroom in India helps kids learn better and creates an educational ecosystem by connecting institutes all across the globe. With an increasing number of institutes adopting this technology, technology-enabled classrooms are undoubtedly the future of education.
3,000+ schools in Indian trust LEAD to help provide excellent education to their students Partner With Us
Never miss a story
Stay updated with the latest news and articles related to school education
SUBSCRIBE TO OUR NEWSLETTER
x
Give Your School The Lead Advantage