Home
»
Blog
»
School Owner
»
According to New Education Policy 2020, learning for exams should not be the end goal of schools. How does LEAD ensure more than just academic growth?
According to New Education Policy 2020, learning for exams should not be the end goal of schools. How does LEAD ensure more than just academic growth?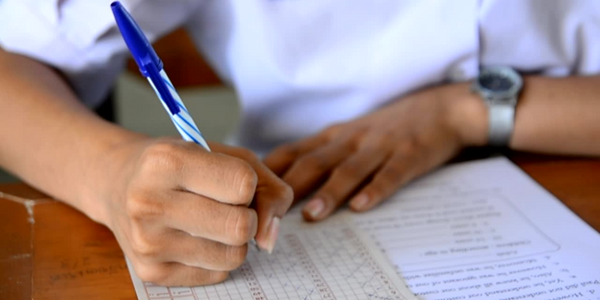 According to New Education Policy 2020, learning for exams should not be the end goal of schools. How does LEAD ensure more than just academic growth?
Last Updated On: 11/11/2022

According to the World Bank, "The COVID-19 pandemic has exacerbated the learning crisis, and the impact on the human capital of this generation of learners is likely to be long-lasting."
The key thrust of the New Education Policy 2020 is to move the Indian education system towards real-life experiences and help students grasp "how to learn?" — and away from the culture of rote memorisation that is largely present in most schools today.
In this article

Key initiatives in this direction

LEAD delivering more than academic excellence
For this, the New Education Policy 2020 recommends the following key initiatives:
1. The New Pedagogical & Curricular Structure to Make Learning Holistic, Integrated, Enjoyable and Engaging
The New Education Policy 2020 proposes a significant change in how we structure school education. It recommends that schools move from the old 10+2 structure to the new 5+3+3+4 structure to make learning and teaching more age-appropriate. The breakdown of the 5+3+3+4 model is as follows:
5 Years of Foundational Stage (Class 1-2 (Age 6-8) + Pre-school (Age 3-6)) –

The studies will focus on multi-level, flexible play/activity and theme-based learning to promote children's overall development and well-being.
3 Years of Preparatory Stage (Class 3-5 (Age 8-11)) –

The learning will be activity based through interactive classrooms to help develop students' basic numeracy and literacy skills.
3 Years of Middle Stage (Class 6-8 (Age 11-14)) –

With an experiential and interdisciplinary pedagogical approach, the learning will be activity and discussion based to develop students' core academic and life skills.
4 Years of Secondary Stage (Class 9-10 + Class 11-12 (Age 14-18)) –

With a multi-disciplinary approach, this stage will give students the flexibility to choose from a broad spectrum of subjects to enhance their critical thinking and problem-solving skills.
By replacing the old education structure with the new one, the New Education Policy 2020 expands the age bracket of schooling from 6-14 years to 3-18 years, reducing the number of years spent in each phase while allowing students to spend more time in the school.
2. Early Childhood Care and Education (ECCE) – The Foundation of Lifelong Learning
The New Education Policy 2020 acknowledges that over 85% of a child's cumulative brain development occurs up to six years of age. Therefore it gives utmost importance to providing universal access to free, safe, and high-quality Early Childhood Care and Education (ECCE) across the country. The new 5+3+3+4 education structure provides a strong foundation for ECCE right from age 3 by encouraging the following types of learning:
Flexible

Multi-faceted

Multi-level

Play-based

Activity-based

Inquiry-based

Discovery-based
These learning methods comprise:
Languages

Colours and shapes

Alphabets, numbers, and counting

Puzzles and logical thinking

Problem-solving

Craft, drama and puppetry

Music and movement

Drawing, painting and other visual art

Indoor and outdoor play
Additionally, it also focuses on developing:
Social capacities

Ethics

Good behaviour

Courtesy

Sensitivity

Personal and public cleanliness

Teamwork and cooperation
The New Education Policy 2020 focuses on four key areas to improve the quality and access to Early Childhood Care and Education (ECCE):
Preparatory Classes

for students moving from Pre-primary to Primary (Grade 1)

Universal Access

to ECCE for all children from 3 to 6 years

New Foundational Learning Curriculum

developed by NCERT that integrates Indian traditions for children up to age 8

Multi-faceted Learning

to foster play, activity, and inquiry-based learning
In short, ECCE aims to promote children's cognitive, physical, motor, cultural/artistic, and socio-emotional-ethical development.
3. Foundational Literacy and Numeracy (FLN) – An Urgent & Necessary Prerequisite to Learning
According to the New Education Policy 2020, over 5 crores of students in elementary school have not attained foundational literacy and numeracy (FLN), which refers to the ability to read and comprehend basic text. To make sure every student achieves FLN by Grade 3 by 2027, the New Education Policy 2020 adds the following three Developmental Goals for K-3:
Children become effective communicators

Children maintain good health and well-being

Children connect with their environment and become evolved learners
The focus group for FLN is 3-9 years old children from preschool to Grade 3. To meet each of these goals, the New Education Policy 2020 recommends that schools cover the following components of foundational literacy in the curriculum:
Reading Comprehension

Oral Language Development

Coding

Writing

Vocabulary

Reading Fluency

Phonological Awareness

Pre-Number concepts

Patterns

Measurement

Data Handling

Mathematical Communication

Shapes and Spatial Understanding

Numbers and operations on numbers
To help schools achieve this, NCERT and SCERTs will develop an interim 3-month play-based 'school preparation module' for Grade 1 learners, along with making a national repository of high-quality resources on FLN available on DIKSHA (Digital Infrastructure for Knowledge Sharing).
4. Equitable and Inclusive Education – Learning for All
The New Education Policy 2020 aims to provide equitable and quality education to all children up to 18 years, right from the Foundational Stage through Grade 12. It states that no child should lose any opportunity to learn and excel due to learning disabilities or other circumstances. For this, it emphasises:
Monitoring students' learning levels and providing them ample opportunities for remediation accordingly.

Including topics such as sustainability, human values, global citizenship, etc., in the school curriculum to pave the way to a more equitable and inclusive society.

Paying special attention to students from underprivileged and socio-economically disadvantaged groups.

Creating a 'Gender-Inclusion Fund' to provide equitable and quality education to all girls and transgender students.
By providing high-quality education to all, the New Education Policy 2020 strives to transform India sustainably into a vibrant and equitable knowledge society or, specifically, a Global Knowledge Superpower.
5. Revamping/Reassessing Assessments – Build 21st-century Skills
The New Education Policy 2020 recommends the following initiatives regarding assessments to make them 'as', 'of' and 'for' learning:
Digital Assessments –

Conduction of online summative assessments and examinations.
Board Exams –

Subjective and objective papers
Holistic Report Card

that captures more than academics
Competency-based Assessments

to target competency rather than knowledge
The purpose is to instil future-proof skills among 21st-century learners.
6. Optimal Learning Environments and Support for Students – Embrace EdTech
The New Education Policy 2020 encourages all schools to go digital by adopting EdTech solutions. It recommends leveraging the power of modern tools and technologies to make learning accessible to everyone at all levels of education. For an uninterrupted teaching and learning experience, the New Education Policy 2020 recommends the following key initiatives:
Investment in an open, evolvable, and interoperable public digital infrastructure.

Extension of existing eLearning platforms.

Use of ERP software, learning management systems, assessment platforms, etc.

Creation of virtual labs and digital repositories for practical, hands-on learning experiences.

Use of digital devices, such as tablets, with preloaded content for online learning.

Use of student-appropriate tools like apps and games to encourage fun-based learning.

Conduction of online assessment and examinations.

Rigorous training to turn teachers into top-notch online content creators.
However, the New Education Policy 2020 clearly states that schools must not ignore face-to-face, in-person learning while promoting digital education and learning.
Never miss a story
Stay updated with the latest news and articles related to school education
SUBSCRIBE TO OUR NEWSLETTER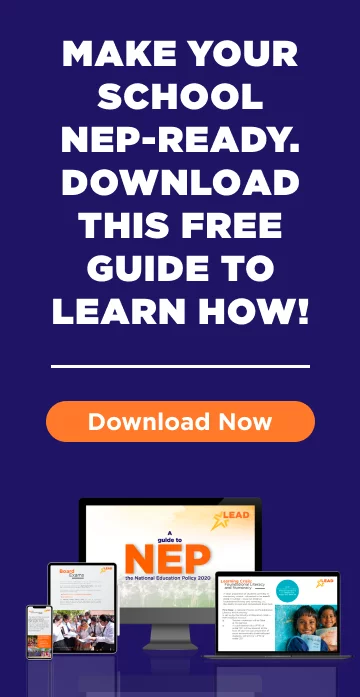 NEP 2020: Addressing Learning Crisis and Building Foundational Literacy & Numeracy
NEP 2020: New Academic Structure and Early Childhood Care & Education (ECCE) Explained
How LEAD is Delivering More Than Just Academic Excellence to Students
LEAD, India's largest School EdTech company, understands that students need more than just academic excellence to excel in today's constantly evolving world. Therefore, it focuses on students' overall growth and development rather than just academics. It does so through various means. For instance:
An integrated, theme-based pre-primary curriculum
Multimodal smart classrooms
Practice books and grade-wise activity kits
Multimodal, experiential, activity/theme-based learning
Strong USE-THINK-BUILD pedagogical approach via CPA, VLC and LBD routines
More focus on Higher Order Thinking Skills
Morning Routine, Yoga & PE (Physical Education)
Early EVS and Early Mathelogic
Early ELGA and Creative Arts
Computational Thinking and Coding from Class 1
Lead Championship for high-performers
LEAD Summer Camp
LEAD Masterclass
Student-led Conferences (SLCs)
Super 100 for Grade 10 students
Digital assessments through Practice Tests on student app
Learn-by-Doing module
A CPA (Concept-Pictorial-Abstract) approach
Extracurricular Activities
Conclusion
With over 400+ locations across the country, LEAD is India's first 'EdTech Unicorn' of 2022, powering 3000+ schools to deliver international standard education that is in sync with NEP 2020. So if you want to ensure students' overall growth and development at your school, get in touch with us today to get a FREE NEP Consultation.
Article Summary
New Education Policy 2020 emphasises conceptual understanding rather than rote learning and learning for exams
New pedagogical & curricular structure of 5+3+3+4 will make learning holistic, integrated, enjoyable and engaging
NEP utmost importance to providing universal access to free, safe, and high-quality Early Childhood Care and Education (ECCE)
NEP 2020 wants to ensure every student achieves FLN by Grade 3 by 2027
NEP wants to build future-proof skills among 21st-century learners
New Education Policy 2020 encourages all schools to go digital by adopting EdTech solutions
New Education Policy 2020 clearly states that schools must not ignore face-to-face, in-person learning
Never miss a story
Stay updated with the latest news and articles related to school education
SUBSCRIBE TO OUR NEWSLETTER
x
Give Your School The Lead Advantage