Home
»
Blog
»
School Owner
»
Smart Classrooms are the way ahead. How can technology's intervention change the narrative for your school?
Smart Classrooms are the way ahead. How can technology's intervention change the narrative for your school?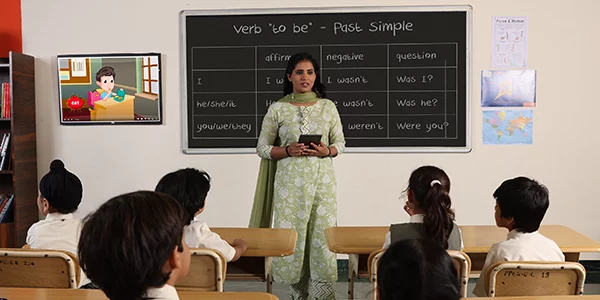 Smart Classrooms are the way ahead. How can technology's intervention change the narrative for your school?
Last Updated On: 14/11/2022

"We need technology in every classroom and in every student's and teacher's hands, because it is the pen and paper of our time, and it is the lens through which we experience much of our world." – David Warlick.
According to the World Economic Forum, "technology benefits a child with virtual feedback, making learning more fun and interactive. Smart classrooms enable kids to think apart from the academic curriculum and equip them with skills that help them overcome real-life problems."
Despite this, educational institutions have been quite slow in integrating technology into traditional classrooms. It is perhaps because they are unfamiliar with the benefits of using smart classroom technology. So let's find out what smart classrooms are and how they can give your school an edge over its competitors.
In this article

What are smart classrooms

Equipment used in smart classrooms

Benefits of Smart Classrooms

LEAD's Smart Classrooms
Smart Classrooms - The New Norm for New-age Schools
Smart classrooms are equipped with the latest technologies and digital tools to make teaching and learning better and more effective for teachers and students. These learning technologies may include computers, specialised software, networking, assistive listening devices, audience response technology, and audio/visual capabilities.
This digital transformation enables teachers to prepare dynamic multimedia lessons while helping change students' outlook towards studies. Additionally, since learning takes place through integrated learning technologies, students become more effective learners, eventually improving their academic performance. Thus, smart classrooms provide a meaningful and innovative use of technology in transforming how teachers teach, and students learn in schools.
Never miss a story
Stay updated with the latest news and articles related to school education
SUBSCRIBE TO OUR NEWSLETTER
Interactive Tools for Smart Classrooms
Smart classroom tools are the equipment teachers use to deliver education to students in smart classrooms. Some of these include:
Digital Podium: These are all-in-one integrated systems that are well equipped with various digital tools like a mic, recorder, speakers, document visualiser, etc., to deliver smart lectures and presentations.
Graphics Tablet: Also known as a digitiser, drawing tablet or pen tablet, a graphics tablet or eReader promotes reading, note-taking, and making diagrams, eliminating the need for buying books for every subject.
Interactive Whiteboard: Also known as smartboards, interactive whiteboards are designed to replace traditional whiteboards with markers. They have a built-in smart class app, a touch-sensitive display, and many other handy features.
OMR (Optical Mark Reader) Scanner: This technique is used for conducting exams and tests in smart classrooms. Students are given questionnaires and multiple-choice examination papers, which they need to answer by filling in a "bubble" or "mark."
Interactive Display Panels (IDPs): IDPs are LED panels with big interactive screens, which are used to represent pictures, videos, and 2D/3D animations to students. They make visual learning more interactive and effective.
Student Response System: It records the students' responses and generates an accurate aptitude evaluation within a few seconds, thus saving teachers' time and the cost of paper.
Speakers: They ensure the teacher is audible to each student in the smart classroom, even on the last bench. Thus, no one misses anything important.
Wireless Microphone: Microphones go hand in hand with speakers. They help teachers deliver their teaching to students while enhancing mobility in a large classroom.
Document Camera/Visualiser: A visualiser or document camera allows teachers to project documents on large screens, giving a clearer view to help students understand complex concepts easily.
Educational Software: It is a smart class app that supports the academic curriculum, enables teachers to supervise students' attendance and academics, and helps them create exam schedules.
School Transformation, the LEAD way
LEAD Powered School is better than any other regular school
How Do Smart Classrooms Help Transform Schools?
If you have not yet implemented smart classroom technology in your school, now is the time. Here's why:
Interactive Learning Experience
According to a Gallup survey, introducing smart technology in schools and colleges can increase students' engagement rate by up to 55%.
You may think technology can distract children, but in reality, it encourages the active participation of each student in the classroom. Using digital gadgets, like computers, tablets, speakers, etc., in smart classrooms turns traditionally dull subjects into fun and interactive activities for students.
Flexibility in Teaching and Learning
Every child is different and does not learn things in the same way or at the same pace as others. For instance, while some students grasp concepts instantly, others require repetition. Therefore, it is quite challenging for teachers to adjust their learning plan to fit the needs of every student in a traditional classroom.
Smart classrooms, on the other hand, allow teachers to modify their lessons to suit the specific learning capabilities of each student. They can experiment and see which strategy works best for each child, while students can learn things at their own pace.
Easy Access to Online Resources
Smart classrooms have digital display boards and projectors synchronised with computers and the Internet — a treasure trove of information. Students who wish to go the extra mile in their studies can access various online resources free of cost to enhance their knowledge level and creativity. Also, teachers can explain topics practically based on pre-recorded videos from the web.
In the past 4-5 years, the adoption rate of smartboards and interactive whiteboards in the education sector has been over 70%. It is clear evidence that educational institutions are embracing this cutting-edge technology.
Improved Collaboration
It has been observed that using interactive technologies like Smartboards in the classroom results in increased peer collaboration and student engagement. There are many instances when students need help from their peers or teachers. In such situations, technologically advanced students can assist their inexperienced peers.
Smart classroom technology makes it easier for students to collaborate without creating posters or notes of their work. Instead, they can create digital collections of their ideas and research, which are fully collaborative.
Increased Productivity
Smart learning technologies in the classroom engage students by displaying multimedia, audio, video, and animated pictures, which leads to a better understanding of concepts. Not only does it help teachers achieve good academic performance, but it also helps students learn things more easily in minimal time. Moreover, students can instantly access the study material, while teachers can keep calendars online to stay organised, leading to improved productivity for both.
Eco-friendly
Smart classrooms utilise eco-friendly gadgets, such as laptops and tablets, for learning and teaching. Students can use these tools combined with school-provided physical books and workbooks to enhance their learning experience.
Needless to say that using these gadgets in the classroom significantly reduces the use of many traditional school stationery like pens, pencils, ink, etc. This eventually supports the "Go Green" initiative, paving the way for a greener environment.
With all the significant advantages highlighted above, smart classrooms are a boon for the education system. They boost students' confidence and encourage them to participate actively in learning. If you are interested in implementing smart classroom technology in your school, LEAD can help you.
LEAD Smart Classrooms - A Long-Awaited Overhaul of Your School
LEAD, India's largest School EdTech company, empowers schools with cutting-edge tools and technologies, including next-generation smart classroom setup. Some of the prime USPs of LEAD-powered smart classrooms are:
Smart TVs with audio-visual content
Grade-wise activity kits
Pre-loaded tablets for teachers
An immersive learning environment for students
Best digital classroom solutions for teachers for higher teaching impact
Real-time assessments
The LEAD app that supports multimodal learning
Real-time insights for teachers to identify struggling students
A bird's eye view of every classroom for principals and school owners
By making classrooms tech-enabled, LEAD helps schools deliver a world-class educational experience to children. Curious to know what a LEAD smart classroom looks like? Watch this video:
Conclusion
LEAD is helping 3500+ private schools in India transform their classrooms into smart classrooms, thus making millions of children future-ready.  Get in touch with us today to know how LEAD can transform your school.
Article Summary
Smart classrooms provide a meaningful and innovative use of technology in transforming how teachers teach, and students learn in schools
Introducing smart technology in schools and colleges can increase students' engagement rate by up to 55%
Smart classrooms allow teachers to modify their lessons to suit the specific learning capabilities of each student
In the past 4-5 years, the adoption rate of smartboards and interactive whiteboards in the education sector has been over 70%
Smartboards in the classroom results in increased peer collaboration and student engagement
Smart classrooms help students learn things more easily in minimal time
Never miss a story
Stay updated with the latest news and articles related to school education
SUBSCRIBE TO OUR NEWSLETTER
x
Give Your School The Lead Advantage