Beating Summer Boredom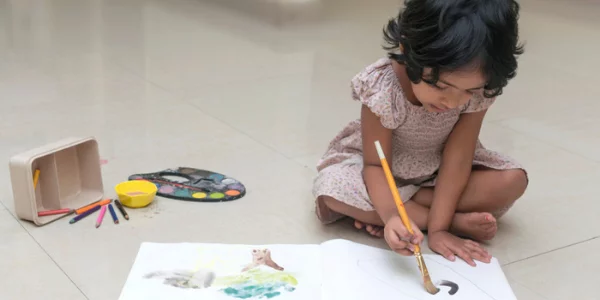 For parents one of the most dreaded lines to hear this summer from their child is, "I'm bored!". Children demand immediate attention and resolution to that very evident and persistent problem of boredom. Throughout COVID- 19, children and their families have been confronted with this challenge and are still struggling to tackle it effectively.
Coming up with new ways to entertain children has been more and more daunting for parents this summer vacation, due to high temperatures, reduced options for outdoor activities, and restrictions on socializing.
Here are some Boredom Busters:
Fixing a Routine
A routine helps shape your child's day and week. Make a timetable and stick to it. This not only creates a rhythm but also instills discipline in children. The idea is to develop pride in children for following a routine and ensuring all planned tasks are done on a regular basis.
Ensure that the timetable includes a few fun activities every day, TV- time, mobile-time, etc. This also helps restrict excessive indulgence in unproductive activities. Having a timetable reduces the scope of having time to be bored. Thus even 'free time' will be seen as time being utilized to relax and enjoy.
Developing New Skills
It is important for children to be exposed to new activities that involve mental and physical stimulation. Habits like reading the newspaper, daily exercise and helping clean the house can be encouraged. This not only helps in teaching children essential life skills but also productively occupies their time and energy.
Set A Goal for the Summer
Talk with your child about setting a quantitative and realistic goal for the summer. It could be about reading a certain number of books, learning about a new topic or playing a new sport, etc. It would be useful to measure their progress from time to time throughout the summer. You can also give a prize at the end of the vacation for achieving such goals. This would make the process even more thrilling and engaging for children.
Plan an Adventure
Outdoor interactions and adventures are crucial for children for their overall development. Every week there should be one day dedicated to exploring the outdoors. This can be done by visiting zoos or museums, having picnics, boating, inter-city travel or even going to the movies. The goal is to enjoy the planning part, and the journey.
Don't forget to click pictures and create memories.
Practice Self-Care
In the fast paced world that surrounds us, it is important for everyone to practice self-care to help overcome stress. It is never too early to learn to enjoy quiet time for oneself, whether that means doing yoga, meditation, going for a run, cycling, swimming or taking a nap.
There isn't enough that is said about teaching children the importance of introspection and understanding one's own physical & emotional needs. Summer is the best time to develop this skill which will be beneficial to them in the long run.
It's Okay to be Bored
Most importantly, don't be pressured to fill every second of your child's day. Boredom can be seen as a good thing. It can help children gain independence and improve their creativity. While it is great to schedule activities, sometimes it is important to let children figure their own way out of their boredom. Instead of immediately supplying children with boredom-busting activities, it is essential to consider the cause for such boredom and listen to their concerns. Feelings of loneliness can facilitate boredom, and those emotions can spiral into depression if left unaddressed.
Visit our website to know about the 6- week Summer Camp organized by LEAD for students at LEAD Powered Schools to make their summer vacation memorable and exciting. They will not only learn important skills but also get a chance to win prizes and earn certifications.