Building an organisation that solves India's education gaps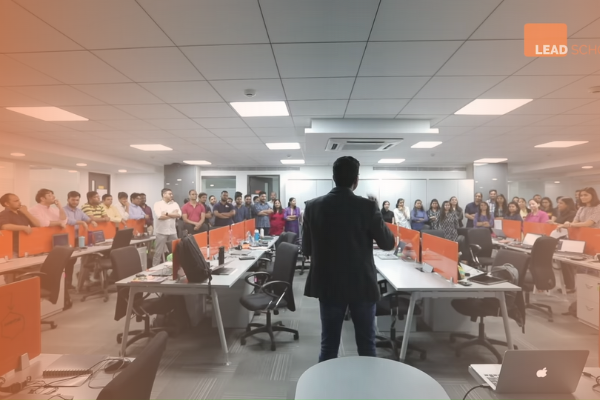 Subscribe to our newsletter
Much of the education market still remains untapped in India, and bringing changes in the education sector requires bright minds who have the foresight, commitment, and an understanding of the gaps. A look at how LEAD School is bringing together talent with diverse experiences to do rewarding, impactful work in the education sector.
India's strides in innovation in education have largely excluded children from low-income groups attending schools beyond the metros. The need, therefore, is to provide a level-playing field for all of India so that every child stands a chance to get the best, most holistic education possible. The lack of inclusivity in education is unhealthy and creates wider socio-economic gaps. Bridging these inequalities would require an integrated approach that includes improved pedagogy, active participation of teachers, an experiential learning curriculum, and a customised approach to technology adoption.
Given the size of the country, population, and student base, the opportunity the Indian school market presents is tremendous. A study by IMARC group predicts that the school market will further grow at a rate of 13.74% between 2021 and 2026. Thus, the education sector is likely to recruit for diverse roles going beyond conventional teaching, to content development, curriculum development, education support roles, technology development, etc. Much of the education market still remains untapped in India, and bringing changes in the education sector requires bright minds who have the foresight, commitment, and an understanding of the gaps.
In this backdrop, LEAD School is striving to make education holistic and inclusive with the important goal of changing the Indian education landscape. We recognise that solutions required for the Affordable Private Schools (APS) segment are different from the high-fee schools of the cities. There is an imminent need to create an atmosphere that is conducive for learning in schools in Tier-II- IV cities and towns. Our goal has been to bring world-class education using affordable technology-enabled solutions to our partner schools and making the active participation of all the stakeholders possible.
Organisation culture and team building at LEAD
A mission such as this requires unstinted focus and a passionate team of people willing to go the extra mile. Delivering such exceptional value is a monumental task and requires the expertise and drive of talented individuals. This is why LEAD School focuses on bringing together people with diverse experiences. At the nucleus of building a strong team lies a transparent channel of communication, which encourages a collaborative spirit and supportive atmosphere among colleagues. At LEAD, managers are encouraged to engage and communicate with care and empathy for the team. We recognise that it's not just the 'what' but also the 'how' part of it. We understand that success lies not just in performance delivery but also in the holistic wellbeing of its employees.
It is this culture that has helped the staff also sail through the challenges of remote working. The focus on building employee-manager relationships to nurture positive intent has, in turn, enhanced the productivity of our teams.  As an organisation, this is reflected in the rate at which LEAD School has scaled over the last year.
Giving your team a voice and taking their inputs seriously gives employees a sense of purpose and the need to contribute positively. This is why we shun one-way, top-down communication at LEAD School. This also enables managers to grow their repertoire of managerial capability as they develop some critical skills like deep listening, empathy, and mentoring.  Managers at LEAD are at the forefront of developing a collaborative spirit in the team and tapping into the diverse views and experiences of each member. We strive to strike a balance between informal and formal, and not merely keeping communication transactional. We are also cognizant of the fact that we have young managers who may falter along the way; we will work with them as they make this journey of fostering an engaged team.
Why leadership and mentoring matter
Bringing out the best self of the employee is at the core of LEAD School's leadership philosophy. Every employee's growth matters and the process of mentoring at LEAD School leverages every member's strengths to contribute to the organisation, simultaneously giving the employee a sense of achievement. While managers share the long-term goals and vision of the organisation with the team, they also break down tasks into achievable targets.
Taking a leaf out of the sector we serve, LEAD School believes learning is a constant process. Employees are encouraged to continuously learn and equip themselves for emerging challenges. Mentoring is not seen as a training class or a course; it is an ongoing exercise that is frequently re-calibrated according to employee and business needs.
The leaders here help the team in finding purpose and staying motivated and engaged with the mission. They set the tone of the organisation culture while empowering employees to think, innovate, and create. Managers at LEAD School cultivate an encouraging environment, giving the team members freedom to work independently while providing all the necessary support and resources. At LEAD School, innovation is both valued and rewarded.
The style of leadership is built on the foundation of honesty. Providing meaningful feedback to enhance the quality of work, incentives and appreciation, support and mentoring, and a transparent communication channel are the tenets on which leaders function at the company.
Employee growth and well-being: two sides of the same coin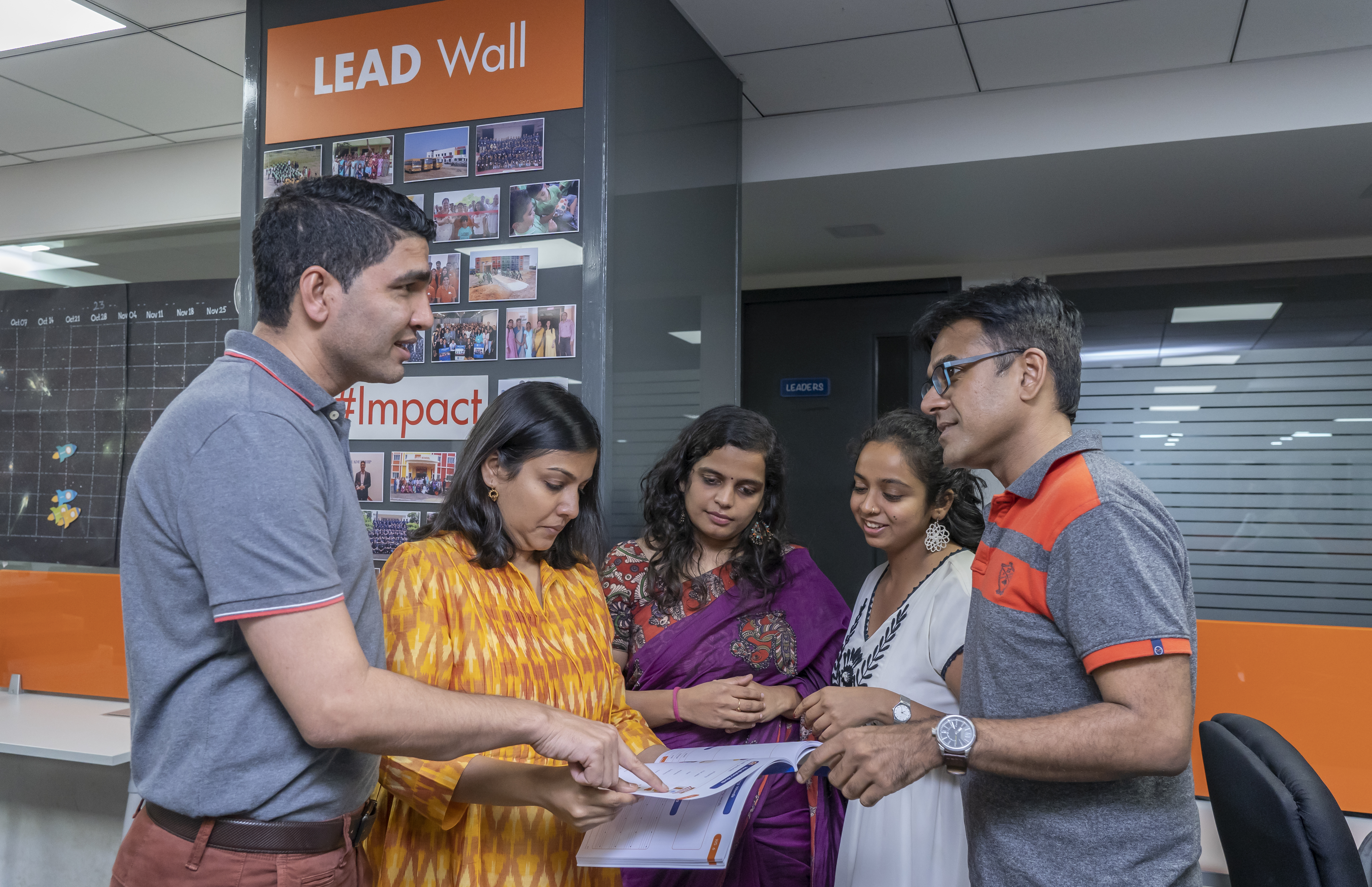 LEAD School is focused on building a collaborative and cooperative yet competitive workforce, focusing on both personal and professional development.
Often, when individual aspirations do not align with the organisation goals it leads to discontent. We believe in honest interaction and the emphasis is on communicating with the staff and keeping them motivated, while providing them ample opportunities to grow within the organisation. The managers help individuals identify their interests and orient them with the vision of the organisation. Managers thus engage closely with the team and tap into their potential for their seamless transition to leadership roles.
'Growth' is a term not limited to career progression alone and must also encompass the well-being of employees that will eventually reflect in their professional development. Employee welfare at LEAD School is built on four pillars: Financial, Physical, Emotional, and Spiritual Well-being. We are focusing our faculties on initiatives that improve health, happiness, and all aspects of our employees' lives. A mental health professional is available for conversations to aid this process. However, this does not substitute the inherent care our managers and colleagues have for their team. Given the challenges posed by remote working, LEAD School strives hard to foster trust, relationships, and camaraderie among employees for their holistic well-being. Remote or at the office, we are hoping to consistently provide an environment that enables people to realise their personal ambitions as well.
Working with LEAD
The organisation culture, positive intent, and team spirit at LEAD School has led to its significant scaling over the last year. We are continuously expanding and attracting fresh talent to work in a stimulating atmosphere where they can feel optimistic, productive, and rewarded while working towards creating a huge impact in the education sector.
Currently a passionate team of over 1,000 employees, LEAD School is looking to recruit 500-600 more talented individuals to its team by next year, hoping to bring together diverse talent. LEAD provides an ecosystem where work is meaningful and our employees have a structured path and direction for their growth.
Committed to a cause such as education, honesty and integrity are two core values on which LEAD School operates within the organisation as well. The path forward is to attract India's best talent and create a workplace that fosters trust and camaraderie. Together, we will bring about an education transformation.
If you want to grow in your career, come, be a part of the biggest change our country is about to witness: Visit our Careers Page