Here's How to Help Your Kid Manage School Stress Before It's Too Late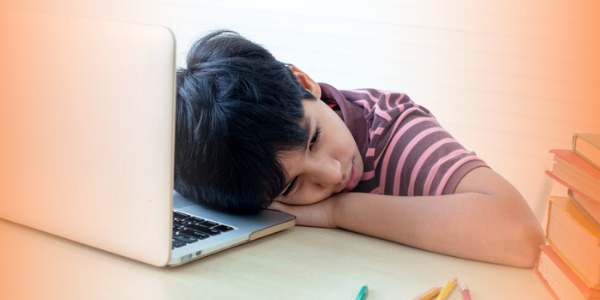 School can be stressful for kids. If it isn't managed properly, it can lead to all sorts of problems. As a parent, you want to do everything in your power to help your child succeed. And one of the best ways to do that is by assisting them in managing school stress.
But first, let's understand the root cause.
Why Do Kids Feel Stressed in the First Place?
Simply put, there can be several reasons. Maybe they have a lot of homework and don't know how to get it all done. Or perhaps they're worried about what will happen if they don't do well in school.
And if they don't see any hope, they might develop serious issues like depression and anxiety. No parent wants this. Let us look at how to deal with this situation in detail.
Useful Tips to Manage Your Kid's School Stress
With kids, things are always complicated. They can't describe their issues like adults and often take a defensive route to tackle their issues. As a parent, it's your responsibility to spot any persisting issues with your little champ and take immediate action.
Here are some helpful tips to help manage your child's school stress.
Tip#1: Establish a Routine
It will help them know what to expect and help them manage their time better. This, in turn, will help reduce their stress levels.
What to keep in mind: Don't force your kid into a routine if they're not ready for it. Start small and gradually help your loved champ get into the scheme of things.
Tip#2: Provide Emotional Support
Your child needs your emotional support more than anything else. When they're feeling down, let them know that it's okay and that you're there for them. Encourage them and reassure them that things will get better.
What to keep in mind: Don't be overbearing and don't tell them what to do. Just listen to them and provide the emotional support they need. Also, don't make any promises you can't keep. They should know what's coming from you is practical and genuine.
Tip#3: Help Them Develop Good Study Habits
You can do this by setting a good example for yourself. Show them that you're taking your work seriously and putting in the effort to get things done.
Let them know that it's important to have a good work ethic to succeed in life. This would mean your kid will take their studies seriously and do their homework on time. This will reduce their stress.
What to keep in mind: Don't be too hard on them and don't expect them to do everything perfectly. Praise them for their efforts and help them correct their mistakes.
Tip#4: Make Sure They're Eating and Sleeping Well
This might seem like a common thing to do. But if your child isn't getting enough sleep or eating well, it will definitely take a toll on their mental health. Make sure they're taking breaks and aren't overworking themselves.
What to keep in mind: It's not always easy to get kids to eat healthily and sleep well. Try to make meals exciting and get them into bed at a reasonable time.
Tip#5: Get Them Involved in Extracurricular Activities
This will help them take their minds off things and give them something to look forward to. It will also keep them busy and out of trouble.
What to keep in mind: Don't force them into activities they're not interested in. Let them explore different activities and see what they like.
Tip#6: Limit Their Screen Time
This is a big one. Too much screen time can definitely add to your child's stress levels. Make sure they're not spending too much time on their phone or laptop.
What to keep in mind: This can be difficult to do, but you must set some rules and limitations.
Tip#7: Spend Time With Them
Spending time with your kids is the best way to show them that you care. Try to find activities you can do together that will make them happy.
What to keep in mind: Don't push them into doing things they don't want to do. Let them choose the activities and spend time with them accordingly.
Tip#8: Don't Take Things Too Seriously
This is something you should keep in mind. When your child sees that you're stressed out, it will only add to their own stress levels.
What to keep in mind: Try to relax and take things one step at a time. This will help you deal with the stress better and will show your child that it's okay to do the same.
Tip#9: Don't Ignore the Problem
This is the most important thing to remember. If you see that your child is stressed out, don't ignore it. Talk to them and find out what's going on.
What to keep in mind: Don't be afraid to ask your child about their mental health. They might not feel comfortable talking about it at first, but they will eventually open up.
Tip#10: Probe More
If you're concerned your kid might not be telling you everything, consider talking to the friends to find out. They might be able to give you some insight into what's going on.
They will also give you other important details like how your kid behaves with fellow classmates, whether they have their lunch properly and who they hang out with.
What to keep in mind: Don't interrogate them, just have a casual conversation. This will help you get a better idea of what's happening.
Tip#11: Have Them Talk to a Professional
If the stress is getting too much to handle, consider connecting with a professional. This could be a counselor, therapist, or psychologist. They will be able to help your loved kid deal with their issues in a much better way.
What to keep in mind: This should be a last resort and only used if the stress is getting out of hand. Make sure you do your research before finding the right professional for your child.
Final Word
If your child is feeling stressed, it's important to take action before it's too late. If you follow these tips, your child will be less stressed and more successful in school.
Remember to be patient and supportive while helping them manage their stress. It's definitely a process, but it's worth it in the end.
At LEAD, we ensure the kids get international standard education while taking care of their overall aspects. Forget about school stress when you enroll your little champ at LEAD. Know More