Home
»
Blog
»
School Owner
»
According to New Education Policy 2021, education must be more experiential and holistic. How is LEAD ensuring this?
According to New Education Policy 2021, education must be more experiential and holistic. How is LEAD ensuring this?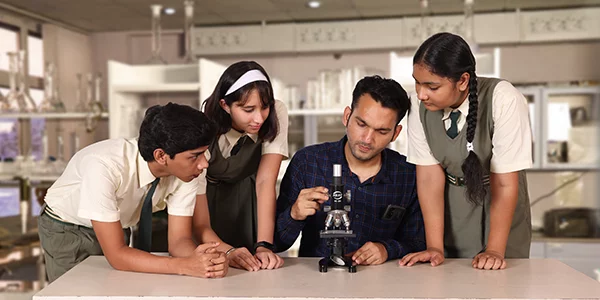 According to New Education Policy 2021, education must be more experiential and holistic. How is LEAD ensuring this?
Last Updated On: 09/12/2022

Our education systems are relics of the past. It's time to bring them into the present.
Schools often think that passing one grade, taking the exams, and going to a decent college is all students need to live a fulfilling life. However, the dynamics of modern education have changed, and it is no more about getting through one more grade. Instead, it's about gaining experiences that ensure the holistic development of children.
These experiences reside beyond their curriculum, helping them indulge in real-life scenarios to prepare them for life. This approach aims to ensure the holistic development of a student, which is much more than prompting students to get good marks or pass one more grade.
Keeping this in mind, New Education Policy 2021 advocates for the need for holistic and experiential learning for students.
In this article

What does NEP state?

LEAD Programs in sync with NEP
What does NEP state?
New Education Policy 2021 states, "Pedagogy must evolve to make education more experiential, holistic, integrated, inquiry-driven, discovery-oriented, learner-centred, discussion-based, flexible, and, of course, enjoyable. The curriculum must include basic arts, crafts, humanities, games, sports and fitness, languages, literature, culture, and values, in addition to science and mathematics, to develop all aspects and capabilities of learners; and make education more well-rounded, useful, and fulfilling to the learner."
According to New Education Policy 2021, academic excellence alone doesn't guarantee success in life. Moral, emotional, physical, psychological, and spiritual dimensions should be taken well into consideration by schools for holistic development.
Never miss a story
Stay updated with the latest news and articles related to school education
SUBSCRIBE TO OUR NEWSLETTER
LEAD - Your Partner to Ensure Students' Holistic Growth & Development
New Education Policy 2021 brings new life to the Indian education system by replacing old learning methods with new ones. To make learning holistic, experiential, enjoyable and engaging for students, LEAD, India's largest School EdTech company, offers several highly innovative programmes for schools, such as:
LEAD Championships
LEAD Championships is a collection of national-level competitions that provides a platform for students to showcase their skills and talent to the world while competing with other students from across the country. Over 3500+ schools participate in LEAD Championships, and more than 14 Lakh students across multiple categories and age groups learn, enjoy, and win. In addition to the competitions, the platform provides participants with a rich learning experience via workshops and masterclasses conducted by renowned experts.
LEAD Summer Camp
LEAD Summer Camp is an annual 6-week programme packed with thrilling activities for relaxing and engaging summer vacations. Students of LEAD-partner schools not only learn important skills but also win vouchers, certificates, prizes, rewards, and much more. The camp is organised on the LEAD Student App, and all students from Nursery to Class 9 are eligible to participate in the camp. Every activity is carefully designed by LEAD's curriculum and pedagogy experts to stimulate students' brains and creativity and fill any learning gaps.
Student Led Conferences (SLCs)
Student Led Conferences (SLCs) is an initiative by LEAD to make learning fun and engaging for students to ensure better learning outcomes. During this activity, students become teachers for a day and explain a concept or give a short demonstration on a topic in front of teachers and parents. This boosts students' confidence and improves their subject knowledge while uplifting their communication and presentation skills. Student Led Conferences are conducted in both online and offline modes in LEAD-partner schools.
LEAD Masterclass
Designed to ensure children's holistic development, the LEAD Masterclass is an exclusive platform for students of LEAD-powered schools where they learn life skills from celebs like R. Madhavan, Chetan Bhagat, Sania Mirza, Leander Paes, and many more. After the Masterclass, students get personalised certificates signed by celebrities, while lucky winners get signed memorabilia. Thus, this program boosts students' confidence and ensures their all-around success in life.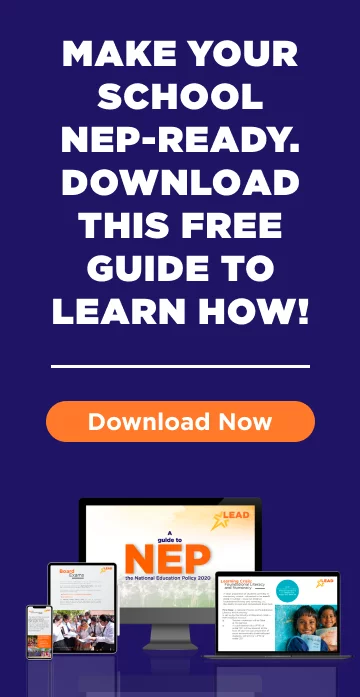 National Education Policy NEP 2020 Explained
Building a confident Bharat through a school system that is fully aligned with NEP 2020
Conclusion
With all these unique programmes offered by LEAD, your school can get ready to align with the guidelines and directives outlined in the New Education Policy 2021. Click here to learn more about the New Education Policy 2021, or contact us to get a FREE NEP Consultation on making your school NEP-ready!
Article Summary
New Education Policy 2021 strongly advocates for the need for holistic and experiential learning for students
According to New Education Policy 2021, academic excellence alone doesn't guarantee success in life
LEAD Championships helps students build confidence by showcasing their talent on a national platform
LEAD Summer Camp helps students not only learn important skills but also win vouchers, certificates, prizes, rewards, and much more
Student Led Conferences improves students' communication and presentation skills along with building a strong conceptual clarity
LEAD Masterclass helps students learn life skills from celebs like R. Madhavan, Chetan Bhagat, and many more
Never miss a story
Stay updated with the latest news and articles related to school education
SUBSCRIBE TO OUR NEWSLETTER
x
Give Your School The Lead Advantage