How to improve the attention span of kids?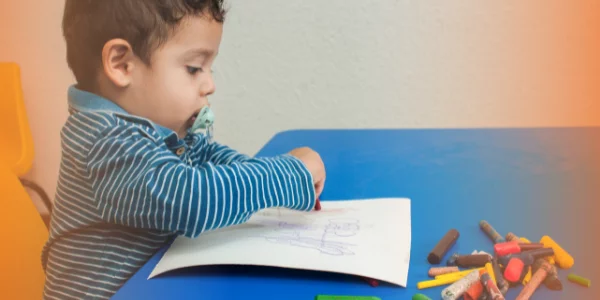 Do you say the words "FOCUS" or "PAY ATTENTION" multiple times to your kids? If yes, you need to work on your kid's attention span.
The attention span has been reducing year after year because of several reasons. Fortunately, you can help your kid improve their attention span. How?
This is what the blog is all about.
What is it anyway?
Attention span is the duration for which a person/individual can focus on a task without getting distracted.
The attention span depends on several factors such as:
How many distractions are there?

How hungry or tired is your kid?

How interested is the kid in the topic that is being taught?
Did you know attention spans differ by age?
Most probably, you didn't.
However, as per the child development experts, you should expect an attention span of 2-3 minutes per year of a child's age. This is the duration for which a kid can pay attention to a task. Here's the average attention span according to age:
2-year-old kid: 4-6 minutes
4-year-old kid: 8-12 minutes
6-year-old kid: 12-18 minutes
8-year-old kid: 16-24 minutes
10-year-old kid: 20-30 minutes
12-year-old kid: 24-36 minutes
14-year-old kid: 28-42 minutes
16-year-old kid: 32-48 minutes
Some experts even say that the upper limit of attention span is five minutes per year of the kid's age. It means a 2-year-old kid can focus on a task for up to 10 minutes.
However, you must know that the above attention spans are mere generalizations. It means the actual attention spans could be longer or shorter than the upper limit.
But if your kid has a below-average or short attention span, you should address this issue.
How to increase the attention span? 8 Techniques that work
1. Limit Television/Smartphone Use
If your kid watches television for extended intervals, stop them right now. It's because television advertisers use bright, flashy colors, sudden zoom-ins, and zoom-outs, loud noises to bind the viewers.
And this can hamper the kid's ability to focus on the real world or less flashy things. Also, it's said that watching television promotes aggression which is another downside.
Furthermore, smartphones have become too addictive these days. And because of this concentrating on one thing becomes hard.
So, limit the Smartphone or television use of your kids.
2. Break Down the Task
If the task is too big or complex, even adults get bored, let alone kids. So, try to break a large/complex task into smaller consumable chunks. This way, your kid will be able to accomplish small tasks with concentration.
3. Make Regular Boring Tasks Interesting
The attention span of 4-5-year-olds is quite poor when it comes to doing homework. However, they aren't wrong here. After all, if the homework is repetitive and dull, anyone will get bored, right?.
But you can develop an interest in your kids by spicing up the homework.
Let's say your kid got some math homework to do. Now, instead of handing them a pen and notebook, give them paint colors. And ask them to complete the homework on a chart with paint colors.
Once they're done, you can ask your kid to note down the answers in their fair notebook. This way, your kids will stay interested in the task.
4. Include Some Physical Activity
Exercise or some physical activity can help your kids improve their attention span. Therefore, always encourage your kids to go out and play.
You can ask them to jump ropes or go for simple running. Or you can ask your kids to play whatever they like outdoors for a set duration each day. This will keep them healthy and away from distractions.
5. Get Over with Fatigue and Hunger
If you're hungry or tired, can you concentrate? Obviously not. Then how can you expect kids to concentrate?
So, if your kid is hungry, feed them. If your kid is tired, let them have a power nap. Once they're done with food and sleep, bring in the homework.
However, make sure to do this each day at the same time. This way, your kid will develop a habit of doing everything at the designated time. And, of course, it'll help improve the attention span.
6. Include regular Breaks
Sitting in one place for long can be strenuous and boring. So, ask your kid to take a break every 40 minutes. However, you can also offer breaks every 20 minutes: whatever suits your kid better.
During this break, include a simple exercise to increase your kid's heartbeat. This way, your kid will be able to remember things better and for longer durations.
7. Digital Detox
As a parent, you'd know how hard it is to take your eyes away from the screen. And if it's hard for you, it'll be even harder for kids. So, it's important to practice a digital detox.
During digital detox(once a week), take every digital toy from your kid. Common examples are video game consoles, mobile phones, computers, tablets, TVs, etc.
Teach your kids some things about life. Take your kids to the park to see nature or go for a picnic. All in all, spend an entire day without distractions.
Repeat this activity each week, and you'll notice a significant attention span development.
8. No Distractions
The attention span of 4–5-year-olds can significantly improve if you remove the distractions. Distractions could be anything from the noise of street vendors and loud TV sounds.
So, make sure that there aren't any distractions when your kid's studying. And when there aren't any distractions, the attention span will automatically improve.
These were some reliable techniques on how to increase attention span.
Wrapping Up
The better the attention span, the better is the productivity. So, make sure to follow the above techniques to increase your kids' attention span.
However, be slow and try the above techniques one by one. After all, the goal is to increase the attention span and not overburden the kids.
At LEAD Powered Schools, we team up with parents for their child's better future. Know More