How to provide a good learning experience to your students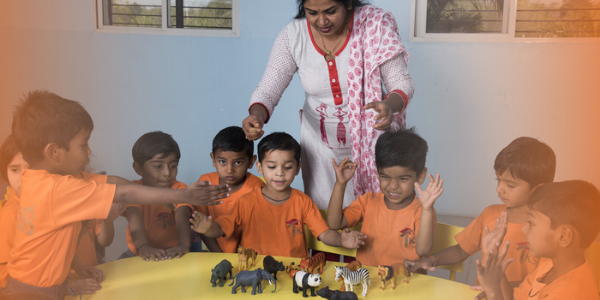 Subscribe to our newsletter
Teaching doesn't involve just conveying pre-prepared content to the students. Usually, such non-engaging teaching leaves students disinterested. Teachers all over face this problem of low student attention and insufficient learning outcomes.
Providing your students with a good learning experience is of the utmost importance if you want them to enjoy the benefits of a good education. As teachers, you can guide them in this process and help make the process of learning as successful as possible. The best school app for teachers can make this process easier for you, however, ultimately you are the one who has to implement it properly.
Here are some tips for you to get started in the right direction:
Engage students through audio-visual content
Teachers teaching only on the blackboard are using a method of instruction that is at least 100 years old. With changing times, modern technical advancements must find their way into our classrooms. Some teachers do show some videos or maybe play a few audio clips now and then. But that is not incorporating these technologies into the classroom. By incorporating we mean that in every class, there are elements identified that are delivered in the audiovisual mode. These can be very simple things. For example, while studying about the Taj Mahal, students can be made to appreciate its beauty with a small video. Many freely available documentaries can be assigned as an assignment to view. In science, most students keep chemical reactions in their notebooks and get no feel of the reaction. Instead, if you just show a demonstration of that experiment, students will appreciate the equations more.
LEAD's teaching app for teachers makes sharing audio-visual content easy for teachers. Students can access the content at any time. The app is also integrated with LEAD's school management software making it easy to use even in physical classrooms.
Use experiential learning techniques
Experiential learning is an immersive, participant-focused, active learning approach that makes students experience the ideas in an emotionally engaging manner. There are many methods of learning and the best one is experiential learning.  Experiential learning is learning by experiencing the concept. For example, instead of drawing umpteen diagrams on wind power, if you help your students build a simple model of windmill, they will understand the concepts much better.
Experiential learning is not new. It is an age-old concept. Aristotle talked about it around 350 BC when he wrote "For the things we have to learn before we can do them, we learn by doing them."   However, as an articulated educational approach, experiential learning is a very recent phenomenon.
LEAD's teaching app for teachers includes ready-made lesson plans that help teachers include various projects and learning activities in their school classes. This ensures they receive both textual as well as experiential learning.
Feedback is any kind of response regarding a student's performance. It can be verbal or written. The purpose of providing feedback in the assessment and learning process is to improve a student's performance. It is never to hamper a student's progress.  The process of providing feedback must be a positive, or at least a neutral, learning experience for the student. Negative feedback can discourage students from putting in effort and achieving their goals. Teachers have the noble responsibility to nurture a student and to provide feedback in such a manner that the student does not feel defeated. Teachers should make sure that feedback is given promptly and is sensitive to the individual needs of the student.
LEAD's integrated schooling systems sync the devices of all school stakeholders, including the teaching app for teachers. This makes sure, parents get regular feedback on their child's progress.
Build a positive environment for learning
A positive environment is critical for a good learning environment. Building positive relationships with students is the basis of creating a positive learning environment for them. Creating a relationship takes time, and thus, teachers need to be patient and considerate for long-lasting relationships. For building a good relationship with kids or enabling a positive environment for them, it's important to understand their thoughts and language. Displaying and demanding trust in a relationship builds a great environment for students to learn and attain knowledge. Encouraging and praising them for the decisions they make or the efforts they are putting in the classrooms will build trust between a student, and a teacher, and a school plays a very important role in that.
Creating a positive learning environment is extremely critical in ensuring that all students feel safe and secure in the classroom and participate in the learning process actively. We hope that the points discussed in this blog give you a roadmap to implement a positive learning environment in the classroom.
At LEAD we not only provide the best app for online teaching but also fully integrated school management systems that enable excellent education in online, offline as well offline modes. Through our integrated School EdTech solutions, we ensure guaranteed learning outcomes for every child.
25000+ teachers across India, trust LEAD to equip them with the latest technology and resources to provide excellent education to their studentsKnow more