Keep information at your fingertips with the Student database management system. Give your school a revamp with LEAD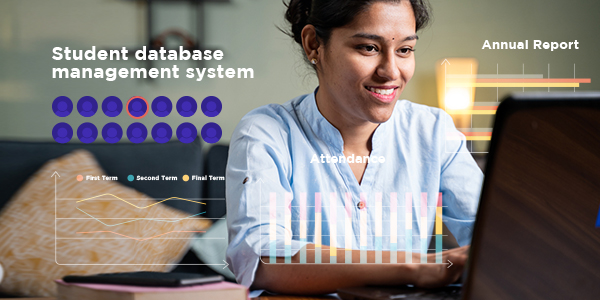 Subscribe to our newsletter
The COVID-19 pandemic brought many stumbling blocks to the Indian education system. Students faced unfamiliar' challenges—from monotonous zoom classes and tedious online sessions to perceptual isolation during the nationwide shutdown. At the same time, they spent most of their time indoors. However, with the dwindling ferocity of the virus outburst, it is good to see those smiling faces back in schools. It is good to see them back in classrooms and playgrounds laughing, playing, learning, and exploring.
After almost two years of semi-structured or haphazard schooling, it is time for the Indian education system to offer hustle-free learning methods to students. Also, why just students? Indian schools should set an efficient system to ensure academic smoothness for teachers in managing attendance, admissions, students' productivity and performance reports, and much more. The primary way to build such a system is first to comprehend where teachers spend most of their time. For example, taking roll calls, creating timetables, examination details, datasheets, and similar activities are highly time-consuming. Though they do not explicitly contribute to a child's growth, they are essential to managing a student's academic performance.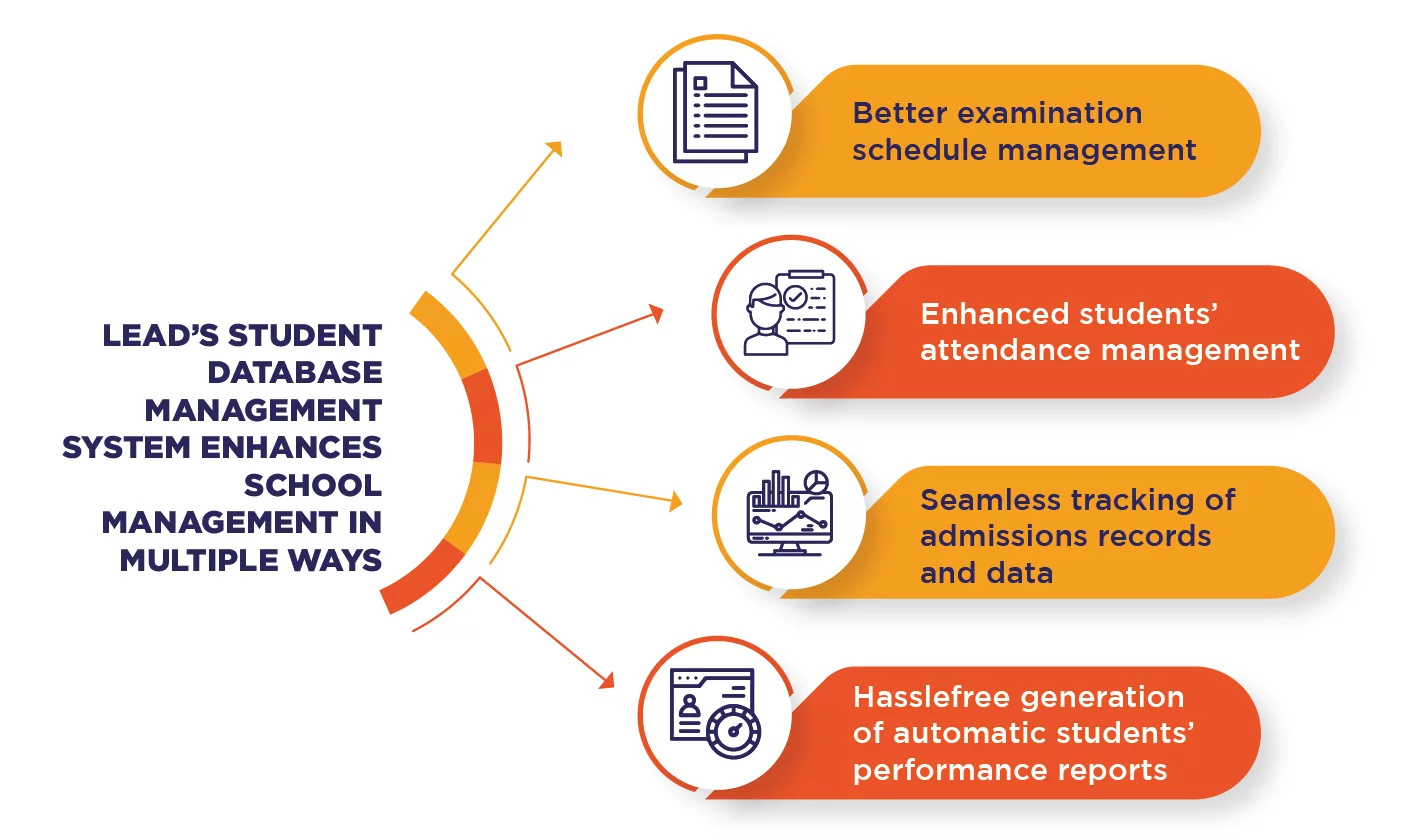 This blog post will concentrate on how a student database management system will help create better school management in today's tech-driven world. It will also discuss how students, teachers, and parents can benefit from such systems.

The student database management software is designed to plan, organize, and maintain students' learning outcomes. This ultra-modern application, accessible in every LEAD-powered school, helps organize documentation, admission details, administration, and other relatable processes. The primary objective of this software is to improve learning and teaching experiences. In addition, this software is essential in analyzing students' academic and extra-curricular skills, registration, and administration procedures. With this modern tool, teachers and staff can keep students' information at their fingertips.
Manage examination schedules easily: Gone are the days when students and teachers kept a manual copy of exam schedules. With the student database management system , teachers can keep track of exam details – timings, dates, paper patterns, question banks, etc. The software is designed to help teachers build model test papers and exam schedules and even assign teachers for supervision. All of this is done virtually. Teachers can also calculate students' grades automatically. So, instead of carrying heaps of examination papers and report cards, teachers can simply create, publish, maintain and safeguard students' results using student database management software.
Manage students' attendance effectively: Let us just agree: tracking students' attendance scores is one of teachers' most strenuous responsibilities. Student database management completely resolves this daunting challenge. The software allows teachers to take and trace attendance in just a few minutes. Automatically, this gives more time to teachers to invest in students. It allows for multifold student and teacher interaction, allowing more time to cover the course curriculum than wasting 20 minutes on roll calls. The software also promises accuracy and avoids duplication of data.
Track admissions records and data with ease: According to a report by the Indian Express, non-enrolment of children in the 6-14 age group surged from 2.5% in 2018 to 4.6% in 2021 in rural schools. However, the report also claims we do not have accurate data on drop-outs due to the virus-induced lockdown (2020-2021). Now, imagine the current figure. Of course, it has increased in the last two years. LEAD, which aims to offer a technology-focused school transformation system, has a solution for this riddle. Its student management system lets school administration and staff conveniently organize and manage students' admissions. School owners can regularly check the status of leads generated from the school listing page and follow up through the CRM. This minimal human interference application saves time, resources, paper, and manpower. It also avoids the possibility of human error and duplicity.
Generate automatic students' performance reports smoothly: The need for the hour for schools is to identify the students who are lagging and need more attention than their peers. It is also the right time to run revision focusing on basics and create assignments for them to strengthen their writing, reading, and understanding skills. This is where student database management plays a pivotal role. It helps teachers design students' performance reports depending on their skills and understanding. These reports are automatically generated daily using their assessment and attendance records. Teachers can access these virtual reports at any time. They can be shared with parents and, if not confidential, with students. This also is a great tool to save time. It will allow teachers to manage their time effectively and with accuracy.
Software that preserves environment & revamps schools: Incorporating a student database management system allows schools to go paperless. So, for example, teachers do not have to distribute papers to every student. Instead, they can efficiently carry out tiny quizzes or organize virtual learning sessions in modern classrooms. The software can also easily trace answer keys. With this feature, school administration can save valuable time and preserve paper simultaneously. In addition, this highly environmental-friendly virtual tool enables all administrative activities to be efficient and eco-friendly.
Quick features of student database management system
Here's how LEAD's student database management software helps teachers, students, parents, and school administration staff.
Collects admission data directly from the school website/ web portal.
Teachers can make question papers, conduct online entrance exams, and manage students' performance insights.
Preserves the environment by minimizing paper use, thereby mindfully revamping Indian schools' education system.
Increases student-teacher interaction time by calculating students' attendance, academic scores, and other relatable essentials in minutes.
Student database management software integrates text messages using SMS, WhatsApp, and Email to notify students and parents.
Opens multiple doors for teachers to increase their productivity by simply going digital.
Promises accuracy with no signs of human errors or duplicity.
Gives Indian schools ultra-modern tools to refurbish their educational and administrational approaches: virtual report cards, virtual attendance tracker, and much more.
In a nutshell
There was a time when schools used physical methods to store and safeguard students' information. This was mainly done using excessive paperwork. This also consumed a lot of time, thereby only adding more complexities and responsibilities. This physical procedure was challenging and time-consuming. The student database management system has helped teachers and admin staff in many ways, one of which is the reduction of manual workload. This modern tool by LEAD has reshaped Indian schools most productively. The Indian education system is on a rollercoaster that only goes up. Upgrade your school today by contacting +91 86828 33333 or [email protected].