LEAD MasterClass: Opening up a world of opportunities for students and setting them up for success in life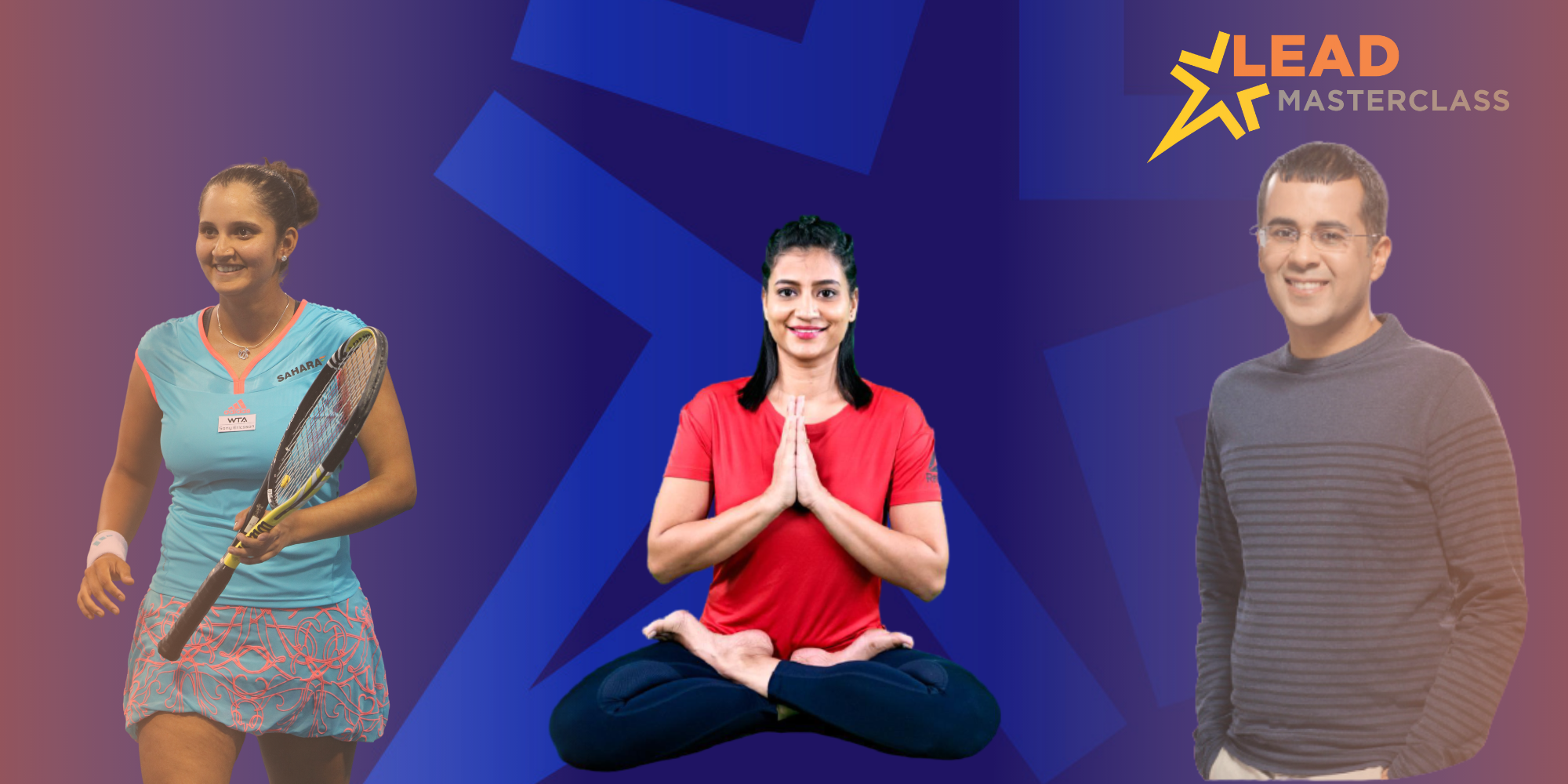 Subscribe to our newsletter
LEAD's real-time online MasterClasses have garnered a huge following among our partner schools, with lakhs of students and parents tuning in every Sunday. Combining celebrity sessions with expert workshops, our immersive MasterClasses teach children life's basic and most important skills.   
Bharat, India beyond the big cities, is severely underserved when it comes to many necessities, the most critical of them being good education. At LEAD, our mission from the start has been to provide the best pedagogical practices and learning opportunities to the Affordable Private Schools (APS) segment in small cities and towns in Tier 2, 3, 4 India. Blending the principles of ownership and accountability to parents with the importance of lessening the burden of teachers with sound lesson plans and technology, LEAD is bringing international standards of educational practices to students in every corner of India.
But, we want to do more.
Beyond education, children in Tier 2, 3, 4 India do not have the same exposure in supplementary opportunities that their metro counterparts do. They are at a disadvantage purely because of where they live. Students find it hard to break out of their geographical constraints while parents experience little success in their constant quest for good schools in their locality. Limited exposure at the crucial early stage of a child's life creates a lasting and, sometimes, irreversible impact.
This has led several aspirational parents to move their families to bigger cities in search of better exposure and opportunities for their children. But even in bigger cities, children in the APS segment do not get the same exposure as their peers in elite and expensive schools.
In a bid to change the status quo not just in education, but also their exposure to well-rounded growth, LEAD started online MasterClasses for the 8 lakh students studying in LEAD-powered partner schools. It is imperative that children learn basic skills that are applicable throughout their life.
And they deserve to learn from the best.
Bringing star power to small towns
LEAD's MasterClasses were kicked off in June this year by a very well-known and beloved figure in the Indian publishing industry. Chetan Bhagat brought his charm and relatability quotient to the 'Creative Writing' MasterClass, where he taught the whopping 5 lakh viewers the basics of storytelling. Exhorting students to not worry too much about the plot, he asked them instead to set a simple goal for the main character and take the reader on a journey to achieving that goal. Chetan's observation on how a writing-averse child like him took to the pen because of a teacher's encouragement underscored the importance of personalised attention to every child at schools.
Another celebrity who spoke about the role of schools in children achieving their dreams was Sania Mirza. The tennis star and new mother opened our August theme of 'Yoga & Fitness' by delving into the challenges of balancing sports and studies. She recalled fondly about how her headmistress was instrumental in helping her find the balance by working with her on her class attendance. As a mother, Sania was also able to touch upon the importance of fitness for kids, something that has taken a backseat during the pandemic. Her relatable session also saw her delving into the affordability factor when it comes to pursuing the sport. Lastly, she really endeared herself to her young audience by wishing everyone a Happy Friendship Day (since the MasterClass was held on the first Sunday of August).
Exposing children to celebrities and high achievers in different fields instils in their resolve to aim for big things, taking courage in the fact that everyone can be whoever they want as long as they have a dream. Both Chetan Bhagat and Sania Mirza are living examples of the truth that one can achieve anything as long as one sets their mind to it. To the students from our partner schools in the APS segment in small towns, this was tangible evidence that no circumstance can hold them back. 
Immersive experiences on important skills
Teaching children important life skills that are immediately useful, LEAD's MasterClasses are theme-based and follow a structure. One celebrity/popular expert on the theme holds the first MasterClass of 40 minutes followed by a Q&A session on a Sunday. Then workshops will be held the following four Sundays by experts in the field who will follow the same format but tailored to three or two age groups depending on the skill taught.
For the Creative Writing MasterClasses, experts not just taught the children how to write well but also provided assignments that were purely optional. Nearly 300 students submitted their entries, and each was individually graded and sent back to the child. Following up on our intent to actively encourage and appreciate hard workers, certificates were sent to the children who wrote the top 10 pieces.
For the Yoga & Fitness workshops that are currently underway, experts in teaching yoga to children are equipping students with the knowledge and confidence that yoga can be done every day. No matter where they live or the space and tools they have access to, these yoga sessions show children they can practise asanas and get healthy and flexible right from their homes. 
Why our MasterClasses are different
Having hosted two celebrity MasterClasses and several expert-led workshops every Sunday since June, we are happy to note the enthusiasm and engagement from students, parents, and teachers of our partner schools across India. The overwhelming response to each session has been spurred by a number of carefully orchestrated steps by LEAD. They have ensured our MasterClasses are not only a success but that they add endless value to our children.
Two-way interactions:

All MasterClasses are held live. Kids are encouraged to ask questions and are motivated when the celebrity and other experts answer their questions.

Nearly 50,000 questions each were asked at Chetan's and Sania's sessions.
Recorded videos: The sessions are recorded and made available for posterity on the LEAD Student app, in our effort to let those who were unable to attend the MasterClass view it later.
Democratising exposure: Letting kids in rural areas and in the APS segment get the same (if not better) exposure as their metro counterparts have made our MasterClasses a favourite among our partner schools.
Age-appropriate: Each session, including the celebrity MasterClass, are tailored to meet the needs and learning levels of different age groups, rather than clumping all children together. For instance, our Creative Writing MasterClasses were available at different timings for three age groups: pre-primary to third grade, fourth grade to seventh, and eighth to ninth grade. Yoga & Fitness was split into two age groups.
Children-focussed: By bringing in experts who are specifically trained to work with children, we have ensured the MasterClasses are perfectly aligned to our young audience. Even our celebrity MasterClasses are tailored to dive into topics of interest for kids and teens. A fitting example of how the 'child focus' translates to our MasterClass is the yoga session held by Sabrina Merchant. As the founder of Li'l Yogis, a yoga company tailored for children, she brought fun and imagination to her class. "Lay down like a sloth bear," she told the younger age group while teaching Savasana.
The above differentiators have made LEAD's unique MasterClasses one-of-a-kind in the education sector, cemented by the fact that they are free of cost. A back-of-the-envelope calculation revealed that such high-quality MasterClasses go for around Rs 5,000-Rs 7,000 in the market, which is half the yearly school fees for our target audience!
We carefully pick our experts and celebrities, keeping in mind the needs of the children we serve. We choose the themes based on feedback from parents. To a survey across our 2,000+ partner schools, a third of the parents responded choosing Yoga & Fitness as the preferred theme, as they are concerned about their children's health during lockdowns.
Being in tune with our audience has propelled our MasterClasses to reach lakhs of students in each session. We look forward to exposing our children to the nuances of Personality Development & Leadership, which is the theme for our next set of MasterClasses.
Started as a labour of love for our partner schools, MasterClasses have grown to become popular among students and parents. Our goal with each class is to let children dream big, and know that no matter where they live or which school they go to, they can be stars, just like Chetan Bhagat and Sania Mirza.