Home
»
Blog
»
School Owner
»
Moving Closer to Well-managed Classrooms Through Effective Classroom Management Strategies
Moving Closer to Well-managed Classrooms Through Effective Classroom Management Strategies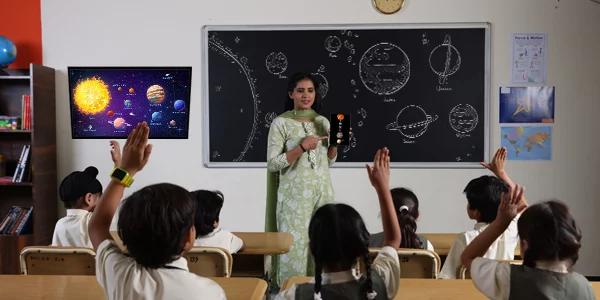 Moving Closer to Well-managed Classrooms Through Effective Classroom Management Strategies
Last Updated On: 13/08/2023

"The number one problem in the classroom is not discipline; it is the lack of rules and routines," Harry Wong once stated.
This is where classroom management strategies come into picture. The skills and strategies teachers use to keep their students on task, focused, attentive, and academically productive throughout the class are referred to as classroom management strategies. When teachers employ effective classroom management strategies, they reduce the actions of both individuals and groups of students that interfere with learning while enhancing actions that promote or advance learning. 
In this article

Why is it essential to implement effective classroom management strategies?

Effective classroom management strategies followed by LEAD-powered schools
Why is it essential to implement effective classroom management strategies?
Implementing classroom management strategies benefits both teachers and students in many ways. Let's take a look at some advantages of classroom management strategies.
For Teachers
It helps establish a favourable learning environment:

If you have great

classroom management strategies, you can create a supportive and conducive learning atmosphere for the students. Daniel Goleman states,

"Every teacher should be aware of the responsive classroom method since it produces an optimum atmosphere for learning."

That is to say, you can make pupils feel comfortable in the classroom by using effective classroom management techniques.

Lesson preparation saves time and energy: By planning your lessons in advance and considering classroom management difficulties, you can save a lot of time by ensuring that your students fully understand what you're going to teach them. With a well-designed curriculum, you can explain complex topics easily and interestingly.
It raises teacher morale:

Having effective classroom management techniques raises teachers' morale. It gives them a sense of accomplishment in their work. A teacher who gets a lot of satisfaction and motivation out of what they do will surely bring out the best in their students.
For Students
It creates structure and achievable goals for students: Setting up a framework and SMART objectives for student conduct and carrying out lessons in the class will always be helpful and motivating. With classroom management techniques, students will constantly be aware of how their actions and behaviours fit into the classroom's set framework.
It informs students about what is expected of them:

Students will better comprehend what is expected of them if teachers use the right classroom management techniques. Students always need guidelines for conduct in the classroom in order to ensure they maintain the right behavious.

It allows focus on tasks and reduces disturbances in the classroom:

Effective classroom management lowers interruptions in the classroom. As a result, educators make an effort to foresee all potential disturbances and plan how to handle them effectively. This adds value to students since it helps them learn, comprehend, and achieve more.
Never miss a story
Stay updated with the latest news and articles related to school education
SUBSCRIBE TO OUR NEWSLETTER
Effective classroom management strategies followed by LEAD-powered schools
LEAD, one of India's fastest-growing school ed-tech companies, provides schools and teachers with the best and most effective classroom management strategies to help students learn in a healthy environment. Among these classroom management techniques, some are:
Increased participation in setting rules: Letting students weigh in on the dos and don'ts of classroom etiquette can help assure more long-term compliance. At LEAD, we advise having a conversation regarding classroom norms.
Encourage student initiative: There are eager, enthusiastic students in every classroom. LEAD enables students to engage with the content at a speed that suits their excitement, speak to the class, and work on creative projects.
Build relationships:

Students at LEAD-powered schools are more engaged and cooperative because they respect and appreciate their instructor, and everyone enjoys being in the classroom.

Provide instruction for all learner types:

LEAD helps schools create classrooms that cater to a variety of students. Every student has the opportunity to interact with the subject matter in the most effective manner because our schools design courses that use a variety of teaching techniques.

Offer tactile learning alternatives:

LEAD supports learning through activities that go beyond verbal and frontal learning. This comprises instructional videos, projects, exercises, and infographics offered at LEAD-powered schools to give students a better practical understanding of the subject matter.

Establish routines and goals:

Both teachers and students at LEAD-powered schools benefit from a routine. Routines in the classroom assist kids in understanding what is expected of them and what to expect.

Emphasis on group work: Group work is a fantastic technique to increase student involvement and engagement in the course topic. Additionally, LEAD-powered schools give kids a chance to practise their relationship-building, teamwork, and leadership abilities.
What does a LEAD Powered School's classroom look like?
School Transformation, the LEAD way
Conclusion
Both teachers and students will benefit from a healthy classroom environment thanks to these classroom management techniques. Students' interest in the subject will increase with the help of these useful strategies. Teachers and students will benefit from a more focused and creative classroom environment, whether these classroom management strategies are employed to manage a pre-primary school classroom, a primary school classroom, or a high school classroom.
At LEAD, we help you transform teaching in your school via:
Latest ed-tech solutions to improve classroom experience and save teachers' time
Ready-made teaching resources, feedback and training sessions and teacher improvement toolkits by LEAD Academic experts
Access to network of 25K+ excellent teachers across India
Call us at 86828 33333 to enquire today!
Article Summary
The techniques for managing the classroom should be based on extensive classroom experience and the results of various research in cognitivism, social interaction, communication, behavioural science, behavioristic psychology, and student involvement.
Only teachers who have observed examples of the strategy used in regular, everyday classroom circumstances can encourage student participation.
Reaching out to students, educating them, and transferring information to the next generation requires effective classroom management strategies.
A skilled teacher has to possess outstanding classroom management abilities to bring out the best in students.
Never miss a story
Stay updated with the latest news and articles related to school education
SUBSCRIBE TO OUR NEWSLETTER
x
Give Your School The Lead Advantage