Want to be a tech-savvy teacher? Follow these 3 steps!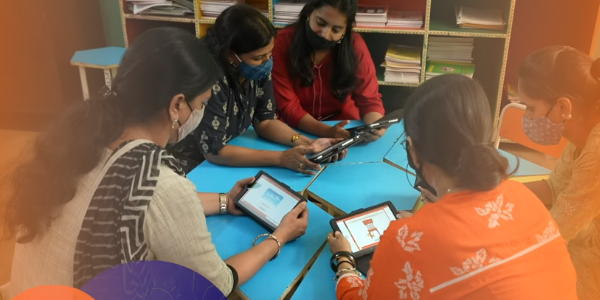 Subscribe to our newsletter
The schooling system in India has been undergoing a radical change and technology has played a crucial role in it. It may have been a very challenging scenario for most stakeholders, but it was only for the better.
At a time when the role of technology is inevitable, it is important that the most crucial stakeholders of online education are comfortable with using the technology systems. If you are an online educator here's how you can become tech-savvy and upskill yourself for online learning.
1. Watch YouTube explainer videos
In the absence of an integrated online education system, online educators need to use various individual platforms to conduct their classes. For example, they may need to use video platforms like Zoom or Google Meet, organizers like Google Classroom, schedulers like Google calendars and messaging platforms like WhatsApp to manage their classes. Teachers need to be proficient in not just knowing how to use these apps but also how to explore the fullest potential of these apps. To do this, nothing can be a better source than YouTube. There are a lot of YouTube videos specifically made for teachers that tell them how to use the apps for teaching.
Of course, instead of spending time on finding the best apps and learning how to use them, the best alternative is to have the facility of an integrated learning management system in your school. This way teachers can focus more on teaching rather than the logistics and technicalities of online teaching apps. Integrated learning systems come installed with all the learning modules, testing tools, attendance management tools, and other such required tools that help online educators conduct their classes efficiently. LEAD also conducts in-depth training for the teachers in all its partner schools so that the user experience is seamless for them.
2. Use digital tools to engage students
Unlike the traditional learning model which required more face-to-face engagement, remote learning requires teachers to make use of various digital tools in order to meet the functions. For online teaching, teachers need to prepare a mix of audio and visual content to deliver the lessons for which they can use apps like Canva to make the presentations more creative. Teachers can use the share screen function on apps like Zoom or Google Meet to play videos or visual presentations during their classes. Apps like Google Classroom can be used to distribute study materials, share assignments, conduct quizzes, and make important announcements.
LEAD makes engaging students easy by providing an integrated school system. In LEAD Partner Schools, teachers are provided with tablets that are loaded with lesson plans that help them prepare for their classes. They can also make use of the audio-visual resources to make the class more fun and engaging for students. Based on the conceptual test results, they can plan to implement remedial actions before moving on to the next concept. All this ensures that the teachers can bridge the learning gap on time.
In addition, the Excellence Managers at LEAD coach and guide online educators throughout the year to develop their skills and upgrade them. LEAD further eases the teaching journey of teachers by enabling them with requisite tools that make them excellent teachers and help students elevate learning quality.
3. Use online educational resources
Most teachers rarely get the opportunity to upgrade their knowledge during their careers. Being busy with their daily tasks and the inefficiency of regular teacher training courses, teachers find it challenging to stay up to date with the latest updates in the education world. With the advent of the internet, getting the right knowledge is no longer tough. A lot of educational channels on
YouTube cover a variety of topics such as:
Visual demonstrations of scientific concepts and experiments
Materials for language teaching
Animated lessons for subjects like history and geography
Online educators can watch these videos not just for their own understanding, but also use them during their classes. This can help make the lessons more interesting for the students. Some popular YouTube channels are Big Think and Veritasium.
LEAD makes it easy to incorporate interesting elements in learning by providing schools with various materials like Digital Learning Content, Physical Reader & Workbooks, Learning Activities, E-books, Regular Assessments, Assignments, Quizzes, Personalised Revisions, Home Practice, etc.
The power of the internet has made it possible for everyone to become tech-savvy. Nothing is beyond reach for anyone with a smartphone, internet connection, and the willingness to learn. We hope the above points will help you get motivated to make the best use of technology in order to upgrade your skills.
At LEAD our aim is to empower online educators so that they can access the best resources and give their students a wholesome learning experience. We train them to make the most of online learning and achieve great results. The LEAD Academy has Teacher Development Workshops and certification courses to broaden their knowledge and help them achieve mastery in their subject.
LEAD provides complete ed-tech based solutions to improve your teaching. Want to know how LEAD can help you become a Super Teacher? Enquire Now