Why education and technology must go hand in hand as schools reopen for the new academic year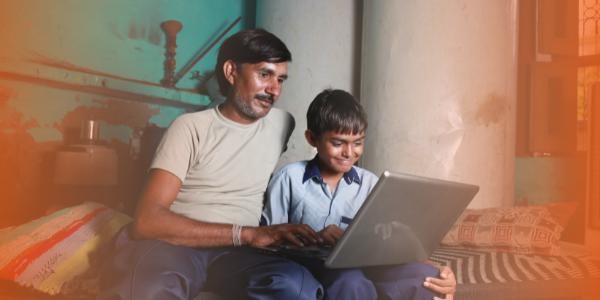 Subscribe to our newsletter
As parents, students, and teachers brace themselves for the challenges of the new academic year, worry looms over education continuity, bridging learning gaps from the previous year, and ensuring children get an optimal learning experience. Technology will undoubtedly play a key role in addressing these needs. Here's how LEAD's tech solutions prioritise personalised learning for its partner schools in the new year. 
The pandemic's disruption to the education sector accelerated the need for digital transformation at a speed that would have otherwise been unimaginable. With lockdowns and social distancing norms in place, these were testing times for students and educators alike. While other sectors like banking, healthcare, and retail sought a swift digital response, the education space was warier of any immediate change. However, especially in a country like ours, it became increasingly clear that this could become a watershed moment in the history of education, which is ripe for long-overdue innovation and disruption.
It is no secret that the education sector in India remains grossly under-digitalised, with only a few B2C options that did not involve the school and provided only supplemental offerings. But the status quo was unsustainable, especially in the face of long lockdown periods and school closures. The need for tech adoption, therefore, moved from a nice-to-have to a necessity overnight in 2020. While technology in education has smoothly plugged the gaps at the right time, its intervention is far-reaching, serving beyond the pandemic.
Schools, parents, and teachers have now collectively recognised the value of the collaborative and interactive tools technology provides them, enabling a seamless and multidirectional flow of information. What was initially thought of as a stop-gap arrangement has now brought about a seismic shift in the field of education? This has, in turn, spurred change in the pedagogical beliefs even among reluctant and tech-averse teachers.
This marked shift in perception of technology amongst stakeholders has been the result of enjoying the various advantages a good tech-powered platform provides: personalised learning, the ability to glean real-time feedback, and the flexibility to impart education anywhere, anytime. Thus, technology that works with schools and not as an alternative to them will remain imperative in the coming years.
As schools reopen for the new academic year, we at LEAD have reflected critically on the learnings over the last two years and reframed the needs of students, especially during an unprecedented crisis. LEAD proposes a technology-supported pedagogy that accounts for the learning losses and remedial needs of children. Further, even as schools start to function normally in later times, the power of LEAD's technology will not diminish and instead can be harnessed to continue providing a collaborative and engaging experience beyond the walls of the classroom. This will make the education imparted at our partner schools more dynamic, accessible and, most importantly, personalised for every student's needs.
Catering to every child's requirements
No two children have identical learning needs. Based on data from the engagement on the LEAD app as well as the assessments and quizzes on the platform, gamification helps to not only personalise education but also keeps students motivated. The quizzes bolster students' positive attitudes towards problem-solving while making learning fun and engaging. By tailoring options based on a child's personal ability and difficulty level, technology can empower every student at our partner schools to engage regularly with lessons and take charge of their learning. Digital content made available as digestible chunks helps students assimilate information better. The intuitive and interactive nature of LEAD's technology has made children more proactive and self-motivated.
Moreover, it is a well-established fact that children are inherently drawn to technology! Their eyes light up and they get very excited at the prospects of a tech-powered classroom. When technology is adopted in a school in innovative and interesting ways, students feel a sense of pride and belonging. As a result, their engagement with the curriculum not only increases but they now believe 'school is cool'.
Further, by keeping the interface simple and providing offline workbooks and offerings, LEAD has overcome barriers to access and low bandwidth or lack of internet access in Bharat. Education is now literally at the fingertips of children in even the remotest parts of the country, creating a generation of curious and lifelong learners.
Creating value for every stakeholder
School education is a complex sector, with multiple, interdependent stakeholders. Solutions for this industry cannot be viewed merely as a marriage between technology and curriculum. We understand the socio-economic situation in which the stakeholders operate and their limitations. Bringing the different stakeholders together and engaging each of them has proven vital for academic success.
There are varied expectations and needs from every stakeholder as schools reopen for the new year. After a year of remote learning, children need stimulation, motivation, and means to interact with their peers as they have missed out on months of playtime in the corridors, in-classroom learning, and spending time with their classmates. For teachers, it is an overwhelming path ahead, as they need to cover lost ground, get more comfortable with remote teaching, and ensure every child's learning levels are addressed. Today's parents are involved in their child's education now more than ever. They are hands-on and expect real-time updates about their ward's learning outcomes as they are rightfully concerned about the learning losses and overall loss of social skills since school closures. Principals have the daunting task of putting systems back in place, monitor progress, support the teachers, and be accountable to parents. School owners, on the other hand, need to ensure admission numbers and build an institution that is profitable.
At LEAD, all these needs are categorically gathered by the key account managers or the liaison appointed for each partner school and the academic excellence team that works on the curriculum for teachers. These insights in the pandemic times especially have helped LEAD's product development teams transform problems into impactful solutions and stronger pedagogical practices contextualised for schools.
No stakeholder is left out of the process: dedicated interfaces for every stakeholder help LEAD-powered schools keep students, parents, teachers, and principals in the loop, always. While students are provided with engaging learning content, teachers have an interface that helps them manage the class, make lesson plans, and communicate with students and parents. This app has given teachers more opportunities to provide feedback, identify gaps, and design subsequent lessons accordingly. As schools reopen, teachers are under tremendous pressure to bridge learning losses and address each child's requirements. By taking over the administrative burden on the teachers, LEAD's data-led technology helps teachers focus solely on teaching and improving learning outcomes. 
For both parents and teachers, school is the focal point and the primary education provider. Hence it is of paramount importance to manage schools efficiently and build resilient institutions. We have been offering all-around support to our partner school administrators to improve efficiency, become sustainable, and enhance revenue.
While parents, teachers, and students are already engaging with their app, we at LEAD are also working very hard to launch a platform exclusively for the school administrator soon. With this, we will be able to enhance the administrative efficiency of the institution and provide the school owner with a bird's-eye view of all the processes in school, enabling them to stay abreast and track progress.
The road ahead 
The road ahead for the school education sector is studded with challenges. If transitioning to virtual learning was difficult, settling back into the physical space is going to be as formidable. The knowledge we have gleaned over the pandemic about technology usage and engagement will prove useful to enhance education when in-classroom learning begins again.
While the system is leaning towards the digital side at this point, there is an effort to strike a balance between the digital and physical worlds, helping children develop social-emotional skills they have missed over the last two years. A tech-enabled classroom will enhance the experience and help students connect to the lessons, their teacher, and with each other in newer ways. The blended model, therefore, doesn't replace conventional teaching methods but strives to augment the existing teaching practise using technology.
The end goal of transformative technology in the education sector is to enable engaged and personalised learning for every child despite their learning level, geographical location, accessibility, and affordability. At LEAD, we are striving every day to build technology that seamlessly blends with traditional methods of teaching, so that we don't just support schools but work towards revolutionising the future of education.
LEAD is transforming schools by making children future-ready. To make yours a LEAD Powered School: Partner with us today