Smart classes for kids. A new way to learn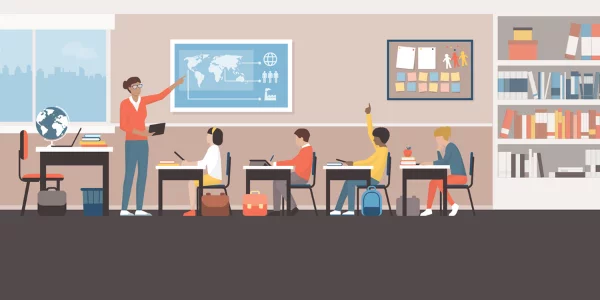 Subscribe to our newsletter
Gone are the days of chalk and talk teaching methods, with the advent of technology, education has taken a leap towards smarter learning. The introduction of smart classes has revolutionized the way kids learn in schools. This new learning method combines traditional teaching techniques with technology, making it an interactive and engaging experience for kids. In this blog, we will explore the concept of smart classes and its benefits for kids.
What are smart classes? Smart classes are a digital classroom that uses technology to enhance the learning experience of students. The teachers use digital tools such as interactive whiteboards, projectors, audio and video systems, and computers to present information to the students. The objective of smart classes is to provide students with an interactive and visually appealing learning experience that helps to keep them engaged and focused during the class.
Benefits of smart classes for kids
Enhanced engagement and interaction Smart classes provide a more interactive and engaging learning experience for kids. The visual aids and interactive tools used in the class help to keep the students focused and interested in the subject being taught. The use of videos and animations makes learning fun and memorable for kids, thereby increasing their engagement and interaction with the class.
Improved comprehension and retention Smart classes make use of multimedia to present information to kids. This helps to break down complex concepts into simpler, more easily understandable terms. The use of visual aids also helps to reinforce the information being taught, which helps to improve the kids' comprehension and retention of the subject matter.
Personalized learning experience Smart classes provide teachers with the ability to personalize the learning experience for each student. They can use technology to track each student's progress, identify their strengths and weaknesses, and tailor the learning experience to meet their specific needs. This personalized approach to learning helps to ensure that each student is getting the support they need to succeed.
Better collaboration and teamwork Smart classes encourage collaboration and teamwork among students. The use of interactive tools and group activities helps to foster a sense of community and cooperation among the students. This not only helps to improve their academic performance but also helps to develop their social skills and teamwork abilities.
Access to a wealth of resources Smart classes provide students with access to a wealth of resources and information. With the use of the internet and digital resources, students can explore a vast array of information and resources, helping them to expand their knowledge and understanding of the subject matter.
Environment-friendly Smart classes are also an environmentally friendly way of learning. With the use of digital tools, teachers no longer need to rely on paper-based resources, which helps to reduce the amount of paper waste generated in schools.
Conclusion Smart classes have revolutionized the way kids learn in schools. The use of technology has transformed the traditional classroom into an interactive and engaging learning environment that provides students with a wealth of resources and information. With the benefits of smart classes, it is no surprise that more and more schools are adopting this new way of learning. By providing students with a personalized, engaging and interactive learning experience, smart classes are helping to equip kids with the skills and knowledge they need to succeed in the digital age.