4 ways LEAD's smart classrooms and learning methodology are revolutionising school education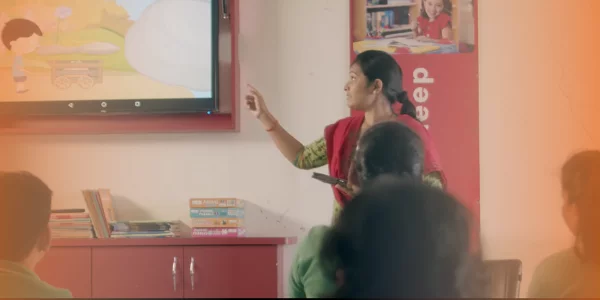 Subscribe to our newsletter
Smart classrooms: what do they mean really? In many parts of the country, they stop at just computers and tablets in the classroom. Unfortunately, that no longer passes muster for our children. The pandemic has clearly blown out of the water any doubts regarding an integrated education approach. However, barring a few elite institutions, mostly found in India's metros, not many schools can afford the best tools and technology to create ideal smart classrooms for students. 
This situation is especially dire in non-metro cities and towns in the country. Even if well-meaning school owners are more open to the idea of smart classrooms, they are hemmed in by several limitations: affordability for their target audience, lack of know-how, and continued support for teachers and principals.
All  these challenges ultimately snowball into our children not receiving the education they deserve and our teachers struggling to adequately address the individual learning needs of every child in the classroom. 
We at LEAD believe that no child, no matter her geographical location or her parents' affordability, should miss out on transformative education practices, the best smart classroom experiences, and interactive learning opportunities. And, every teacher must be equipped with the means to bring lessons alive in the classroom.
This is why LEAD does not look at 'smart classrooms' as a buzzword but provides a 360-degree offering to our partner schools—which are primarily in the Affordable Private School (APS) segment in Tier 2, 3, 4 India and beyond.
So, here are four ways LEAD's learning methodology and smart classrooms are revolutionising school education, especially in Bharat: 
Beyond the 'smart classrooms' buzzword
Yes, LEAD-powered smart classrooms are fitted with tablets for teachers and screens for taking in audio-visual content, but that is not all. All LEAD Powered Schools are 'smart' because they provide the sort of real-time insights that are crucial for teachers to intervene for struggling students. The LEAD app for students is constantly updated with audio-visual lessons for multimodal learning, since every child learns differently. Assessments are all in real time and visible to all stakeholders—parents, teachers, and students—on the app, so that timely remedial action can be taken. The principal has a bird's eye view of every smart classroom in the school so that nothing falls through the cracks. This harmonious integration between all stakeholders is possible through LEAD's revolutionary technological innovations for its partner schools. 
Commitment to make change from within 
Many players in the market are facilitating richer learning experiences using technology to children coming from families that can afford extra interventions outside of the school structure. However, this has resulted in skewed education opportunities for students, such that only the wealthier children get access to quality education. With LEAD's smart classrooms, our commitment is to change the system from within. Strengthening the learning happening from within the school structure, irrespective of parents' affordability and knowledge or the child's location,  will create lasting change and promote equitable opportunities. 
Teachers are saddled with a lot of responsibility. They have to prepare lesson plans in advance using creative ways so that every child engages and learns. This is by no means an easy task. This has become more so during pandemic lockdowns where smart classrooms were beamed into every child's home via technology. As wardens of students and tasked with the important role of moulding them into empathetic adults, teachers need all the support they can get. 
At LEAD Powered  Schools, myriad touchpoints like workshops and weekly meetings with LEAD academic coordinators ensure teachers are never left in the lurch. The newly minted LEAD Academy provides online training opportunities for every teacher in our network so that they can learn and update themselves anywhere, anytime. Further, facilitating the means to glean crucial information from LEAD-powered data empowers teachers to take bold steps in addressing learning gaps in their smart classrooms, be they online or in-person. 
Contextualised education for Bharat
The LEAD Academic Excellence teams scour best practices in education and pedagogy from across the globe to bring what works to our students in India. But, no matter how successful a learning methodology is in Singapore or a Scandinavian country, it will be rendered meaningless if it is not contextualised for the Indian student living in a small town. This is why all smart classrooms at LEAD Powered Schools are structured based on excellent pedagogical principles that have been thoroughly examined through the lens of an Indian student and her unique experiences. A great example would be English Language and General Awareness (ELGA), LEAD's pioneering approach to teach English as a skill and not as a subject. Aware that English is the gateway to learning other subjects well, LEAD ditches the grade-level approach for a level-based one with multi-age classrooms. 
Taking cues from the philosophy behind ELGA, which is seen as the gateway to learning other subjects well, LEAD's Sampoorna Hindi programme bridges the gaps in the current curriculum used in schools for decades and introduces it as a skill-development course rather than a language learnt in silos and whose applications are not obvious to children.
These are but four broad ways in which LEAD is changing the status quo in the Indian education landscape. Get in touch with us today to learn more about how LEAD is spearheading the transformation of APSes in Bharat into institutions that serve our students and teachers beyond just offering smart classrooms.
LEAD is transforming schools by making children future-ready. To make yours a LEAD Powered School: Partner with us today