9 (Fun) Activities to Try on the First Day of the School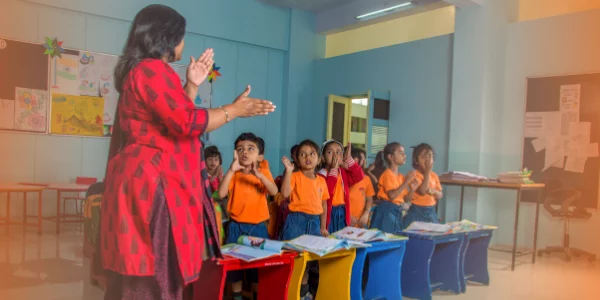 Subscribe to our newsletter
No matter how prepared you are, the first day of school is always filled with anxiety. And this is true not only for teachers but kids too. All those new faces, new teachers, and school work kind of freaks kids out.
However, with some first day of school activities, you can ease the anxiety among kids.
But what are those first-day school activities? 
If you need an answer to the question, this blog post is for you. Let's get started!
1. Thanks for the Compliment!
This is one of the best first days of school activities. You can use it as an Ice breaker and a confidence booster game.
Take blank sheets of paper equal to the number of kids in the class. Now, tape one sheet on the back of each kid. Ask kids to form a circle and write a compliment about the person standing ahead of them.
Once done, you can call out all the kids to read the compliments in front of the class.
2. Find a Friend
This game is to help kids become familiar with classmates.
For this activity, you need some sheets of paper with different topics written on them. The topics can be sports, fruits, favorite food, etc.
Now, give the sheet to each student and ask them to write what they like. Once they do, let them find their buddy who has written that same thing on their sheet.
For example, a kid wrote "football" under the sports section. Another kid who might have also written "football" could be friends with the first kid.
To make this activity simple, you can mention limited options on the worksheet. For example, write cricket, football, and baseball under the sports section. This way, everyone will find their buddy.
3. Decorate the Classroom
Another on our list of the first day of school activities is "Decorate the Classroom."
In this activity, you need to divide the class into four groups. After that, assign a wall and some charts, colors, posters, tape, etc., to each group.
Now, ask them to decorate the classroom, but keep the theme familiar for everyone.
The motive of this activity is to let the kids know that you value their contribution and enjoy their presence.
4. Tall Thomas
Tall Thomas is one of the unique 1st-day activities at school.
In this activity, you need to ask the students to think of an adjective that describes them. However, make sure that the adjective starts with the first letter of the student's name.
For example, if the student's name is Thomas, an adjective could be Tall. Or, if the student's name is Floyd, the adjective could be Funny.
Ask the students/kids to stand in a circle to make the activity fun. And as they say their names, randomly ask anyone to speak the name that the last kid said.
5. Penny Jar
This one is a getting-to-know-you activity.
Take a penny jar and pass it to each student one by one. Ask them to remove as few or as many pennies as they want.
However, for each penny the kids take, they need to share one piece of information. For example, if Franky takes 3 pennies, he might say, "I like cookies," "I go for dance classes," and "I love karate."
Make sure that you take a turn too. And in the end, let the kids keep the pennies.
6. Welcome Bags
This is one of the first days of school activities that kids will definitely enjoy.
Prepare welcome bags using resealable plastic bags. Place a pencil, eraser, sharpener, candy, or other school essentials.
Ask every kid to come forward, say their name, and take their welcome bag. This way, kids will get to know the names of their classmates and will also receive a gift. How cool, right?
7. Classroom Scavenger Hunts
Another one on our list of fun activities for students in school is "Classroom Scavenger Hunt." The motive here is to allow them to know their classmates and the classroom better.
Get a printout of classroom items located at different places within the classroom. Make sure to leave some space to let kids write where they found the item.
Let the kids keep these worksheets at the end of the day. It's because kids can refer to This sheet for the first few weeks to locate things.
8. A Self Portrait
This activity is to help introduce kids to you and to their fellow classmates.
Prepare a worksheet like the one given below. You can even download and print this picture on paper. After that, ask kids to fill in the details and draw a self-portrait.
Once they're done, ask each kid to present the portrait to the entire class. This will make them get familiar with each other.
9. 1 Lie and 2 Truths
This is one popular back-to-school activity that teachers can try on the first day.
Here you need to ask the kids to write two truths and a lie on a sheet of paper.
First, allow them five minutes to write those three statements. Once done, ask each kid to read their statements one by one. And then let the others guess which one's a lie.
Make sure to help any kid if they have issues framing sentences.
Wrapping Up
It's essential to include some fun school activities on the first day. Such activities help lighten the environment and help kids feel at home.
However, always make sure to maintain discipline during these activities. After all, you would never want your class creating a ruckus.