A journey towards making your school 100% complete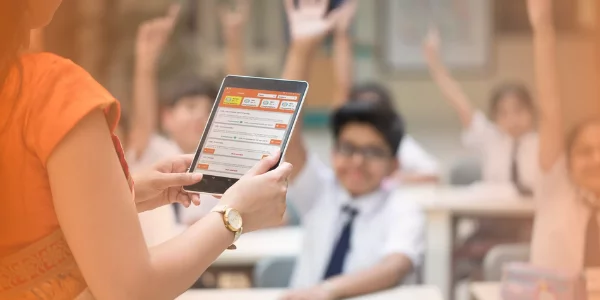 How the definition of a complete school changed post the lockdown?
Historically speaking, any school that focussed on creating an atmosphere that promoted holistic learning and triggered analytical skills in children, is qualified as a great institution. Since time immemorial, schools are considered to be a refined establishment with suitable ambience, resources, and infrastructure contributing to the overall development of a child under the able guidance of expert teachers. Combined with several other factors such as a great academic record, guaranteed learning, holistic development, further made a school great and complete. 
But earlier this year when an infinite lockdown was declared, in a bid to halt the deadly virus, multiple sectors changed their course to survive. The education industry was the worst hit and was in the doldrums. Amid this, when the conventional boundaries of schools got shut, where do students find learning? What new ways have to be devised by schools to ensure continuous learning is achieved with better and enhanced standards?
To support undisrupted learning at this critical moment, technology became a saviour. Schools shifted online and teachers began taking remote classes supported by seamless technology. 
But one question reverberated across this sector- Can anything else possibly replace perfection that said to be residing inside the walls of schools?
Is the tech transition going to be a new face of a complete school? If yes, what aspects of online schooling are going to make a school 100% reliable and complete? Of course, the old benchmark stands irrelevant and a new yardstick has to be devised.
As far-fetched as it may seem, the next few years in India may make virtual education the new norm. Besides safeguarding what education stands for, the new virtual classroom must also be in line with the New Education Policy announced by the government recently that gives a substantial push to digital and online learning; emphasises on vocational studies and experiential learning; inclusion of crisp and modern curriculum and thrust to holistic learning and a multidisciplinary approach. 
An online integrated management platform that abides by these norms will stand the test of time.
Effective learning is a two-way process between the teacher and students, meaning both need to engage. Active learning is where students engage with learning modules making connections to concepts they have learned previously. Obsolete ways of education churn passive kids where their participation in class remained low to none. An academic integrated management platform with its access to a modern curriculum that is crisp and full of features like audiovisuals, learn-by-doing approach, extracurricular activities, etc. is fixing the loopholes of eLearning. This platform also houses a pool of resources and lesson plans that make the entire teaching process effective and seamless.  
Now that the conventional schools are closed, online learning platforms are making students independent, motivated, and self-reliant.
Trust and parental participation are also key features of a successful school. Various integrated management systems have boosted the participation of parents.  Parental participation is also imperative because it sends the message to students that the adults in their lives- both teachers and parents, trust in the importance of education and are willing to make time to support their academic journey. 
Academic Integrated management solutions not only gives access to a module that expedites the learning process, but students are also able to work quickly with the help of the learning tools available to them.
Why are LEAD powered schools considered to be 100% complete and reliable?
The New Education Policy raised the bar for both parents and management. While parents want inclusion of everything contemporary and comprehensible, management in the quest to execute the features of the new policy in their school functioning/module, geared up too. To keep up with the dramatic change in the education sector, they now have to choose the right kind of academic integrated management solution which not only is in line with the New Education Policy but also brings self-motivation, self-efficiency, and self-reliance, which traditional schools often fail to render.
With LEAD School's Integrated System, schools can deliver uninterrupted quality learning, both online and in school, while using world-class teaching pedagogies to achieve a great outcome for every child. Also, LEAD School's tech solutions enable continuity in teaching – online, offline, or hybrid – while ensuring the best teaching standards and guaranteed results.
Not just that, LEAD School understands how every child is unique and demands different learning patterns, and that's why it offers customised learning experiences based on their capability and intellect. LEAD School provides an Integrated system to each of its partner schools to ensure high-quality learning and teaching experience. 
Digital Learning Content, Physical Reader & Workbooks, Learning activities, E-books, Regular assessments & Practices quizzes, Personalised revisions, Home practice, live classes from a LEAD expert teacher, Doubt clarification, and National competitions are some unique features of the LEAD School.  
LEAD School is also perfectly aligned with the New Education Policy and facilitates the government's agenda of modern learning. With a theme-based comprehensive curriculum, unique Concept-Pictorial-Abstract (CPA) approach, Learn-by-Doing module, and Extracurricular Activities, LEAD School perfectly syncs with the NEP 2020. 
So far, the ongoing COVID-19 pandemic has been a stark reminder to the basic nature of schools across the globe. Hence, there should be an incessant effort by education integrated management solutions to solve every grave challenge that students are facing and at the same time help the management to function seamlessly, eventually making a school 100% complete, parents happy, and students a great achiever.