Give your child a well-deserved break with LEAD Summer Camp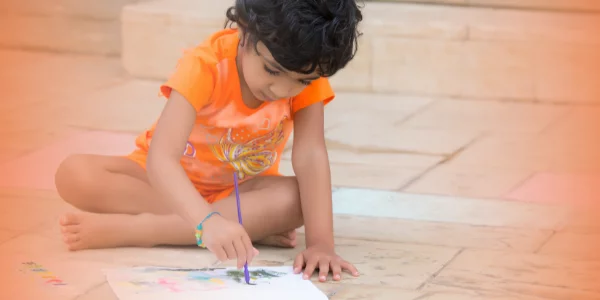 Despite the resilience shown by the education sector, the learning loss that students have witnessed due to the school closures remains incalculable. Interruption of face-to-face instruction in schools has prompted concerns about the fate of students' learning. The COVID-19 pandemic is altering society in multiple ways, intensifying social and economic inequalities in its wake. It's been a constant struggle for schools and teachers to adopt online-based solutions, let alone turning their heads around assessment and accountability. School closures also impact students' foundational skills, critical to developing their competencies, subsequent learning and lifelong opportunities. These skills are also the most difficult to recover.
In such circumstances, schools need to evolve and outrun the ongoing crisis to safeguard students' interest. Prolonged school closures may cause irreparable damage to children's educational outcomes.
World Bank reports, "COVID-19 could result in a loss of 0.6 years of schooling adjusted for quality, bringing down the effective years of basic schooling that children achieve during their schooling life from 7.9 years to 7.3 years."
It always gets better 
Who would have thought what happened in Wuhan in 2019 could have a long-term impact on students and their learning curve globally? Sadly, the industry, which stood resilient on multiple occasions, came to a standstill with COVID-19 upheaval. School closures, shifting traditional classes to an online setup, and students losing camaraderie overnight were too much for the stakeholders to comprehend. However, as they say, time heals everything; the industry rose from the ashes and has come far since then. We sit in the second quarter of 2021, and things do not look as gloomy. Stakeholders are getting better at using technology, and students have started enjoying remote learning with the help of collaboration.
Summer holidays, making up for the learning loss
As for the learning loss is concerned, the upcoming summer holidays can be utilised to make up for it. A carefully executed strategy with the school's help can assist your child bridge the gap created by the crisis.
Even the virtual summer camp for kids is an excellent way for your child to learn, grow, socialise while mitigating the learning loss at the same time.  It is a great way to learn beyond the curriculum.  Never before have so many children been out of school in the history of education, disrupting learning and upending lives. Let summer camp for kids be that opportunity where students and parents bridge the 'learning loss', together.
The role of LEAD in reducing adverse effects of school closures
LEAD has been helping school owners, teachers, parents, principals and students alike to stay productive even in the ongoing disruption. Summer camp activities that have been an intrinsic part of many schools can now be used as a medium to bridge the learning gap. As a part of the Summer Camp, LEAD has created a 6-week-long programme filled with 12 enjoyable activities to make the most of the holidays. Students from over 2000 partner schools get to engage and learn during this camp. Activities are designed to stimulate the brain and creativity at the same time.
These activities are released on the LEAD Student and Parent App on a bi-weekly basis; one is sent on Tuesday and another on Friday and are called Tinkering Tuesday and Funky Friday activities. This Summer Camp is put together to provide students with such engaging activities and application-based learning opportunities.
Holidays, especially summer camp activities, are essential now more than ever. LEAD understands that students need to rejuvenate as much as they need to address their learning gaps. That's why fun elements in summer camp activities have abated the learning loss in a fun, interactive, and collaborative format.

Students can access the activities using the LEAD Student App. They will find a Summer Camp card that lets them start an interactive six-week journey on the homepage. The activities are easy and can be done with the help of simple household items. While some activities are individual tasks, some may require supervision.
Completed activities can be submitted via the App as an image or a video. Every submission becomes a part of the child's documented personal journey. Apart from engaging and learning, children also get an opportunity to win some exciting prizes.
On the completion of all activities, students get a special LEAD Summer Camp certificate. The school with the most number of students completing all activities gets a special reward as well.
Let LEAD show you the way.