5 lesser-known facts about smart classes in schools every parent must know
Post the indefinite school closures, smart classes in schools became a way of life. Not only did they help students achieve high-quality learning while sitting at home, but they also gave a breather to other stakeholders who feared future abrupt shifts. The traditional model of education crumbled with the crisis exposing its unreliable and dainty module. Smart classrooms that are enabled by an integrated academic system is what will keep the education sector going. While the benefits of smart classrooms are many, a few of their advantages remain less heard. For example:
Smart classrooms

ensure that the child gets a world-class curriculum to study from. Also, the curriculum is streamlined to give clarity on every topic for an enhanced understanding.

With audio-visual mediums of learning, students can learn via engaging means instead of constantly learning from textbooks.

Technology has bridged the gap between parents and teachers and teachers and students. As a result, they all can connect in a better way whenever

required, ensuring

better communication.

With the help of smart classrooms, parents can participate in their child's education

more than ever. With in-time monitoring and apps that smart

classes

in schools

offer

, parents are in a position not just to monitor their ward's performance but participate in it too, ensuring better results.

In a smart classroom setting, the old dusty chalkboards get replaced with smartboards where teachers can teach via visuals, videos etc. In addition, students can interact with it via their tablets.
Technology has been used to supplement rather than drive the learning environment till now. However, the journey for schools in India will be a different one post lockdown. The traditional approach, rote learning are aspects of the past. New-age learners are tech-friendly and expect their curriculum to go beyond just a structured approach. Smart classes in schools empower 21st-century kids with the requisite resources and tools required to do exceptionally well in a fiercely competitive world. 
A report by UNESCO says, "The modern learner is comfortable with higher degrees of technology-enabled learning and prefers collaborative work, learning environments that are unstructured, and   a learning relationship that   resembles the power   structure of a 'facilitator'–instead of that of a teacher."
How is LEAD helping parents stay abreast with their children's learning curve?
LEAD has created a space that is welcoming for everyone, especially for parents. As a result, they can be more invested in their children's education without compromising their professional and personal lives. LEAD understands that parents' indulgence in their children's education is crucial, and that's why they provide support to schools through ed-tech solutions. These technologies are mere tools to support school management and the core of the modern academic structure. With LEAD, parents can be assured of an international standard of education for their children with the right amount of exposure for theoretical and practical learning.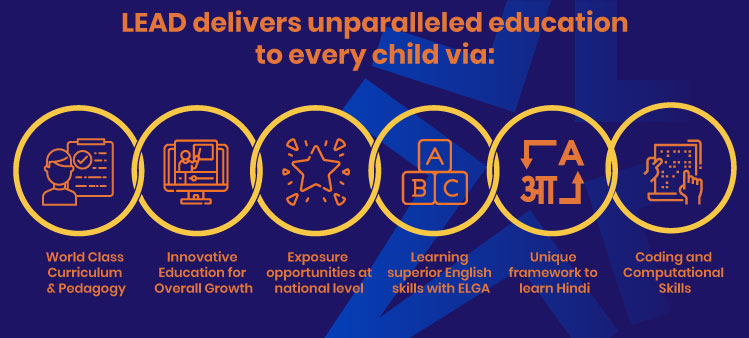 LEAD-powered schools are equipped with an internationally accepted curriculum, specialised English & coding skills, digital classrooms, and other personalised learning solutions for children. LEAD also helps parents monitor and access their child's growth with exclusive parent sections in the new LEAD Student App. In addition, with a network of 2000+ schools, LEAD provides ample national and international opportunities, including championships and talent search exams for your child to flourish.