From a school in rural Gujarat to the fastest growing EdTech company in India: the LEAD journey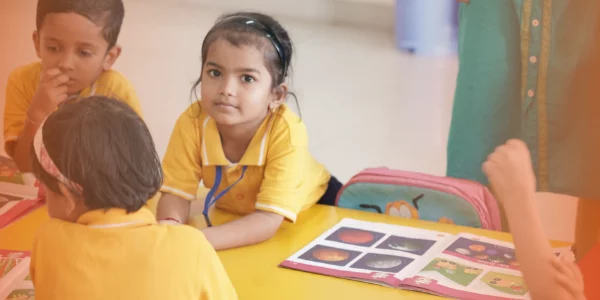 Subscribe to our newsletter
In becoming a leading EdTech player working with 2,000+ partner schools, LEAD has seen rapid growth since the early days. However, the commitment to democratise best practices in academic delivery we started within that small school in rural Gujarat remains steadfast to this day. And we have only just begun. Here is the LEAD journey so far.
The day of reckoning for the education system in India finally came and pushed the change-averse sector to address the evolving needs of our children and keep pace with the rest of the world. Parents from all walks of life began to demand better from schools, expecting not just top-notch education from institutions but also that their children are equipped with the means to become resilient beings of tomorrow—ready to take on life and the job market.
While children studying in some metro schools had a better exposure to best practices in education, their counterparts in Tier 2, 3, and 4 towns and cities severely lagged behind. Parents in these rural areas feel cheated after investing 14-16 years in formal education only to see their children lack exposure to the basic skills required to pursue higher education in good colleges or land jobs in a highly competitive market. However, with nearly 65% of the population residing in Bharat, there is an immediate need to address education and learning gaps in India's heartlands. Equitable education opportunities will play a significant role in lifting India out of poverty and empowering our children to chase their dreams. 
Today, we believe LEAD's work with 2,000+ schools in the Affordable Private School (APS) segment in Tier 2, 3, 4 towns and cities has helped move the needle on the goal to provide every child in India with the best education possible. Looking back, it has been a rewarding journey in a short time, but not one without challenges. However, in the beginning, there was only a burning intent to transform school education. The big question was where to start.
From Singapore to rural Gujarat: the first steps
LEAD Co-founder Sumeet Mehta was brought up in rural Pathankot, Punjab and comes from a family of teachers. He spent his childhood watching his father dedicate his life to making a difference in the lives of his students. Sumeet later moved to Chandigarh to pursue his college degree in engineering and a post-graduate programme from IIM-A. He then went on to work with P&G in Singapore.
Despite working at a multi-million dollar conglomerate, Sumeet struggled with the idea that students in the metros back home had an unfair advantage over their peers from rural districts, who were missing out on a world of opportunities and resources Tier 1 city kids could take for granted. It was during this time India's poor PISA ranking was globally publicised. Sumeet, who was working in Singapore at that time, saw how the small nation excelled in comparison. He itched to find out more and bring the same to India's children.
India was at the brink of an educational revolution, Sumeet knew, but he feared children in rural India would still miss out. Quitting his high-paying job in Singapore, he and his accomplished wife, Smita Deorah, returned to the motherland, with much resolve to make a difference but with only a vague idea on how to.
In 2013, that vague idea was shaped into a small school in rural Gujarat. The institution blossomed into a modest strength of 45 students in 2014, and Sumeet and Smita's life's work began. Travelling across the world to learn best practices in pedagogy, they distilled their learnings and contextualised it for the rural student coming from a poor background in India. A seminal work that soon emerged was English Language and General Awareness (ELGA), which reimagined the curriculum and the way children learn using English as a skill. It was met with many success indicators in learning outcomes, and Sumeet and Smita knew they had created something that needed to be shared with more schools in non-metros.
By 2016, their tryst with education had taken the form of five owned schools and two partner schools; 545 students were reaping the benefits of deep research into world-class pedagogical practices. To Smita and Sumeet, it seemed a criminal waste to let this be the preserve of just a handful of schools. What they had created needed to be innovated upon and scaled across the country. Thus began LEAD's journey towards becoming an EdTech company. 
From education to EdTech: the second phase
After experiencing the success of running schools, the team at LEAD realised partnering with schools as not only a more efficient but also faster way to expose a larger number of students to LEAD's unique curriculum and teaching methodology. Hence, understanding that APSes in the rural districts of the country did not have the means nor access to expand their learning methodologies by proper research and application, LEAD stepped in to fill the gap. Taking the learnings from and practices tested at the schools LEAD owned, the founding team started replicating and sharing the successes to thousands of students in Bharat. The mission-critical work LEAD was doing to equip enabled students from AFPs with the same (if not better) education as their counterparts in elite and prestigious schools in metros required scalability and technological interventions. Thus, LEAD as an education organisation transformed into what is now the fastest-growing EdTech company in the country.
Innovation with technology soon began, creating an integrated system that addresses the needs of all the stakeholders: children, parents, teachers, principals, and school owners. By 2018, 13,000 students across the country were benefiting from holistic learning practices and superior tech-powered classroom experiences. 
Democratising stellar education from within
LEAD's evidence-based education approach puts the emphasis on personalised education and the right learning indicators, thus addressing the learning needs of every child. Teachers were empowered with technology and lesson plans so that they could do their job better while parents had complete visibility of their wards' education on the LEAD app. LEAD emerged as the champion of disrupting education from within the system, not alienating schools but instead partnering with them in not just academic delivery but also in admission, marketing efforts, teacher training, adoption of school best practices, and creating networking opportunities for children and teachers. 
This was not easy nor without roadblocks but a talented team that has steadily grown over the years now ensures a whopping 8 lakh students in every corner of India are getting world-class education contextualised for their unique needs.
The lasting commitment to education innovation
Always keeping impact at the heart of our business goals has helped LEAD grow into a profitable and leading EdTech player that fosters some of the best talents in the space. Innovation is in our DNA, and in keeping with the need to constantly evolve, LEAD is always looking to introduce new concepts and technology in academic delivery. To that end, we have added two new concepts in the LEAD curriculum for the 2021-22 academic year: 100% remote teaching of Coding and Computational Skills (CCS) and the Sampoorna Hindi Program.
Coding is accepted now as a core life skill just as literacy and numeracy. It is introduced as a core subject from a very young age at most schools abroad. In India, schools still follow an outdated curriculum based on theoretical knowledge. As a result, parents are left with no choice but to opt for online expensive courses that never cater to students in the APS segment. With this in mind, LEAD has now come up with a unique CCS programme to enable students even in the APSes to adopt computational thinking with real-life applications. Read more about the programme in our blog here.
Taking cues from the philosophy behind ELGA, which is seen as the gateway to learning other subjects well, LEAD's Sampoorna Hindi Program bridges the gaps in the current curriculum used in schools for decades and introduces it as a skill-development course rather than a language learnt in silos and whose applications are not obvious to children. The programme helps students be immersed in Hindi in a way that helps them naturally pick up the nuances of syntax, grammar, and proper application. 
Continuing on our thrust on constant innovation, we are revisiting the brand's look in 2021, to perfectly capture the impact we are creating and the dreams of students in our partner schools. Our journey so far, from a rural school in Gujarat to India's leading B2B EdTech company, may have not been very long by conventional standards, but the learnings along the way have helped our young team truly value the right metrics for growth.
As our new logo indicates, our commitment to LEAD the efforts on providing equitable education opportunities for every child is the company's North Star now, and for the years to come.
LEAD is transforming schools by making children future-ready. To make yours a LEAD Powered School: Partner with us today