School automation on your mind? Top 5 benefits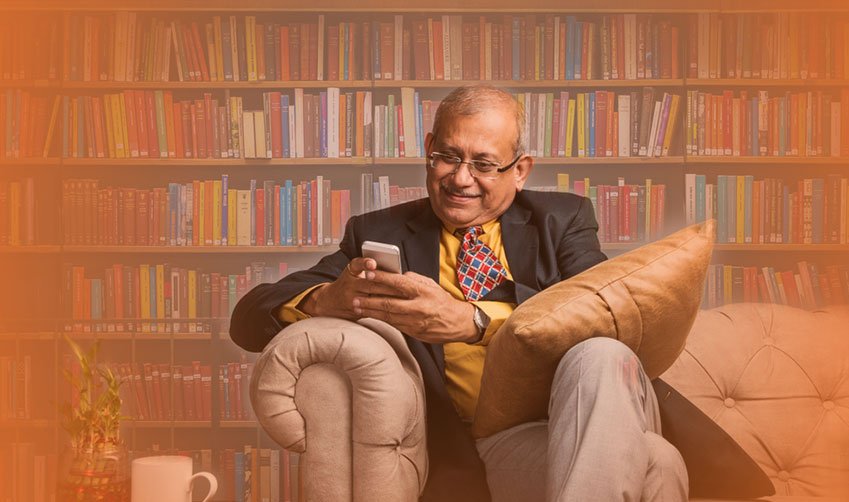 Subscribe to our newsletter
The internet has spread its wings to unimaginable dimensions. As an outcome of which we have come a long way within a short time. The incredible expansion of the internet and its affordability have let many educational institutes advance even in smaller cities. India is among the top 5 nations in adopting online learning systems. 
No matter if a school is big or small, it needs to manage the enormous amount of data across various departments efficiently. Everything needs to be put in an orderly format, from recording the students and teachers' attendance to communicating the child's progress to parents. For effective management, you need to opt for school automation software. Whether it is a traditional setup or an online classroom bought by NEP 2020 and the pandemic, seamless management is the need of the hour. A batch of smart educators is not enough; you need technology-empowered administration for running an institution successfully. 
According to UNESCO, "Although database management, automation and internet connectivity are important aspects of a modern education management system, these will have little effect without considering clear instruction, training, understanding and acceptance by the people who collect, analyse and use the data for making a decision".
But what is school automation software, and how does it work? It is an all-in-one management software specifically designed to ease the process of academic management. You can leave the administration task on the software and concentrate more on the education of the students. Admission record, attendance, student performance etc., can be easily accessed.
The World Economic Forum supports the innovation in education technology and states that it has the potential to reduce the cost and improve the quality of education. The use of management software enables teachers to focus on online classes. Availability of information online allows you to provide feedback to parents and students easily.
Here are the top 5 benefits of using school automation software-
With a population of 1.2 billion people, the scope for technology-based learning in India can outweigh that of many developed and developing nations. With a network of more than 1.5 million schools, the market for digital education in India is enormous. Today, online learning is no longer a luxury, but the execution of digital tools of learning has become a necessity in schools as it enhances your school's productivity. Since many mundane and tedious tasks are conducted regularly are done on the software, teachers can now focus more on the students' education.
In traditional schooling, you need to ask teachers to maintain records manually, which was time-consuming and tedious. With the adoption of automation software, work has become easier and faster. Teachers now get enough time to make lesson plans and conduct activities for the students. 
Enhances transparency between parents and teachers
The cloud-based school management software enables parent-teacher communication. Parents can track the progress of the students. You can easily update them about important events, which leads to transparency. 
Parents get an update as soon as there is any development. The faster communication builds trust in teachers and management. 
Sustainability of resource
Automation, to an extent, is the shift from manual to digital. This leads to considerable elimination of stationery such as paper, registers etc., for maintaining records. By using digital tools and software for management, you take a significant step towards saving natural resources. 
When a school is technologically enabled, the software handles daily tasks such as attendance, admission record etc. It allows teachers of your school to manage and assign work faster to the students through the portal. This also relieves them from a heavy workload and bring efficiency in teaching. 
Automation software not only makes the data accessible but also assures data backup, upgrade and scalability. As the system is cloud-based, you are free from the worry of data loss. It is a great advantage for your school as you need to track multiple academic records continuously. 
Technology enhances school education delivery and management
According to a KPMG report, in India alone, the market value of e-learning was $247 million, with the number of students at a staggering 1.6 million in 2016. The scope is increasing immensely due to the rise in technology and internet penetration, making education accessible even remotely. Automation software is a product of technology that is becoming an inevitable reality in the education sector. Now, schools are embracing new and ultra-fast technology solutions for management and delivery. With school automation, administrators are not lagging. You can also customise the school management software to serve the needs of students, staff and teachers. 
The largest value-addition that automation brings is that it makes teaching more customised by monitoring students and their performances. Kids also get additional support from their educators.
How does LEAD's school management software help in efficient management?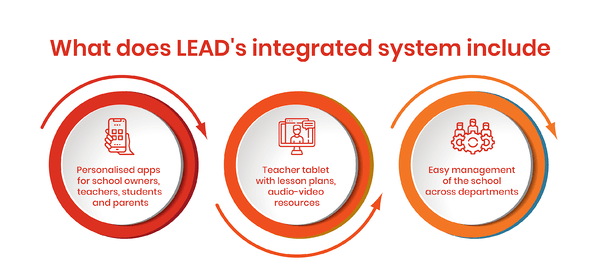 LEAD transforms your school's technology infrastructure by making it on par with high-end institutions. This transformation takes place with the help of LEAD Nucleus. The school ERP allows schools to function effortlessly. LEAD gives a multimodal classroom experience with the smart class. Each teacher is equipped with a teacher tablet with lesson plans, audio-video resources etc. 
LEAD provides personalised apps for school owners, teachers, students and parents. The software enables schools to monitor the progress of units at the class sub-level and takes actions. The academic coordinator can see the overall progress of the curriculum and take the necessary steps. Parents can also access the information and communicate with the teachers about the progress of their child. Easy management makes way for high productivity. 
LEAD is transforming schools in India by helping children become future-ready. To make yours a LEAD powered school: Partner with us today