Advantages of Smart Class Education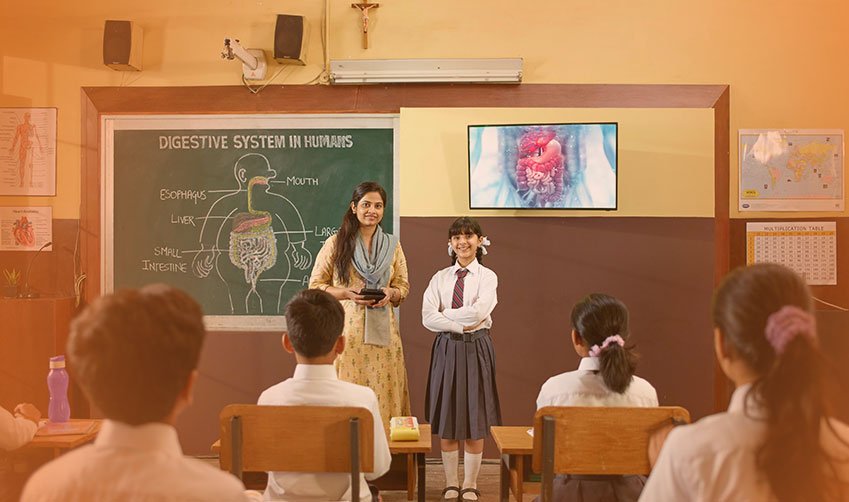 Subscribe to our newsletter
Smart class in schools is a dynamic solution for educational institutes to deal with recent disruptions. 
Smart class in schools provides students with a quality learning experience with technology's aid. Since schools have switched to smart classes primarily due to the pandemic, traditional classrooms have lost their credibility. smart classrooms are assisted by technical tools, including laptops/computers, internet access, projectors, smart screens, speakers, microphones, amplifiers, visualisers, etc. 
Smart classes have become an enjoyable and exciting way to break free from the rote learning system. Through creative technology, smart classes in schools are transforming the learning environment for students and teachers.
The times have changed, and schools must evolve with it. However, sadly not many schools in India have taken technology seriously.
According to UNESCO,"Learning  environments  have  changed  significantly  in  the  past  few  decades  due  to  the inclusion of emerging Information and Communication Technology (ICT), both hardware and software, as  well  as  a  variety  of  online  media  in  classrooms.  Learners today utilise mobile gadgets and applications as their primary sources of information,  knowledge,  and  social  discourse.  However, despite  these  advances  in  educational  technologies  and  the  way  learners  have  adapted  to  their changing  environments,  many  classrooms  today  still  employ  teaching  methods  of  the  past:  lecture formats, unauthentic assessments, and rote learning."

Types of Smart Class in Schools:
In smart classrooms, the students engage with the curriculum via animations and videos. Using advanced smart class technical instruments, teachers can quickly analyse and measure the students' progress and success. 
Smart classes for schools is classified into three categories:
Basic Smart Classes: Classes equipped with computers, laptops, projectors, screen viewing, and other such gadgets.
Intermediate Smart Classes: Classes fitted with basic smart classes and a tiny podium and control panels.
Advanced Smart Classes: Classes equipped with advanced features of all equipment forms from fundamental to intermediate classes.
Benefits of Smart Class for Schools:
Enhanced Learning Experience

Interactive Learning Experience

Easy Access to Online Resources

Environmental Friendly 

Time Saving Technology

Increased Productivity
Smart classes make learning fun!
With smart class technology, information can be illustrated on interactive whiteboards using photos, maps, graphs, flowcharts and animated videos. This makes learning engaging and easy to understand. 
The use of smart boards allows the teacher to deliver lectures more efficiently with various projections for illustrations. With visual presentations, they can easily demonstrate every lesson's crucial aspect. It helps create a short FAQ session between teachers and students, propelling a class's quality learning atmosphere.
There are digital display boards and projectors that are synchronised for a smart class. An educator can easily show any practical approaches from the available resources. This way, the learning approach gets enhanced, and students comprehend better. 
The smart class is also an effective way towards sustainability as a considerable amount of paperwork gets eliminated, making way for greener schools. 
Smart class technology helps students make presentations online and seek input from their teachers in less time than the traditional learning process. The same applies to teachers who do not have to advise students to make rough notes since it is easy to share the presentation directly. This saves teachers and students a significant amount of time that can be used for other engaging activities.
The visual format is more likely to involve the students better than before. Smart classes also help students and teachers to produce good results that contribute to increased productivity.
How LEAD's Smart Class is an overhaul your school needs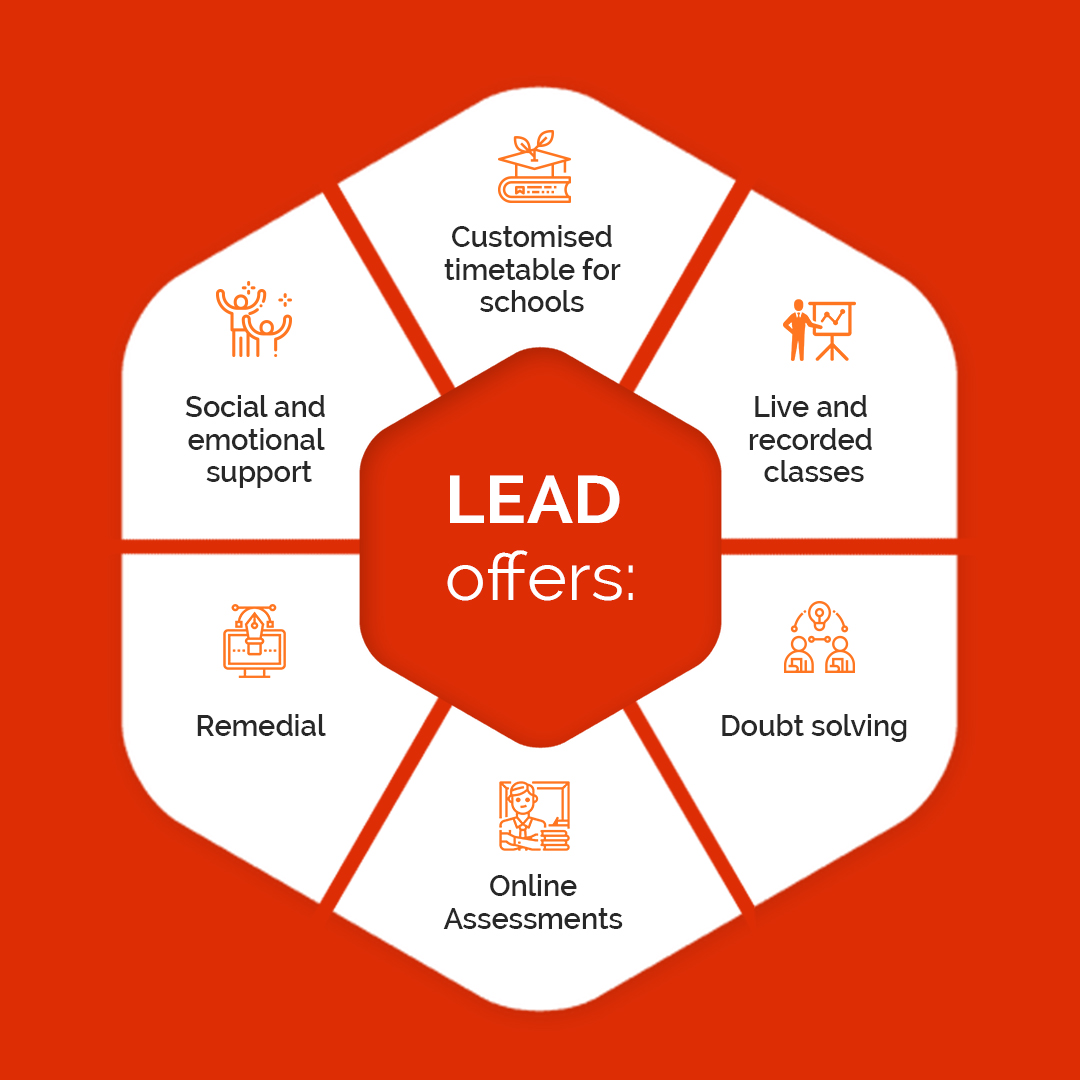 LEAD smart classrooms allow consistency in teaching (online, offline, or hybrid) while maintaining the highest quality of learning and guaranteed outcomes. With all materials and devices for school transformation, owners get smart classes for school. They will have access to real-time operational monitoring, year-long assistance, improved student results, and better admissions. LEAD also provides LEAD School @home to keep parents stay updated about their ward's performance. 
LEAD's smart class for schools work on Customised timetable for schools, and Live and recorded classes, Doubt solving, Online Assessments, Remedial, Social and emotional support, Homework, Revision, Reporting, Digital Learning Content, Physical Reader & Workbooks, Learning activities, E-books, Regular assessments & Practices quizzes, Personalised revisions, Home practice, live classes, etc.
All these factors are crucial and lead to a visible growth in learning across all classes. 
In a traditional system, students rely on books for their learning. But in the LEAD School system, students get to learn via three modes of teaching. 
• Through videos and slides that teachers show from her teacher app
• Through activities using material from the School Excellence Kit
• Through books and workbooks they get from LEAD School
LEAD is transforming education in India by helping children become ready for the exam of life. To make yours a LEAD powered school: Partner with us today