Smart class setup is not tedious. What you need to do.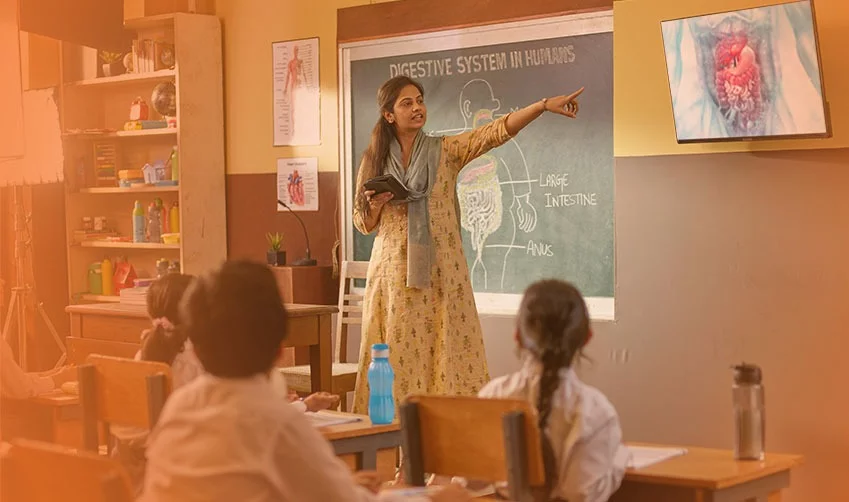 Subscribe to our newsletter
For the past few years, the education industry is witnessing significant changes. Smart classrooms are replacing traditional classrooms, the former being a setup blended with technology enabling teaching and learning experiences remotely with high efficiency and better results.
Looking at the present day uncertainty, quality education has become a need. With the world moving fast with growing competition, schools need to keep up. Hence, smart class is a technological boon for the education sector.
MarketsandMarkets estimates the global edtech and smart classroom market size to grow from USD 8.5 billion in 2020 to USD 181.3 billion by 2025. Increasing penetration of mobile devices, easy accessibility of the internet, growing need for edtech solutions are the major factors driving the growth. 
With the high demand for a smart class setup among kids and parents, schools have started adopting online methods. Many school owners are reluctant to use the technology or introduce the new system in teaching. Schools feel that major installations and infrastructure changes are required to set up a smart class. However, the reality is far from their imagination. You don't need to make earth-shattering changes to modify your school into a smart one.
For years, there have been myths that surround technology. Let's bust them one  by one: 
Smart class requires major infrastructure changes
A major myth about the smart class is related to its setup. You don't need to invest much time setting up the smart classroom. Instead, some software installations such as learning management systems and ERP are enough for going digital.
Schools often think that online platforms and applications are challenging to understand. But in reality, it's quite the opposite. Technology makes things easy. Everything can be done with just a click. You get away with managing many tedious tasks with the help of software to manage every task.
Technology will replace the teacher eventually
The role of teachers cannot be replaced but has changed significantly. Earlier, seen as the repositories of knowledge, they are now seen as syllabus designers, content developers, knowledge sharers — all via the medium of technology. Hence, they need to develop a different skill set, specifically knowledge of Learning Management Systems (LMS).
Making records and handling data will be difficult
A few think that the online way of keeping records or managing information via software is more complicated. However, the reality is different. Installation of LMS or ERP makes the management task simpler and ensures zero error.
LEAD is transforming schools in India by making students become ready for the exam of life. To make yours a LEAD powered school: Click here

How smart classes are revolutionising learning
As per the World Economic Forum, "Acceleration of digital revolution, gives us exciting opportunities to shape learning experiences and achieve learning goals."
Schools who adopt the newer and smarter version of imparting education enjoy various benefits-
Parents prefer schools offering a flexible schedule as per their need. A smart class can be taken anytime, anywhere, calling more kids for admission to the school.
School owners can free their teachers from the stress of maintaining the record. Administrative tasks can be done online without any hassle. Teachers can now work on the progress of the student as well as the school.
Earlier, it was tedious to inform every parent about any event or recent development. Now, schools can update the parents through the app.
interactive and fun learning environment attract kids
New-age students are more inclined towards digital tools. Making class interactive via visual and digital aids builds the interest of the students in studies. This will lead to a considerable spike in admissions to your school.
One of the primary reasons behind the continuous increase in popularity of smart class setup is that this type of education is suitable for all students. A classroom has kids with varied understanding and learning levels, and studying from notes or other materials is difficult for some. But the use of digital classes and modern technology simplifies the learning process for all students.
LEAD's smart class help schools provide quality education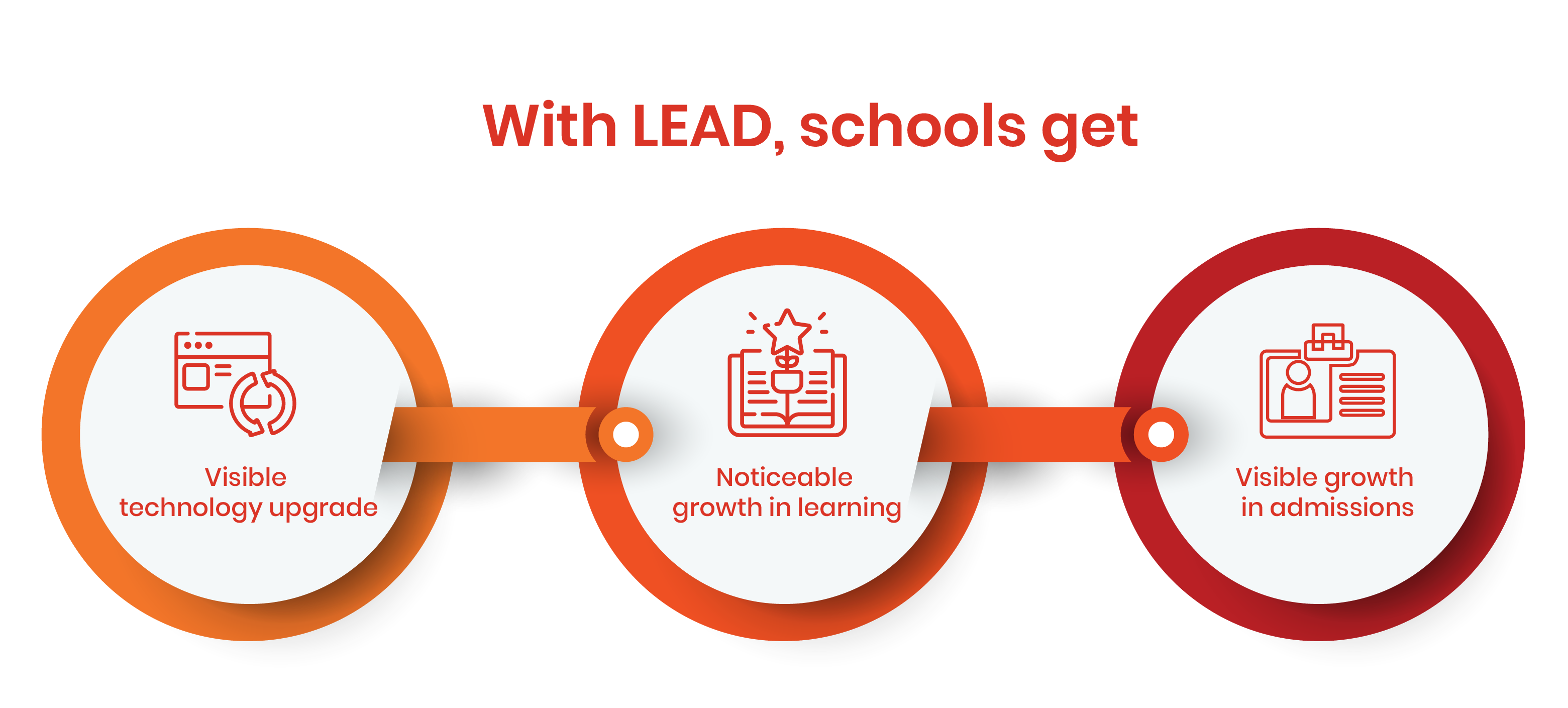 With LEAD, schools can now provide excellent uninterrupted learning using world-class pedagogies. Easy smart class setup at LEAD allows consistency in teaching, maintaining the highest standard of learning and assured outcomes. With all materials and devices for the school's transformation, the owner gets guaranteed outcomes. Now, the school can access real-time monitoring assistance, improved results of the students and better admissions.
Here's what LEAD aims to offer to schools
Visible growth in admissions
LEAD brings the best of technology to help you run schools seamlessly in online mode.
LEAD is transforming schools in India by making students become ready for the exam of life. To make yours a LEAD powered school: Click here