The Advantages and Disadvantages of New Education Policy 2020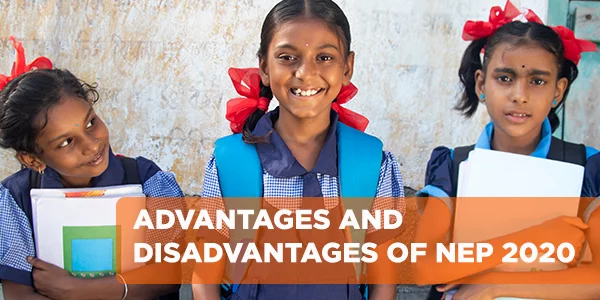 The Advantages and Disadvantages of New Education Policy 2020
Last Updated On: 13/12/2022

"An education isn't how much you have committed to memory, or even how much you know. It's being able to differentiate between what you know and what you don't." ~ Anatole France.
NEP 2020: Aligned with aspirational goals of 21st century education
The following are the highlights of NEP 2020:
Ensuring universal access to education from pre-primary school to Grade 12 and quality early childhood care and education for all children between 3-6 years
Promoting multilingualism and Indian languages; mother tongue to be the preferred medium of instruction until Grade 5.
Holistic multidisciplinary education with multiple entry/exit options
Higher investment in digital infrastructure and availability of online teaching platforms, virtual labs and digital repositories
NEP 2020 aims to develop both the cognitive capacities as well as the social, ethical and emotional capacities of the students. Let's discuss the advantages and disadvantages of new education policy 2020!
In this article

NEP 2020 Advantages: Achieving full human potential through education

NEP 2020 Disadvantages: Areas of improvement

How is LEAD NEP 2020 compliant?
NEP 2020 Advantages: Achieving full human potential through education
The NEP 2020 has been introduced to bring monumental changes in the Indian education scenario. The following are the advantages of the new education policy 2020:
Increased expenditure on education:

The increased spending on education, from

earlier 3% to 6% now

, will bring the much-needed funds, focus and prioritisation in the education sector.

Reduced exam stress:

The changed school structure will reduce the stress of board exams and will channelize students' focus towards practical skills and vocational learning.

Flexibility to choose subjects:

Students have broader options to learn now. They have the option of choosing any subject combination from Arts, Commerce and Science and exploring a multidisciplinary arena of education.

Universalisation of education:

NEP 2020 is making education a basic right. It will bring back many children back to the educational institutes and truly universalize education for children aged 3-18.

Introduces kids to coding: Introduction of computers and coding in class 6 upgrading the learning process.
These policies are in tandem with the changing times and cater to the present and future demands of the world we thrive in.
Never miss a story
Stay updated with the latest news and articles related to school education
SUBSCRIBE TO OUR NEWSLETTER
NEP 2020 Disadvantages: Areas of Improvement
However, there are some points which have received criticism from some sections of society. The following are some of the disadvantages of the new education policy 2020:
Teaching in the mother tongue will be challenging: Teaching the fundamental subjects in the mother tongue will be a hassle as India has 22 scheduled languages and innumerable dialects. The course material will need to be converted to these languages first, and then the requirement of skilled teachers to implement this.
Widening the gap between learners: As the mother tongue is going to be the preferred medium of instruction till class 5, the introduction of English after 5th standard in government schools will widen the gap with the private schools that have been providing education in English since the beginning.
Challenge of digital divide:

The digital divide present in India is even more extreme in rural areas where not everyone can afford smartphones. The problem is further compounded by the poor IT infrastructure of government-run schools, which will create implementation issues in the digitization of education. 
However, the issues with these policies can be changed with due government intervention.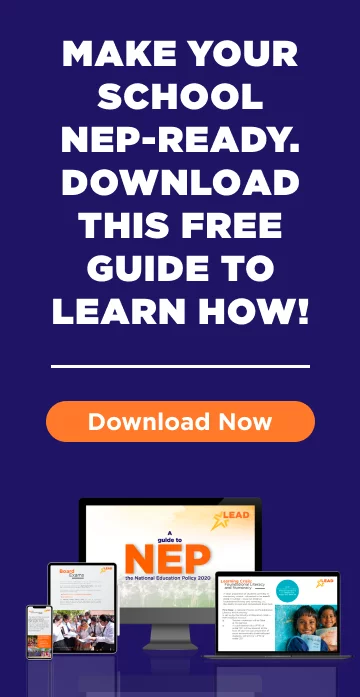 NEP 2020: Change in the nature of exams
NEP 2020: Addressing Learning Crisis and Building Foundational Literacy & Numeracy

"Education is essential to change, for education creates both new wants and the ability to satisfy them." – Henry Steele Commager.
How is LEAD NEP 2020 compliant?
The largest school-focused ed-tech provider in India, LEAD, provides a range of instruction options that are fully compliant with the NEP 2020:
So, move ahead with LEAD and successfully implement the NEP 2020 guidelines while making your students smart learners.
Conclusion
In NEP 2020, the pros overpower the cons. There are more good aspects of NEP than less appreciative ones. And with timely recognition, they will also be addressed, and NEP will prove beneficial to both students and the education sector.

LEAD can help you make your school NEP-ready with its integrated school system. Call us today for a FREE consultation.
Article Summary
NEP 2020 is the first education policy of the 21st century and aims to bring about the much-required changes.
Its major objective is to universalise education while keeping it equitable and inclusive.
There are many advantages, from the enhanced education budget to multidisciplinary learning.
However, there are some disadvantages of the new education policy 2020, which will lead to challenges in implementing the policies.
LEAD is NEP compliant and provides digital solutions to enhance students' learning experience. 
Never miss a story
Stay updated with the latest news and articles related to school education
SUBSCRIBE TO OUR NEWSLETTER
x
Give Your School The Lead Advantage