There's always room for more with smart classroom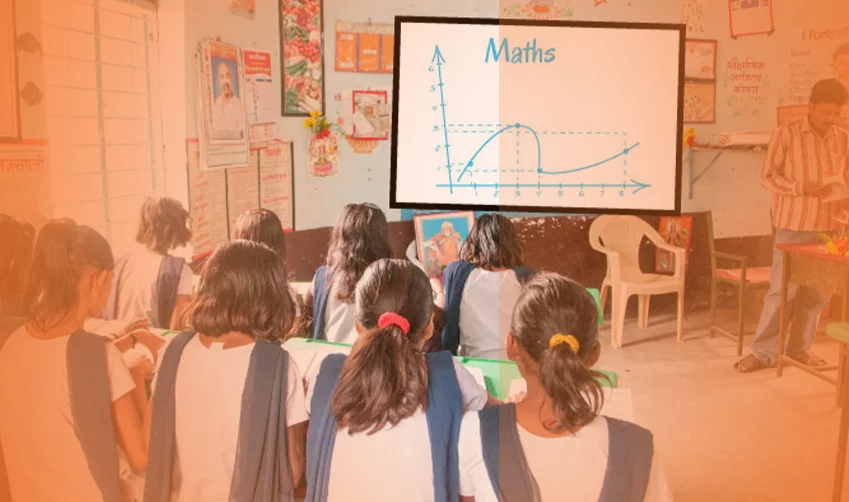 Subscribe to our newsletter
A space that includes a writing board, a teacher's desk, student desks and some sideboards for artwork and posters is traditionally referred to as a classroom. However, many students tend to get bored in such a setup as it seldom involves any exciting element. Learning in a traditional classroom is not enough for the new-age students to succeed as it only surrounds the curriculum. Smart classrooms have changed the educational landscape and allow teachers to provide an interactive and engaging learning experience to students. Besides, smart classes also enable multidisciplinary learning, a requisite to succeed in the future. Parents who worried about their child's education are moving to smart classes to provide them with a technology-friendly environment.
McKinsey asserts, "The potential of technology in the classroom is great: allowing personalised, mastery-based learning; saving teacher time, and equipping children with the digital skills they will need for 21st-century careers".
Today, parents want their child to learn beyond the curriculum, which helps them understand its application in the real world. With more and more schools conducting digital classes, students are exposed to new concepts and innovative learning methods. A study by Harvard University found that children learn more during active learning sessions than traditional lectures.
Teachers in smart classroom are equipped enough to provide interactive learning to children and skill-enhancement sessions.
The night is darker just before the dawn
Digital classes allow you to help children understand the technology that was not possible in the traditional classroom setting. With the aid of online tools and ERP, teachers can provide 100% complete school to students. School making use of management software can deliver more. With reduced administrative tasks, teachers can make lesson plans and focus more on the student's study. 
Usually, in a traditional classroom setting, teachers do not get much to change or experiment. However, in the smart classroom, one can experiment in multiple ways according to the needs of children.
Here are few things that teachers can do in a virtual classroom for enhancing children learning experience:
Teachers can teach students more effectively—pedagogically sound and visually rich syllabus resources with access to multimedia content and information.
In digital classes, teachers can express their views better and ensure that every child understands the concept that ultimately affects their achievement.
Teachers can conduct interactive and live teaching to elaborate and compare several objects and perceptions of various concepts.
Teachers can easily design a smart classroom module that allows children to visualise the concept much better than static images.
Teachers can optimise learning using e-resources such as e-books, e-journals, protocols, lecture notes, documentaries, etc. in digital classes.
We need technology more than ever
The upgraded version of education is engaging, which in turn is impacting their performance positively. It is a great idea to change the traditional education system into a smart and innovative teaching-learning model.
The use of technology in education brings a massive change in the learning curve of students. Internet and e-learning devices make the classroom environment conducive to learning. Teaching via computer, internet, and multimedia devices will help expedite the learning process and equip students with the requisite skills to make them future-ready.
Technology gives educators room to offer more to students.
LEAD's smart classroom empowers teachers and students with technology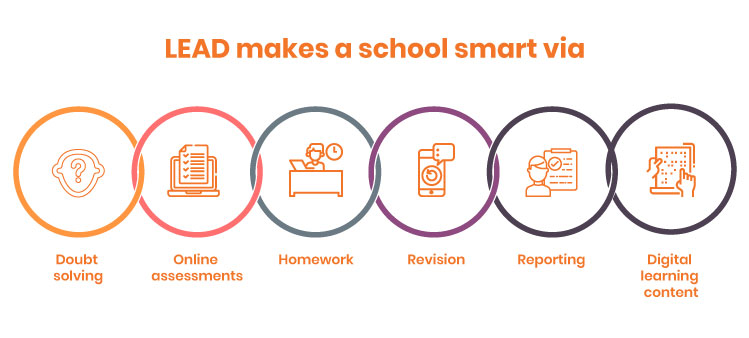 LEAD smart classrooms provide consistency in teaching while maintaining the highest quality of learning and guaranteed results. With all materials and devices for school transformation, teachers get smart classes for school. They get access to real-time operational monitoring, year-long assistance, enhanced student results, and better admissions.
LEAD's smart class for schools works on the customised timetable for schools, and offers live and recorded classes, doubt solving, online assessments, homework, revision, reporting, digital learning content, physical reader & workbooks, Learning activities, etc.
With the Lead School @home feature, teachers can deliver more to children with the help of experiential learning and quizzes. Students can learn better with interactive lessons.
LEAD is transforming schools by making children future-ready. To make yours a LEAD Powered School: Partner with us today