What Is The Purpose Of Blended Education?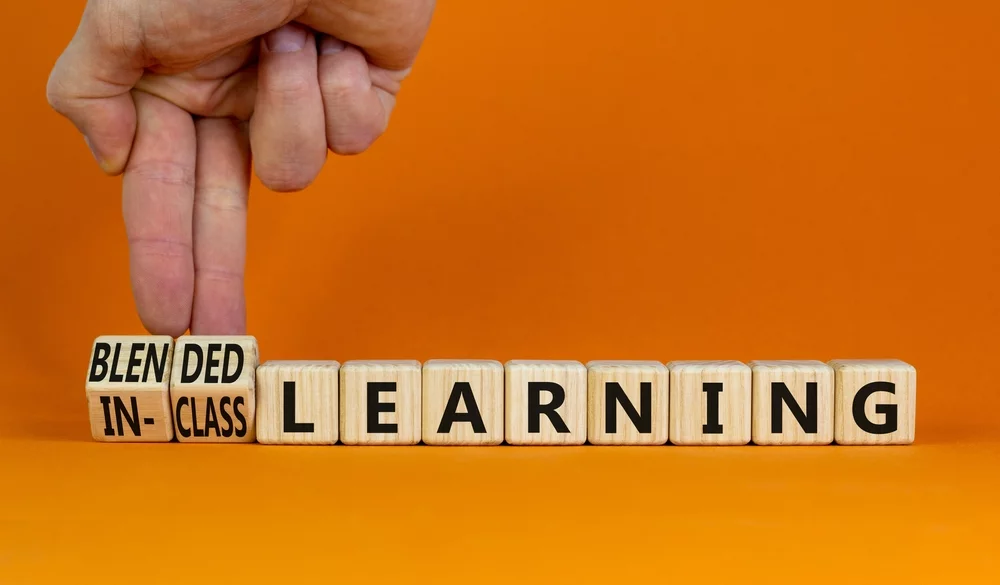 Subscribe to our newsletter
Post COVID-19, educational institutions are embracing hybrid instructional modes by adopting blended teaching. Most people think that hybrid learning and blended teaching are the same, but actually that is not the case. It's true that both hybrid learning and blended education are a combination of offline and online teaching. However, the difference lies in the fact that, in hybrid learning students make a choice according to their feasibility. On the other hand, a curriculum with a combination of offline and online teaching, structured by the educational institutions is blended education.
In this blog, we will discuss why blended learning is the way of the future and look at various models to ensure it. So, at the outset, let us understand the advantages of blended education.
Enhanced Learning and Teaching: In blended education, both learning and teaching experiences are improved. As the teaching is delivered using multiple mediums, like live lectures, videos, animations etc. the teaching is of a higher quality, ensuring that the learning becomes productive and systematic.
Technological Exposition: Blended learning in schools exposes students to cutting edge technology that is used in their instructions. Early exposure to such technologies ensures that students are technically sound.
Inexpensive Education: With blended learning in schools, the cost of education reduces. That is because blended education ensures optimum utilization of resources as well as time.
Now that we understand the advantages that blended learning offers, we now discuss the various models of blended education:
Face-to-Face Driver Model: This model is closely related to traditional learning. In this model, technology is used with traditional teaching to implement educational outcomes. Face-to-face classroom teaching remains the main mode of delivery, with technology used to supplement learning. A struggling student can be assigned online remedial assignments, or the student can access extra help through a classroom computer, or even from a home computer. It allows for a traditional classroom experience with an added individualization in learning.
Rotation Model: In this model of blended teaching the students rotate between different modes of learning, that is, face-to-face interaction (offline) and virtual learning (online). This model is now being widely adopted in schools, especially during the post-pandemic period.
Flex Model: In this model of blended education, the teaching is primarily conducted in an online mode. But the teachers are available at the site for assistance and support in learning. Students are able to learn and practice new concepts with the help of digital tools. Students spend maximum time learning online in front of computers.
Self-Blend Model: This model of blended teaching allows the students to take classes apart from their curriculum. Students can supplement their learning with additional online courses. This is ideal for those students who want to take up advanced placement courses.
Online Driver Model: It is the opposite of the "face-to-face driver model." The study materials are mainly delivered through online mode. It is ideal for students who need a flexible schedule.
As a starter, blended learning in schools can be introduced as a supplementary education for the students who have the eagerness to learn apart from the syllabus. Blended education enhances student learning, and helps the students to explore technology. Blended education can help instill modern traits in students that will benefit them in long-term career prospects. While adopting blended education, you should keep in mind that every situation is different from the other. As per the need, the different models of blended teaching can be adopted.
At LEAD Powered Schools, we empower all school stakeholders and make sure education never gets disrupted. Digital Learning Content, Physical Reader & Workbooks, Learning activities, E-books, Regular assessments & Practices, quizzes, Personalized revisions, Home practice, live classes from a LEAD expert teacher, Doubt clarification, and National competitions are some unique features of the LEAD that ensures seamless unstoppable learning. Through LEAD, student learning happens through a combination of learning at home and learning at school. When students come to school, their teachers teach them from the same curriculum and lesson plans and when they stay at home, they can continue from where the teacher left off at school. The student experiences zero loss or interruption in learning, irrespective of whether the school building is open or not.
3000+ schools across India trust LEAD to transform the learning and teaching experiences at their school. Know more by visiting this page.