5 Things to Keep in Mind While Setting up a Digital Classroom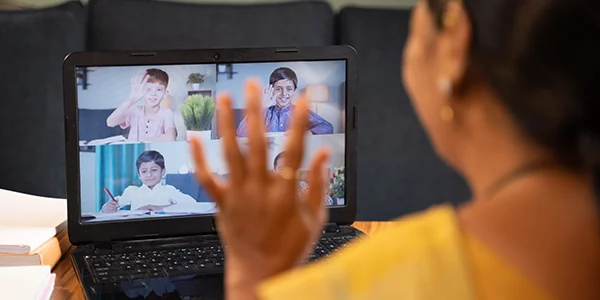 5 Things to Keep in Mind While Setting up a Digital Classroom
Last Updated On: 31/01/2023

"The real power of interactive technologies is that they let us learn in ways that aren't otherwise possible or practical." – David Lassner.
In this article

Advantages of Digital Classroom Setup

Digital Classroom Setup - 5 Things to Keep in Mind
Be Digital Classroom Ready with LEAD
Advantages of Digital Classroom Setup
A digital classroom setup offers a lot of advantages both for the students and the teachers, including:
Increased flexibility and convenience

More opportunities for collaboration and social interaction

Engaging and interactive learning experiences

Access to global information
Never miss a story
Stay updated with the latest news and articles related to school education
SUBSCRIBE TO OUR NEWSLETTER
Digital Classroom Setup - 5 Things to Keep in Mind
Many schools have started using digital learning platforms in recent years. It is generally simpler for students to learn when they are in a familiar setting, which is the foundation of digital teaching. 
But there are certain things to keep in mind while setting up a digital classroom, as detailed below:
You must first identify the aims or purposes of learning. What, for instance, do you hope to achieve with the digital classroom? What skills would you like to impart? Do you have any specific standards that you adhere to? To ensure that you can succeed, make sure your goals and objectives are realistic.
Make a list of all the resources required for a digital classroom setup. This might include curriculum PDFs, online textbooks, and other tools required for digital learning. Make sure the resources are provided in advance and are always accessible. Your teachers can also include related YouTube videos and websites as references. This will assist in giving students a deeper understanding.
Your teachers will know more about what to do in class after reading the materials. They will be able to plan the lessons in advance and create innovative methods like dividing the kids into groups of three or four to make the classroom learning engaging.
Smart Boards for Classroom
It provides a wide range of options for student engagement that wasn't before. Interactive games, video demonstrations, and unlimited audio resources are all available to teachers at their fingertips.
The assessment of students' development comes next. Positive feedback is valued by students. Students can identify their areas of weakness with the help of a progress tracking chart, which can then be rectified. Students can become more competitive, disciplined, and self-assured with the aid of homework and weekly projects.
Additionally, students can monitor their progress and learn at their own pace in digital classes. For that, it's crucial to pick the best digital learning platform, and LEAD is exactly that.
Be Digital Classroom Ready with LEAD
LEAD, India's largest school EdTech company, offers tailored and powerful ed-tech solutions to its partnering schools with the best school management, classroom, and administration tools in the industry. 
At LEAD-partner schools, digitally-enabled smart classrooms help educators provide more resources, class time, and real-life scenarios for students to interact with the content.

It gives them the freedom to deliver lessons with greater flexibility and impact. The digital classroom offers a wide variety of learning choices, including multimedia, activity kits, online assignments and homework submission, quizzes, competitions, and much more.

We empower our partner schools with the best technologies, including smart classroom software. Our teachers get the best digital classroom solutions, which ensures their convenience and higher teaching impact.

All LEAD-powered schools across the country successfully conduct digital classes with our simplified and effective solutions. We not only provide them with befitting

cutting-edge digital solutions

for their teaching and administrative needs but also offer 360-degree support.
LEAD helps you grow and attain international educational standards through world-class ed-tech solutions, including digital classroom setup.

"21st Century Education will, however, be defined by a fundamental shift in what we are teaching – a shift towards learner-centred education and creating creative thinkers." – Karl Fisch.
Conclusion
It is time that the educational system evolves to incorporate technology into every classroom. Schools providing the best digital classrooms are the ones that will rise to the top in the future. So, join hands with LEAD, give your students a digital classroom setup and boost their learning.
Article Summary
Integration of technology in our daily lives has also extended to schools, giving rise to digital classrooms.

Digital classroom setup

incorporates digital education using laptops, tablets, the internet, and educational software.

There are certain things to keep in mind before going for a

digital classroom setup

, including having a clear objective, vision, and assessment methods.

LEAD is a one-stop solution for everything related to setting up digital classrooms. In fact, it goes a step ahead and offers a complete package for the holistic development of students.
Never miss a story
Stay updated with the latest news and articles related to school education
SUBSCRIBE TO OUR NEWSLETTER
x
Give Your School The Lead Advantage