8 EdTech Tools Every Smart Classroom Needs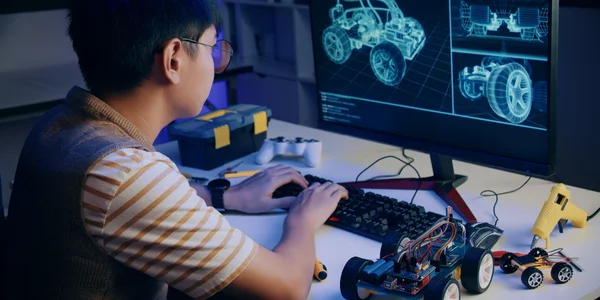 8 EdTech Tools Every Smart Classroom Needs
Last Updated On: 31/01/2023

We cannot teach our students in the same manner in which we were taught. Change is necessary to engage students, not in the curriculum we are responsible for teaching, but in school. Period." – April Chamberlain.
In this article

The Need for EdTech Tools

8 EdTech Tools to Transforming the Classroom Experience

LEAD - A Pioneer in Providing Smart Classroom Equipment
The Need for EdTech Tools
School administrators and teachers now realise that new high-tech gadgets not only hold students' attention for longer but also significantly improve their ability to grasp complex concepts and learn better. Numerous new tools have been developed to help educators and instructors keep track of the students and advise them when needed.
Never miss a story
Stay updated with the latest news and articles related to school education
SUBSCRIBE TO OUR NEWSLETTER
8 EdTech Tools to Transform the Classroom Experience
With so many new EdTech tools being made available at such a rapid pace, school owners  may face a hard time deciding what smart classroom equipment will be beneficial for their schools. 
Listed below are a few smart classroom equipment and tools that are essential for providing a transformational learning experience to your students:
Interactive Whiteboards


Due to their widespread use, interactive whiteboards are gradually becoming essential in the classroom. It's no secret that learning is considerably more effective when it's supported by visuals, which makes it easier for students to comprehend complex concepts. Teachers can use a stylus to annotate or write on images or documents presented on the whiteboard, adding a wealth of extra information to the class.

Smart Projection Systems


Smart projection systems, a less expensive yet incredibly user-friendly technology, have taken the educational world by storm. It can be connected to a laptop and a projector, and any flat surface can become entirely interactive. Experience the pleasures of seamless writing on an entirely interactive surface by touching, drawing, annotating, and more.

High-definition Document Cameras


Document cameras are innovative, cost-effective

smart classroom equipment

that enable instructors to project worksheets or even a live dissection on a large screen. This enables engaged conversation and collaboration in the classroom.

Learning Management System
Improved student performance and a wider range of everyday activities for students are two of the most beneficial aspects of integrating technology into the classroom. A learning management system is a piece of software used for organising, tracking, and managing educational resources.
Tablets and eBooks


Tablets and ebooks are becoming increasingly popular among students, much like laptops and smartphones. Since links to extra reading material can be provided in the content, students can further dive into additional knowledge banks.

Voice Typing


Due to a weak internet connection, some students are unable to attend synchronous classes. Herein comes voice typing. Your spoken words are converted into typewritten text via voice typing. This feature is available in many programmes.

Google Lens


You only need to snap a photo of an unusual object to get information about it from Google. Children can spend as much time as they like exploring the topics that interest them with this

smart classroom equipment

.

Digital Podium


A variety of media components and devices are included in this contemporary lecture stand, allowing for uninterrupted learning. The podium includes a lecture recording system, an inbuilt UPS for continuous power supply, and enough storage for a visualizer, a keyboard drawer, and other items.

All of these smart classroom equipment can significantly enhance the educational opportunities for pupils in schools and classrooms. They can also utilise classroom management software, which will stop distractions in the classroom while also regulating and limiting application, internet, print, and drive usage.
School Transformation, the LEAD way
What does a LEAD Powered School's classroom look like?
LEAD - A Pioneer in Providing Smart Classroom Equipment
LEAD, India's largest school EdTech company, empowers its partnering schools with the best technologies, including smart classroom software. Some essential EdTech tools provided by LEAD are:
LEAD School Owner App: It enables school owners to deep-dive into student, parent and teacher reports, track key metrics for their school, and receive news, updates, announcements and other important information from LEAD.
LEAD Teacher App: It helps teachers deliver a great classroom experience through ready-made lesson plans, audio-visual content, assessments, and practice tests.
Dedicated Teacher Tablet: LEAD offers every teacher a dedicated tablet enabled for Smart TV casting in every classroom at a LEAD Partner School. The Tablet, which works both online and offline, is loaded with ready-made teaching resources to make learning fun and engaging for students.
LEAD Student App: It allows students to watch live and recorded classes, attend celebrity masterclasses, attempt quizzes, submit assessments and clarify doubts. It comes with a dedicated section for parents.
Student Response System: It is a system where the responses of the students are recorded. It provides an accurate aptitude evaluation within a few seconds.
Thus, at LEAD partner schools, teachers get the best digital smart classroom equipment, ensuring their convenience and higher teaching impact.


"As technology changes the way we communicate, connect, create, consume and innovate, it is democratising access to opportunity. Education is no exception." – Laura Andreessen.
Conclusion
Because visually appealing teaching strategies engage the audio-visual senses and are known to be more enticing to pupils, smart classroom tools are highly successful. LEAD is trusted by 3,000+ private schools in India and provides a wide spectrum of smart classroom equipment.
Article Summary
The concept of a smart classroom is based on the idea of incorporating the latest advancements in education technology. 
There are many smart classroom equipment, but some are integral to every digital classroom.
A few widely used smart classroom equipment include a digital podium, graphic tablets, smart projection systems, etc.
LEAD provides most of these essential smart classroom equipment and enhances the classroom experience.
Never miss a story
Stay updated with the latest news and articles related to school education
SUBSCRIBE TO OUR NEWSLETTER
x
Give Your School The Lead Advantage