Pursuing Learning Excellence Through Advantages of Virtual Classroom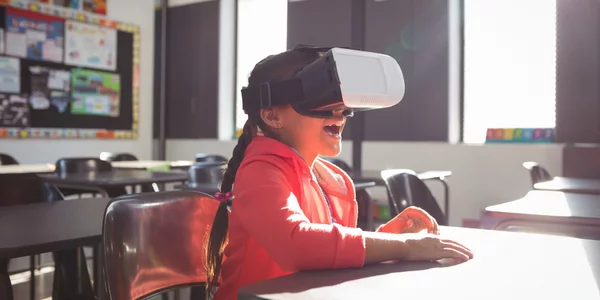 Pursuing Learning Excellence Through Advantages of Virtual Classroom
Last Updated On: 09/01/2023

"We need technology in every classroom and every student and teacher's hand because it is the pen and paper of our time, and it is the lens through which we experience much of our world." – David Warlick.
In this article

What Is A Virtual Classroom?

Advantages of Virtual Classroom - Enabling Better Learning Experiences

How are LEAD-driven Virtual Classrooms are Transforming Learning?
What Is A Virtual Classroom?
In a virtual classroom, every student learns online using technology and the Internet. A virtual classroom offers a digitally-enhanced learning environment for students to learn from online lectures and communicate via video conferencing or voice using the same interface.
A virtual classroom offers an online learning environment with human interaction, an essential element in traditional classroom teaching. In a virtual class, teachers interact with students in real-time, and peers communicate and discuss various topics via chat or voice. The significant advantage of a virtual classroom is its ability to accommodate numerous students without any difficulty or chaos.
Never miss a story
Stay updated with the latest news and articles related to school education
SUBSCRIBE TO OUR NEWSLETTER
Advantages of Virtual Classroom - Enabling Better Learning Experiences
There are several advantages of virtual classrooms over traditional classroom learning. Most importantly, a virtual classroom allows schools to educate their students independently. Some of the other significant advantages of virtual classrooms are:
Better Accessibility
Students can access the content virtually from anywhere and participate in virtual classes via apps or web browsers. This is one of the most crucial advantages of virtual classrooms in today's times. In addition, virtual classrooms have eliminated the daily hassle of commuting via school buses or cabs. Students just need to open their devices, connect to the Internet and gain access to their virtual class.
Lower Costs
Virtual classrooms benefit both students and school owners by reducing costs significantly. Students do not spend money travelling and buying various books to attend classes. Similarly, schools do not require physical facilities and infrastructure to start the classes as virtual classes consist of virtual resources in the cloud, reducing costs for the school and students.
Highly Interactive with Multimedia Support
One of the significant advantages of a virtual classroom is that it creates a interactive classroom environment as teachers use innovative methods to teach their students. A virtual classroom includes various teaching-learning processes, such as audio recordings, video files, interactive simulations, animations, educational games, etc., which encourage interaction.
Range of Content Types and Topics
A virtual classroom allows teachers to provide a broad array of content covering various subjects, genres, and types under one umbrella. It facilitates educators to teach through slides, animations, video content, audio-visual aids, audio, digital whiteboards, and other interactive means.
Student-centric Education
Another significant advantage of a virtual classroom is its live classes over digital platforms that focus on students asking questions, clarifying their concepts and doubts and brainstorming topics in real-time.
On the other hand, traditional classrooms provide limited interaction between students and teachers, which makes it difficult for students to ask questions and clarify their concepts.
7 Benefits of Digital Classrooms over Traditional Classrooms
School Transformation, the LEAD way
How Are LEAD-driven Virtual Classrooms Transforming Learning?
LEAD, India's largest School EdTech company, offers a new-age integrated school management system that allows for virtual classrooms when required and learning that continues even at home. Here is how LEAD-driven virtual classrooms transform learning at schools:
Management Becomes Easy
One of the greatest advantages of LEAD-driven virtual classrooms is that it makes managing attendance and academic records seamless through advanced school ERP software.
 Cloud-recording
LEAD-driven virtual classrooms facilitate cloud recordings of the lectures, which is a prime advantage of virtual classrooms. Teachers can record lectures directly on their computers and upload them on the portal for students' access even after the class.
Report Generation
LEAD virtual classrooms automatically create attendance reports when a learner joins and leaves the class. They also let you access chat logs to review submitted questions and in-class discussions.
Cost Savings
LEAD's effective virtual classroom platform offers school owners a more flexible and cost-effective way to deliver education, as they do not require the same physical infrastructure or resources as traditional classrooms.
Conclusion
Virtual learning is gaining popularity because of the current global crisis and dynamic educational demands. Moreover, technology has led virtual classrooms to facilitate multilateral learning in a world where learning isn't restricted to brick-and-mortar buildings. Therefore, to experience the enormous advantages of virtual classrooms, embrace LEAD's integrated school system that ensures undisrupted learning.
Article Summary
A virtual classroom platform makes the learning experience interactive and engaging while offering a controlled environment. 
One key advantage of virtual classrooms is allowing teachers to access the classroom before the lesson delivery to prepare the content.
Another major advantage of a virtual classroom is that it enables users to connect from any device that can connect to the Internet regardless of their location across the globe.
Virtual classroom software facilitates student progress tracking. Educators can track a student's progress via online polls and analytics, identify difficult areas, and assist them in learning weak topics with visual tools.
Never miss a story
Stay updated with the latest news and articles related to school education
SUBSCRIBE TO OUR NEWSLETTER
x
Give Your School The Lead Advantage