How School ERP software maximises productivity and minimises cost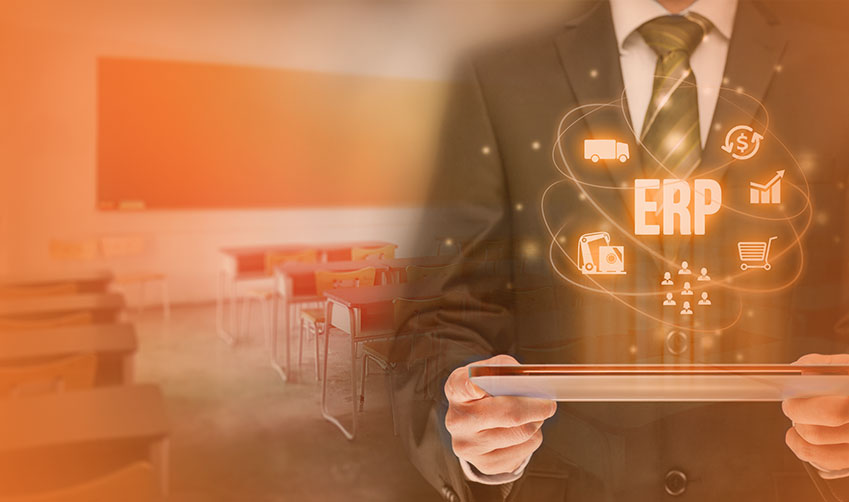 Subscribe to our newsletter
When we talk about technology in the education sector, it is often confused with something that brings in extra expense, is cumbersome to deploy and follow-through. To your utter surprise, school functions may become difficult to conduct without it!
The school ERP software tools are worth every penny. These school management tools offer many features to streamline school operations for the teacher, students, parents, school administrators, and other staff, including librarian, technical support staff, accountant, or security personnel.
A report by the World Bank states, "ICT (Information and Communication Technologies) can and should play a variety of roles inside a school. Some of the more important ones are pedagogical, cultural, social, professional and administrative. ICT, if sensibly deployed and with carefully selected software, can positively affect many aspects of school life, from a healthy questioning of present teaching practices to a gradual improvement of the quality, scope and depth of the learning environment, as well as to provide a remarkable opportunity for teachers' development.
School ERP software has been a boon for schools, especially in the ongoing ambiguous times. Let's look at how it's bringing a revolution in the education space…
There is no denying that time is equivalent to money. To increase ROI, managing time effectively as per the amount of work is essential. Before school ERP software, all the functions from organising data to managing the admission process were done manually. Such tasks take a lot of time and effort, leaving less space for other essential tasks.
Functions like student and staff management, student admission and registration, hostel and library management, inventory management, etc., can be managed efficiently with school management ERP systems. Such ERP systems reduce school administration workload, saving them time and efforts to do other tasks increasing their efficiency and productivity.
Streamlines and hastens processes:
The school ERP software simplifies complicated school administration operations and reduces the workforce required to complete it manually.
For example, organising the admission process manually required money, time, human resources, and other resources, ensuring smooth operation. This is costly and time-consuming, plus maintaining student data manually in documents can be tiring. The same process can be automated and completed effortlessly in less time with school ERP software. Resources required for these processes will require less workforce, and admission fees can be paid from homes' comfort with various online admission features.
The school ERP management software simplifies the process, consumes less time, and takes fewer efforts which eventually increases school profits by the end of the year.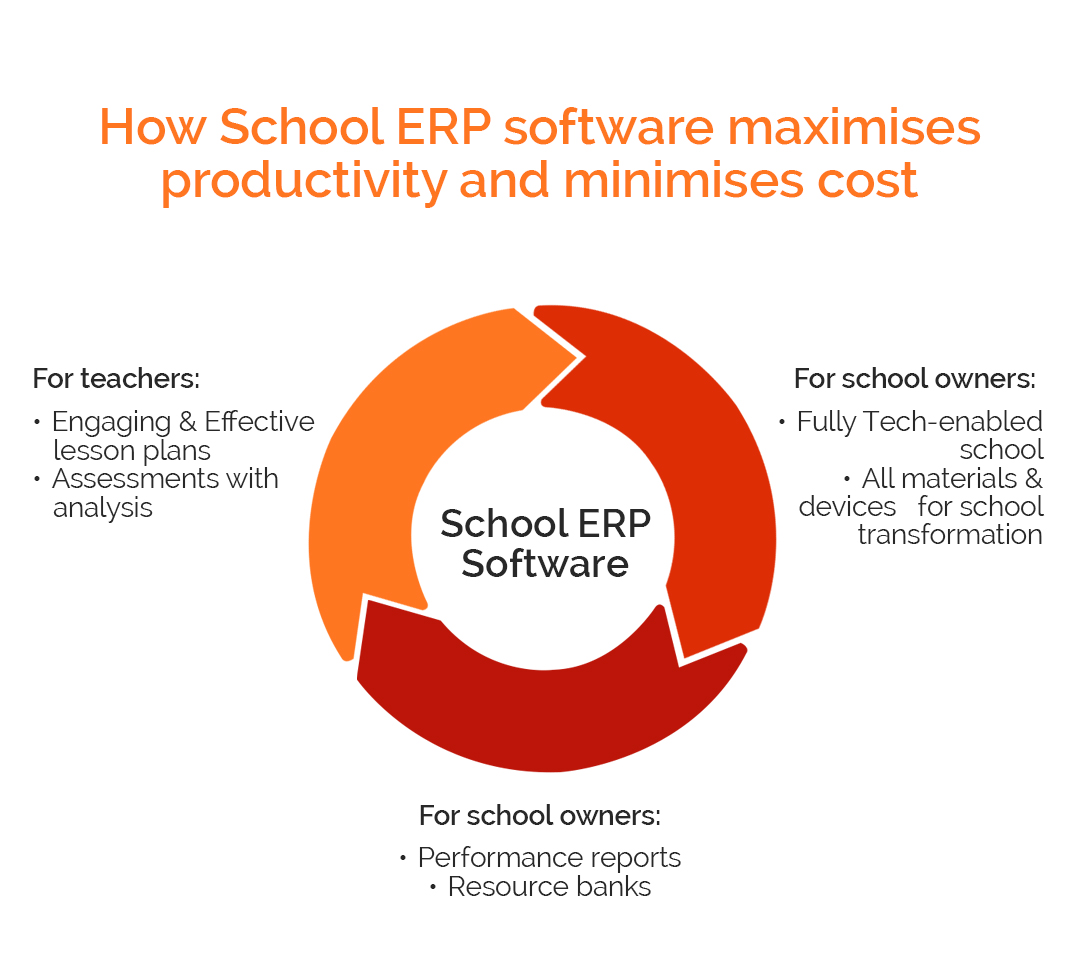 Reduces stationery costs:
Stationery is one of the most vital things in every academic institute, including pens, papers, etc. The school management ERP software will provide a paperless solution to the school administrator. If the admission process takes place online, documents will get submitted in digitised form. It becomes more comfortable for the school to manage, download, organise, and share documents with respective stakeholders. This will also reduce the postage cost for the schools.
Online classes and exams offered by ERP systems will further reduce the need for papers. With its various features, the school ERP software can efficiently decrease the overall cost of running a school and increase productivity and service quality.
Optimises resource usage:
Managing school operations manually requires time, money, and human resources. Schools often overuse or waste them due to a lack of knowledge of the effective use of resources. The school ERP software helps the schools track significant resources and how they can be used efficiently.
For example, school ERP software reduces time and workforce for tasks like fees management or student and teacher profile management. If there is no school ERP software, these tasks will require people to complete the work.
With optimising resources, the cost required to maintain them will also reduce, leading to an overall reduction in total annual expenses.
How LEAD is a breather that schools needs
With LEAD ERP software system, students' performance is monitored quickly and efficiently. The LEAD School Academic System gives switching between the various school modes (online, offline, or both). The administration can also connect the school's YouTube channel to upload the learning material directly and decide what days they want to teach the students, add new subjects, and allocate teachers.
LEAD offers great feasibility to every school stakeholder, making it one of the most reliable domestic market options.
For example, teachers with the help of the teacher app can conduct Engaging & Effective lesson plans; Assessments with analysis; Remedial planning; can make Student Progress Reports; Reports for PTMs and give Constant Feedback.
School Owners get Fully Tech-enabled school; All materials & devices for school transformation; Real-time tracking of operations; Year-long support, and Better Admissions.
Principals get access to Performance reports; Resource banks; Attendance reports, and Professional network.
LEAD is transforming education in India by helping children become ready for the exam of life. To make yours a LEAD powered school: Click here