Home
»
Blog
»
School Owner
»
5 ways teaching learning materials enhance the learning experience in classrooms
5 ways teaching learning materials enhance the learning experience in classrooms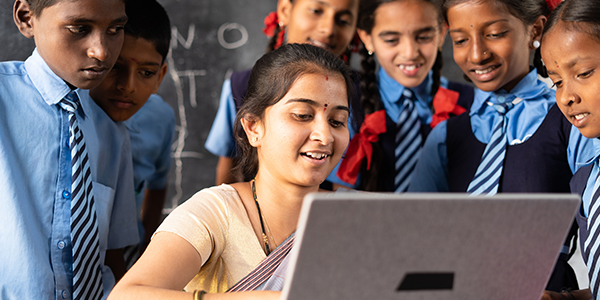 5 ways teaching learning materials enhance the learning experience in classrooms
Last Updated On: 10/02/2023

"Education is the ability to listen to almost anything without losing your temper or your self-confidence." – Robert Frost.
In this article

Teaching Learning Materials and its importance

Teaching-learning Material: Enhanced Learning in 5 Ways

Experience Kit: LEAD's Teaching-learning Materials
TLM and its importance
Students also put them into practice to broaden their awareness and knowledge. The usage of technology and the internet has become more common in the modern educational scenario. Hence, these tools are used by both the teachers and the students to help prepare the lessons effectively. Solid preparation through the use of teaching-learning materials will be able to make a substantial contribution to the accomplishment of desired goals of all stakeholders, like teachers, students, and school owners.
Never miss a story
Stay updated with the latest news and articles related to school education
SUBSCRIBE TO OUR NEWSLETTER
Teaching-learning Material: Enhanced Learning in 5 Ways
When adequate teaching-learning resources are available, the teaching and learning processes can proceed in a structured manner. The following are some ways in which TLM enhances the learning experience in classrooms:
Learning support
Instructional materials can greatly raise students' achievement. An engaging worksheet and an informative video, for instance, will offer a student fresh opportunities to put newly acquired knowledge and skills into practice. This technique facilitates learning by allowing the student to research the material on their own and by providing repetition.

Lesson structure
Both the preparation of lessons and the delivery of instruction can benefit from additional structure provided by teaching-learning materials. Learning resources serve as a map for both the teacher and the student and provide the teaching and learning process with a useful routine. For instance, using a summarising poster or video after a topic is covered.

Differentiation of instruction
TLM can help teachers provide differentiated instruction to the students in addition to promoting learning. Differentiation of instruction is the process of adapting lessons and instructions to the various learning capacities of the students present in the classroom. Worksheets, videos, directions for group activities, or any other type of learning material can all be altered by teachers to best meet the needs or learning preferences of each individual student.

Effective learning
Teaching-learning materials apply different techniques of learning and are able to make students understand even finer points easily and inculcate their power of imagination and reflection. They stimulate students' senses and simplify the teaching-learning process.

Enhance interest
Curiosity for enquiry of new topics is awakened with the use of TLM as the students' interest is captured by their use. These tools also inculcate a scientific attitude in the students and help them learn faster.
Therefore, all teaching-learning materials serve some purpose for student learning. Students also remain active and are able to learn a topic well with their use.
LEAD School Teacher app | One Stop Solution for Teachers
Tejaswwi ma'am explains how her teaching has improved with LEAD
Experience Kit: LEAD's Teaching-learning Materials
LEAD is the leading ed-tech solutions provider in the Indian education market and plays a major role in enhancing the learning outcomes of partner schools. Along with other solutions, LEAD also offers teaching-learning materials like the following:
LEAD Powered schools are provided with LEAD Experience Kit, which has more than 5,000 articles that can be used for different grades and subjects.
These items/articles help the students to have hands-on learning while understanding the concept not only through books or visual content but also through tangible materials.
Each lesson plan that is available to teachers has specific audio-visual content for a particular topic which can be played in the classroom and later discussed and connected with the textbook content. 
This integration of text and audio-visual material helps the teacher facilitate learning in an interactive way, as well as helps students visualise and connect with topics in a broader manner.
With the integration of technology and education, teaching-learning materials have also modernised. Therefore, along with the above-mentioned experience kit, LEAD also provides smart classroom equipment, which also enhances the learning experience in classrooms.
Conclusion
Teaching-learning materials will help your students imbibe knowledge and get equipped with the right life skills. So, join hands with LEAD and empower your students.
Article Summary
Teaching-learning materials are the tools used by teachers in the classroom to enhance the student learning experience.
They help students achieve the desired educational goals as concepts become more interesting with these tools.
These materials are learning support for the students. They also help in curating differentiated instructions for the students.
TLM also develops a curiosity in the minds of students which makes learning more fun, interesting and engaging.
Never miss a story
Stay updated with the latest news and articles related to school education
SUBSCRIBE TO OUR NEWSLETTER
x
Give Your School The Lead Advantage